Know Exactly What's Being Typed
With The World's Best Keylogger Software
FlexiSPY gives you the most advanced keylogging features:
Record every keystroke that is typed on a Mac or PC
Monitor online search history
Track key logs on Android and iPhone devices
Access popular IM chats like Skype, WhatsApp, LINE, Facebook and more
Back up conversations, emails and typing history
Encrypted log of captured keystrokes automatically uploads to your portal
Run software as a visible or invisible keylogger
View your data from your computer or our free mobile viewer app
Protect your business and family with FlexiSPY's invisible keylogger for Android, iPhone, Windows and Mac
What Is FlexiSPY's Keylogger For Windows And Mac?
FlexiSPY - the world's best keylogger software – records every keystroke that is typed on a computer and its supported applications. This means every character – whether sent or deleted – is captured and uploaded to your personal portal for viewing and downloading at any time.
FlexiSPY is the perfect keylogger for Mac and Windows and allows you to archive everything from IM messages, search terms and passwords. Our keylogger software is perfect for parents who want to protect their children from online dangers, employers who need to track employee productivity and safeguard their businesses from insider threats, as well as for personal use in backing up passwords or computer history. FlexiSPY provides a full snapshot of how and why a computer is being used.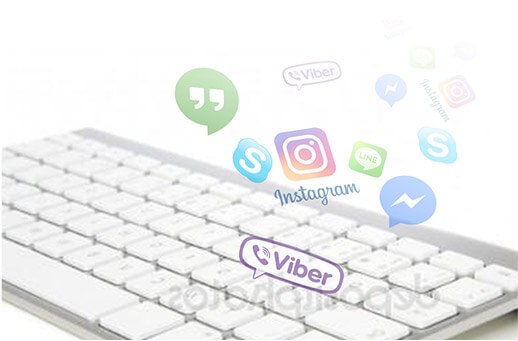 Use FlexiSPY's keylogger software to monitor employees, protect your children from risky behavior or secure your personal computer from unauthorized use.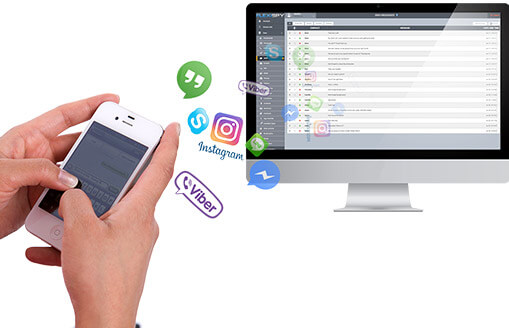 What Is A Keylogger For Android And iPhone?
In addition to our computer keylogger, FlexiSPY offers a Keylogger for Android and Keylogger for iPhone. These powerful features record messages, search terms, deleted text and more from any of the target phone's supported applications.
When a letter, word or character is typed into apps like Facebook, WhatsApp or LINE, our keylogger captures the keystrokes and adds them to a secure log file in your online portal. View the recorded information by simply logging in to your portal and selecting the application that's important to you.
Just like our Keylogger for Windows and Mac, our mobile keylogger is the perfect tool for employers, parents and individual users who know the importance of protecting their families, work and personal data!
How Does Keystroke Monitoring Software Work?
When something is typed into your computer or mobile device – whether it is a search term online, an email to a customer or a supported IM chat like Facebook, Skype or LINE – FlexiSPY can run as a visible or invisible keylogger to record the keystrokes and add them to a secure log file in your portal.
Users can log in to their portal to access and review the recorded information. Select from the list of supported programs and see exactly what has been typed. If you are looking for a specific keyword, FlexiSPY's convenient search function quickly filters through the stored data to find the information relevant to you.
Never worry again if your child is making responsible decisions online or if your employees are treating confidential information with the necessary security measures.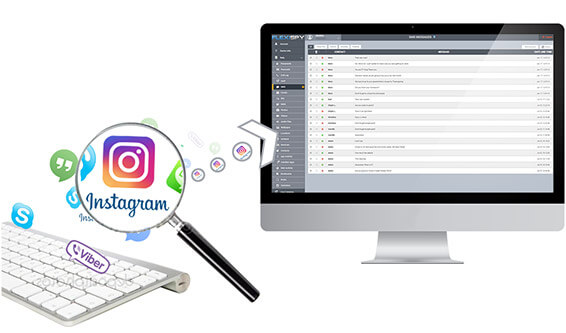 Never Miss A Keystroke With FlexiSPY's Keylogger Features
Record Everything

See every keystroke that is typed

Our keylogger lets you see everything that is typed on the keyboard. Discover search terms, notes and more.

Monitor Chat Apps

Spy on computer chats

Spy on the most popular IM apps, including Skype, LINE, QQ, Viber, Hangouts, iMessage, Facebook, WeChat and more!

Easy-to-View Data

Data is uploaded to your portal

View all key logs through your secure online portal or download our first-of-its-kind mobile viewer app for on-the-go access.

Be Visible or Invisible

Decide if the keylogger is hidden

With the option to have a visible or invisible keylogger, you get to determine the privacy level of the target device.

Discover Suspicious Activity

Create custom alerts

Set alerts and search for keywords in IMs, emails and online search terms to know instantly if security is breached.

Computers & Mobiles

Compatible with Mac, PC, Android & iPhone

We have keylogger software for compatible computers and mobile phones, giving you the flexibility to install on all your devices.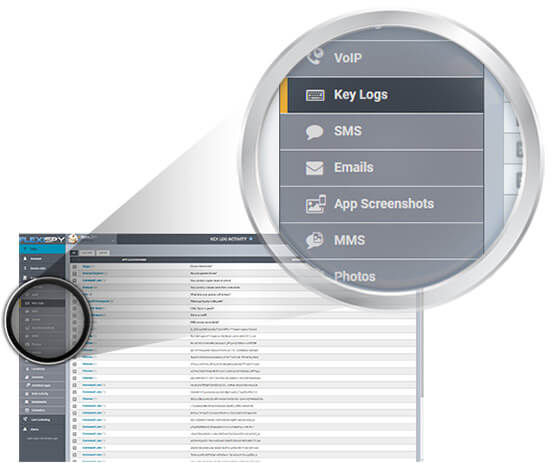 Why Is FlexiSPY The Best Keylogger Software?
Records Everything.

FlexiSPY records every keystroke – even those that are deleted or unsent.

Visibility.

Our software can run as a visible or invisible keylogger.

Easy-to-Install.

Simply download and install FlexiSPY's computer monitoring software and use the keylogger feature immediately.

Compatibility. Our keylogger software works on compatible Mac, PC, Android and iPhone devices. For more information on compatibility read here.
Protects What's Important.

FlexiSPY protects your business from insider threats and intellectual property loss, and protects your children from cyberbullies and online predators.

Easy-To-View Data.

Key logs are sent to your online portal for easy viewing and search-ability.

Free Mobile Viewer App.

Always on the go? Check your key log data from the convenience of FlexiVIEW – the first-of-its-kind mobile viewer app from FlexiSPY.
Archive passwords, search terms and more with FlexiSPY's Keylogger for Windows and Mac!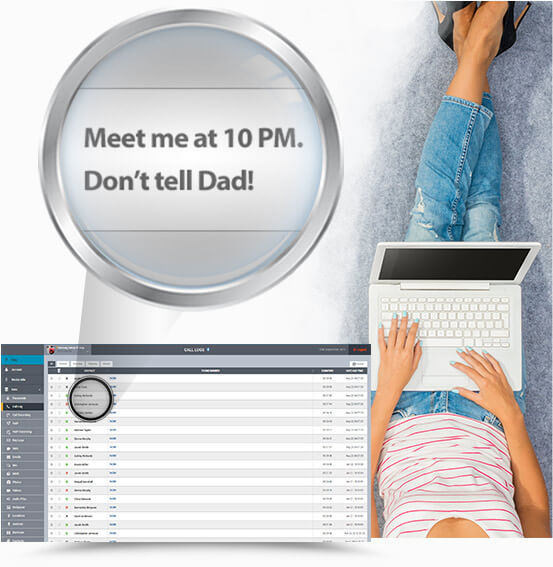 Who Can Benefit From Keystroke Logging?
FlexiSPY's keylogger is a unique tool that can be used across all aspects of life - work, family and personal! Let's look at how FlexiSPY can benefit you.
Employers. FlexiSPY's keylogger provides direct access to how your work computers or mobiles are being used and allows you to step in at the first sign of suspicious activity. Track specific keywords through your online portal and be confident that your business is safe.
Parents. With FlexiSPY, you never have to worry if your children are safe on the internet. Monitor online activity, search terms and IM chats and step in to prevent risky behavior or cyberbullying.
You. Our keystroke monitoring software is an excellent resource for backing up chat histories and emails – which comes in handy for disputing claims or confirming terms of agreement.
What Our Customers Are Saying

( Excerpts from real reviews )
"Personally, I have used other tools before like Mobile spy but I have to say FlexiSPY is the best among all these. The customer service is very efficient and always ready to answer all the questions and this was my motivation in the first place to subscribe. I would recommend FlexiSPY at any time. 10/10 for me.

"I have a business and need to keep track of my trucks. The best feature for me is definitely the GPS. It shows the location and is constantly updating to new locations, making it easy to track my employees. I would definitely recommend using this product if you are trying to keep track of someone or something!

"I used this to monitor my son to see if he was going anywhere before or after school as I just wanted to make sure he wasn't going anywhere I disapproved of. I was able to do this quite easily using the GPS tracker and I was quite impressed with the accuracy of the locations. I went to the locations and saw who he was with and where he was going.
FlexiSPY's Keylogger feature is available for mobiles, computers, and tablets
Please select your platform
Android
iPhone
iPad
Computers
Portal
LITE $29.95
LITE offers an essential set of monitoring features at an unbeatable price. Perfect for those who are on a budget.
EXTREME $

119
Only for
the most demanding detectives
, EXTREME adds monitoring and recording of all audio streams and other amazing discovery tools.
LITE $29.95
LITE offers an essential set of monitoring features at an unbeatable price. Perfect for those who are on a budget.
EXTREME $

119
Only for
the most demanding detectives
, EXTREME adds monitoring and recording of all audio streams and other amazing discovery tools.
iPad $

79
The
complete monitoring software package
for use with the Apple iPad.
COMPUTERS$

79
The most powerful spy app for PC & Mac.
With over 40+ features, more than any competitor, to help you monitor the complete computer usage of your employee or teenager.
Key logs
Browser videos
Application activity
Installed applications
Access by secure key combination
Dashboard Alerts
Renew Anytime
PORTAL

FREE
The portal is a
powerful and intuitive interface
that lets you view your FlexiSPY data using a web browser. It is a part of every FlexiSPY subscription.
Alerts Wizard
Remote Restart Device
Remotely Check Device Battery Status
SMS Remote Commands
Read FlexiSPY Portal Data Using Our Mobile App
Easy to Install
Online Remote Commands
Easy to Renew
Easy to Deactivate
Easy to Uninstall
Automatic Remote Updates
Online Remote Upgrades
Remotely Change Software Features

Before you buy ...
To continue to checkout, please acknowledge the following
To proceed, you must select the checkbox above

If you're responsible for a child or manage an employee
You Have A Duty To Know
Find out the truth. Use the world's best keylogger software.
Not Ready To Buy?
Subscribe to our newsletter to receive exclusive monthly promotions you won't find on the website.
Free Mobile
Viewer App
Until now the only way to view your keylogger data was to find a computer and log in. While that's great, it's not always convenient for those who are on the move. To solve this problem, we've come up with a mobile application that allows you to access your most useful data from your smartphone.
---
Learn More
Get FlexiSPY Delivered
Straight To Your Door
With FlexiSPY EXPRESS, you no longer have to worry about finding a compatible device, rooting your phone or installing any additional software. Simply select a phone from our range of devices and we will deliver your phone with your selected version of FlexiSPY already installed.
---
Learn More
How To Install
A Keylogger
Identify the Mac or PC model to monitor
Find out the Windows or MacOS version the computer uses
Choose the best FlexiSPY package for you
Install and activate our computer monitoring software on your device
The keylogger is automatically available upon installation
Log in to your user web portal
Select the key log file you wish to view
Set alerts, search keywords and download the reports you require
Use the free FlexiVIEW mobile app
Spyphone Reviews
The authoritative no-nonsense spy phone review website. Head on over to spyphonereview.com to access the most in-depth, technical test reports on all major spyphone products and check out how we compare against competitor products.
---
Learn More
Related Products
Discover children and employees behavior by monitoring the PC and Mac computers they use.
The world's only iPhone tracker that intercepts phone calls, makes spy calls and monitors over 12 IM's.
Trade Up To FlexiSPY
Recover your losses, trade your existing spyphone for FlexiSPY.
Have you bought a copycat spy phone product? Are you unhappy with it? So are we. For a limited time only, we will redeem your remaining license against a copy of FlexiSPY. Contact Live Support for details.
---
Learn More