FlexispY feature reference
|
All
Videos
Spy on a Phone's Videos with our Video Spy App feature
FlexiSPY's allows you to view all Video Files stored on a target device. Protect yourself and your loved ones or keep track of employees with FlexiSPY's video viewer – the best spy video app on the market.
Play Video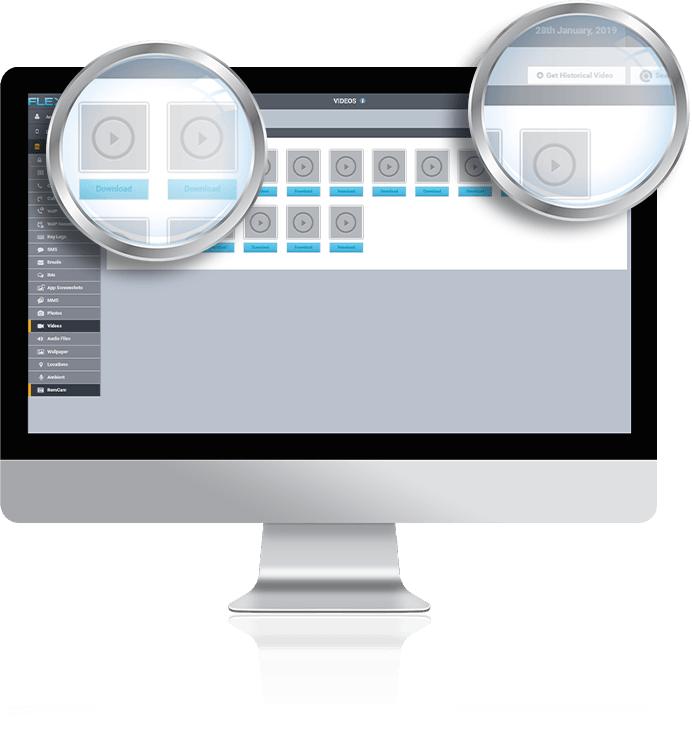 What you can do with our Spy on Video Files Feature
Our sophisticated spy video software makes it easy for you to monitor videos on compatible devices. Once installed on the device you wish to monitor, FlexiSPY will discreetly capture all video files and upload them to your secure online dashboard for convenient viewing. Use this feature to:
See video clips taken with and stored on the target device, even if they were created before you installed FlexiSPY.
Watch videos recorded in real-time, without alerting the target user.
Access the following fully supported file formats: CGM, SVG, ODG, EPS, PDF, SWF, WMF, XPS, EMF, EMF+, EMZ, MP4, WMV, ASF, 3GP, 3G2, M4v, AVI
Watch spy videos from your computer using FlexiSPY's dashboard, or on-the go with the FlexiVIEW app.
Why You Need A Mobile Video Monitoring App
Technology makes it possible for us to consume and exchange a massive amount of information in the form of videos, and it has never been more important to keep track. With FlexiSPY's video viewer feature, it has never been easier to efficiently monitor the videos that are stored on a target phone.
Benefits for Parents
When it comes to the safety of your children, there is no such thing as being too careful. That's why it is so important that you purchase the best spy camera app available.
Our video monitoring app helps you keep track of the clips that are being viewed or saved on your child's mobile phone. As a parent, you will be able to protect your child from exposure to videos of an inappropriate nature, especially when these video clips are unsolicited.
Or imagine being able to take immediate action against a school bully who sends an abusive or threatening video to your child, or to stop a sexual predator who sends lewd videos. The point of video recording is not to create spy videos or spy on your child's phone, but rather to have the ultimate peace-of-mind as a parent that your child is not inadvertently exposed to inappropriate material.
Benefits for Employers
If you are an employer and you have given your staff access to a company smartphone or tablet, it is important for you to know that it is being used responsibly. Of course, you do not expect your employees to use their phone exclusively for work-related purposes. However, some material can pose a serious security or reputational risk to your business.
Keep track of video clips that your employees are taking or viewing to ensure that they are appropriate. You can also make sure that confidential company information is not being shared via spy videos that get uploaded onto video sharing platforms or between clients.
Benefits for Individuals
Our video viewer feature is great for your personal use too. Use It to make a backup of all the videos you shoot and save on your phone, then conveniently watch them later from any web browser or through our one of a kind app, FlexiVIEW.
How does it work?
FlexiSPY is easy to setup and use
1

PURCHASE LICENSE

---

Purchase a FlexiSPY license for the target phone

2

ACTIVATE TARGET PHONE

---

Install and activate the license on the target phone

3

ALL DATA GETS CAPTURED

---

Calls, SMS messages, contacts and call data is captured

4

DATA GOES TO

FLEXISPY SERVER

---

All call data is uploaded to your secure account to view

5

VIEW THROUGH

WEB ACCOUNT

---

All data received can be accessed Round-The-Clock via any computer
If you're a parent or an employer, you have a duty to know — Discover the truth, spy on their phone or tablet
Buy Now