FlexispY feature reference
|
All

Skype Call Recording on
iPhone & iPad
Record Skype Calls on iPhone & iPad
Our Skype call recording on iPhone & iPad feature allows you to remotely and discreetly record skype calls to listen to later. Once installed on the target iPhone or iPad, FlexiSPY will record any incoming or outgoing skype call and will upload it to your secure online portal to conveniently listen to later, making this a useful feature from anyone to an employer, parent, or even an individual.
Play Video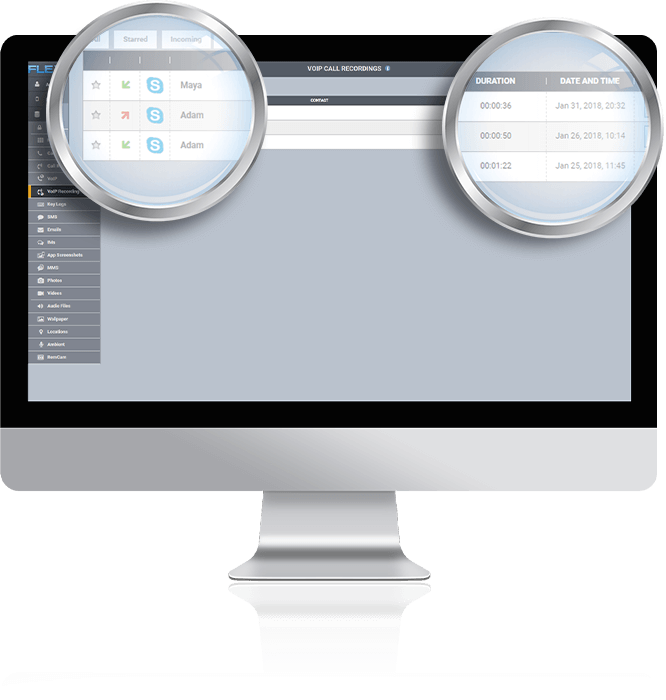 What you can do with our Skype Call Recording on iPhone & iPad feature
You never know when the time may come when you want to record Skype calls and need to safely collect conversations for future use. Whether you need to record Skype calls for business or personal reasons, FlexiSPY's skype call recording feature allows you to
Record incoming and outgoing Skype calls
Listen to recorded calls inside your dashboard, or from your phone with our mobile viewer app - FlexiVIEW
See when the call took place, as well as the duration
See important contact information
Why you need to record Skype calls on iPhone & iPad
The world is becoming more digital, and this means traditional phone calls are being replaced by Voice over Internet Protocol (VoIP) calls – Skype calls, WhatsApp calls, WeChat calls, Facebook Messenger calls, etc. FlexiSPY makes recording a Skype call (as well as other VoIP audio calls) possible, which means you will never miss or forget any details from your or a target users' calls.
Skype call recording is beneficial for everyone - including parents, employers and individuals - as it will automatically record phone calls using Skype and then upload these call recorder files to your personal web portal for easy listening or downloading.
Benefits for Parents
Knowing how to record a Skype call on iPhone & iPad – and being able to do so - can help parents monitor their children and who they speak to through the application. If your child has conversations with strangers or engages in risky behavior, you will be informed and be able to put a stop to it. Skype call recording is not meant to spy on your children, but rather offers an extra layer of protection against cyber bullies, predators and poor decision making.
Benefits for Employers
With benefits such as instant file sharing and low-cost calls, it is no surprise that Skype is becoming more and more widely used in companies. Employers will find that recording a Skype call can be useful for protecting their business from insider threats and data breaches. It is also a great tool for recording phone interviews and conference calls, as well as quality control training. When employees make Skype calls, FlexiSPY will record the conversation and upload it to your web portal. You will be the first to know when company information is jeopardized and have evidence to support your case.
Benefits for Individuals
Think about the last time you wrote down the wrong contact information for a job interview or that time you wished you had proof that your contractor verbally agreed to make repairs by a certain date. If these calls are made on Skype, FlexiSPY will have you covered completely.
How does it work?
FlexiSPY is easy to setup and use
1

PURCHASE LICENSE

---

Purchase a FlexiSPY license for the target phone

2

ACTIVATE TARGET PHONE

---

Install and activate the license on the target phone

3

ALL DATA GETS CAPTURED

---

Calls, SMS messages, contacts and call data is captured

4

DATA GOES TO

FLEXISPY SERVER

---

All call data is uploaded to your secure account to view

5

VIEW THROUGH

WEB ACCOUNT

---

All data received can be accessed Round-The-Clock via any computer
If you're a parent or an employer, you have a duty to know — Discover the truth, spy on their phone or tablet
Buy Now