FlexispY feature reference
|
All

Notes
Spy on a Phone's Notes
Note capturing allows you to remotely read notes saved on an employee or loved one's device. Once FlexiSPY has been installed on their phone, login to your secure online portal to read what they've written. You can even search inside notes for specific keywords, and mark notes you care about as important for quick referencing later.
Play Video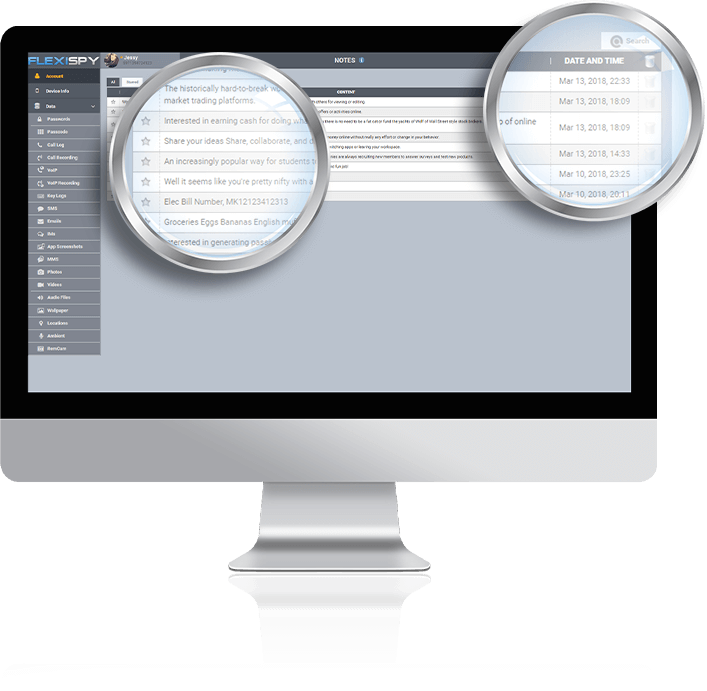 What you can do with our Note Capturing feature
Our Note capturing feature gives you complete access to any note stored on the target device. You will be able to view every note taken on the device and view any new notes that are added.
View contents of all notes
View date and time notes were created
Search for specific keywords in notes
Filter notes by date
Mark important notes for quick referencing later
Why you need our Note Capturing feature
Almost everyone uses Notes apps on their smartphone. For some of us the apps are useful for everything from typing out your shopping list to planning budgets. But what if the notes app has a more nefarious use? Could your child or employee have something to hide?
If someone in your life is an avid note taker on their smartphone then FlexiSPY can give you complete access.
Benefits for Parents
Many things can be hidden in the relatively innocuous notes app on a smartphone. With the view notes feature you can be sure that your child cannot hide anything that could be a risk to their safety.
Benefits for Employers
The view notes feature can be particularly useful for business owners. People often use the notes app on their phones to take notes during meetings, so sensitive information from your company could be at risk. With our view notes feature you can be absolutely sure that no sensitive information can leak via notes on an employee's device.
Benefits for Individuals
Individuals can use the view notes feature to keep an easy to access backup of all notes stored on the device.
How does it work?
FlexiSPY is easy to setup and use
1

PURCHASE LICENSE

---

Purchase a FlexiSPY license for the target phone

2

ACTIVATE TARGET PHONE

---

Install and activate the license on the target phone

3

ALL DATA GETS CAPTURED

---

Calls, SMS messages, contacts and call data is captured

4

DATA GOES TO

FLEXISPY SERVER

---

All call data is uploaded to your secure account to view

5

VIEW THROUGH

WEB ACCOUNT

---

All data received can be accessed Round-The-Clock via any computer
If you're a parent or an employer, you have a duty to know — Discover the truth, spy on their phone or tablet
Buy Now