FlexispY feature reference
|
All
Installed Applications
Spy on Installed Applications
Our installed Applications feature allows you to see which applications are currently installed on a device being monitored. This allows you to do things like search the list of apps based on keyword, see the date the app was installed, and even see the version number of the app installed. This feature could prove essential for safety and productivity purposes, helping you to answer important questions like "is my son using any dangerous apps on his phone?" or "are any of my employees using a disallowed app on company devices?".
Play Video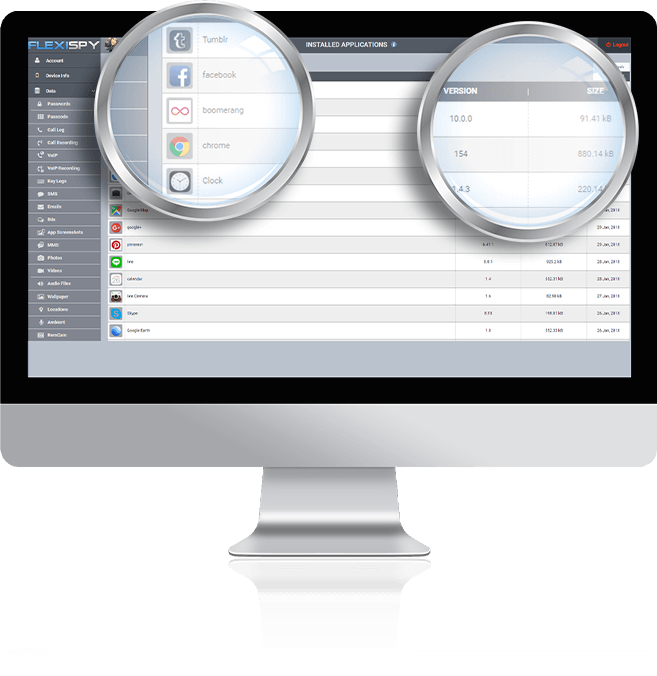 What you can do with our spy on installed applications feature
Once FlexiSPY has been installed on your child or employees device, it will search the phone and create an inventory of all applications installed. It will then upload this captured information to your secure online portal where you can convenient view it later. Use this feature to
See a complete list of all installed applications on the phone
Know the date the application was installed
See the version number of the application, as well as the app file size
Search through installed applications based on keyword, or filter by the date range
Manually request the most current list of applications on the control
View this information through your web browser or through our one of a kind app, FlexiVIEW
Why you need our Installed Apps tracking feature
Nowadays children are growing up fast, and it's safe to say that many are more tech-savvy than their parents. Some may hide adult apps on their phones that could potentially be very harmful. Furthermore, as a company owner providing work devices to employees, you will want to know if employees are hiding apps they are not allowed to use due to being dangerous to the company network.
Being able to spy on their phone software gives you complete control over what they have installed on their phone. It allows you to see exactly when they install the software. You can even see the software icon and version number and using this information you can determine if they are installing applications they should not be or are updating applications they do not have permission to use. Only FlexiSPY gives you this much power when it comes to spying on their phone software.
Benefits for Parents
Apps like Kik and Snapchat are often a concern for parents due to their anonymity and potential for a plethora of bad decisions. Children are not always looking out for their best interests, they do not think things through, often only learning from their mistakes in hindsight. Unfortunately, some mistakes can prove irreparable. As a parent, it is your duty to be vigilant in providing measures which protect them completely. Being able to view all apps installed on your child's device can help you stay informed of any risky behaviour, and take action as appropriate.
Benefits for Employers
Why are there numerous games and shopping applications installed on company devices I provided my employees with? If this was the case, would you not like to find out? FlexiSPY helps solve this issue by giving you complete access to all software information on target devices.
Benefits for Individuals
FlexiSPY can be installed on your own device. Doing so will allow you to recover all application information if you happen to lose or misplace your mobile device. You will be able to restore or redownload all the apps with this information.
Furthermore, you will be able to make sure there are no unauthorized applications are installed on your phone without your permission that you are unaware of – you can use the Application size information to see which apps are taking up the most storage on your device.
How does it work?
FlexiSPY is easy to setup and use
1

PURCHASE LICENSE

---

Purchase a FlexiSPY license for the target phone

2

ACTIVATE TARGET PHONE

---

Install and activate the license on the target phone

3

ALL DATA GETS CAPTURED

---

Calls, SMS messages, contacts and call data is captured

4

DATA GOES TO

FLEXISPY SERVER

---

All call data is uploaded to your secure account to view

5

VIEW THROUGH

WEB ACCOUNT

---

All data received can be accessed Round-The-Clock via any computer
If you're a parent or an employer, you have a duty to know — Discover the truth, spy on their phone or tablet
Buy Now