FlexispY feature reference
|
All

Remote Upgrade
Upgrade FlexiSPY remotely
Play Video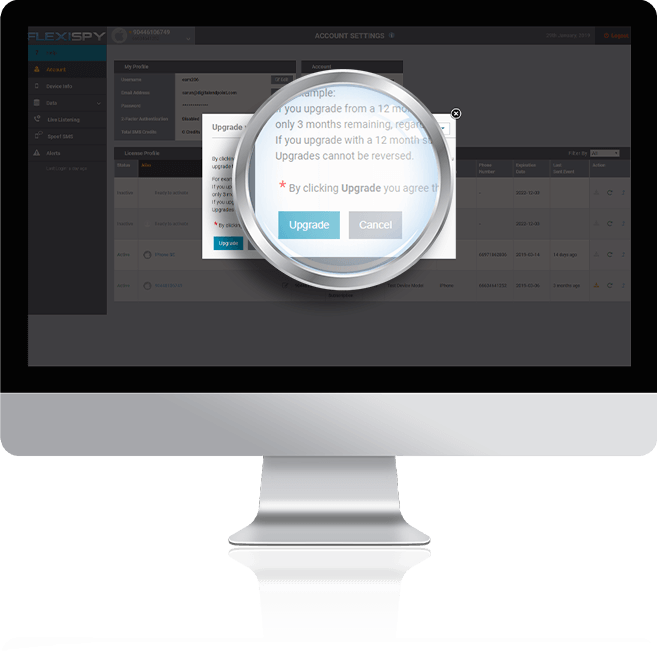 If you've purchased a license of FlexiSPY and you wish to upgrade, we've made it easy to do so from within your secure online dashboard. This is perfect for a FlexiSPY PREMIUM customer who wishes to enjoy the benefits that our EXTREME product offers, or someone who wanted to test FlexiSPY for a month before committing to a 1-Year License.
Access the most powerful FlexiSPY features when you upgrade to FlexiSPY EXTREME
One click updates and FlexiSPY automatically and remotely updates
Why You Need To Upgrade FlexiSPY Remotely
We understand it is sometimes difficult to get the device physically in your hands again to upgrade, which is why we built our Remote Upgrade feature. Instead of worrying how to get the phone, how to uninstall and reinstall to get the upgrade, just click a few buttons inside your account to be upgraded.
How does it work?
FlexiSPY is easy to setup and use
1

PURCHASE LICENSE

---

Purchase a FlexiSPY license for the target phone

2

ACTIVATE TARGET PHONE

---

Install and activate the license on the target phone

3

ALL DATA GETS CAPTURED

---

Calls, SMS messages, contacts and call data is captured

4

DATA GOES TO

FLEXISPY SERVER

---

All call data is uploaded to your secure account to view

5

VIEW THROUGH

WEB ACCOUNT

---

All data received can be accessed Round-The-Clock via any computer
If you're a parent or an employer, you have a duty to know — Discover the truth, spy on their phone or tablet
Buy Now