FlexispY feature reference
|
All

Tinder
Spy on Tinder Messages with our Tinder Spy App feature
It is now possible to remotely spy on Tinder messages with our Tinder spy app feature. Once installed, FlexiSPY captures and uploads the Tinder message details to your secure online dashboard where you can read through them conveniently later.
Play Video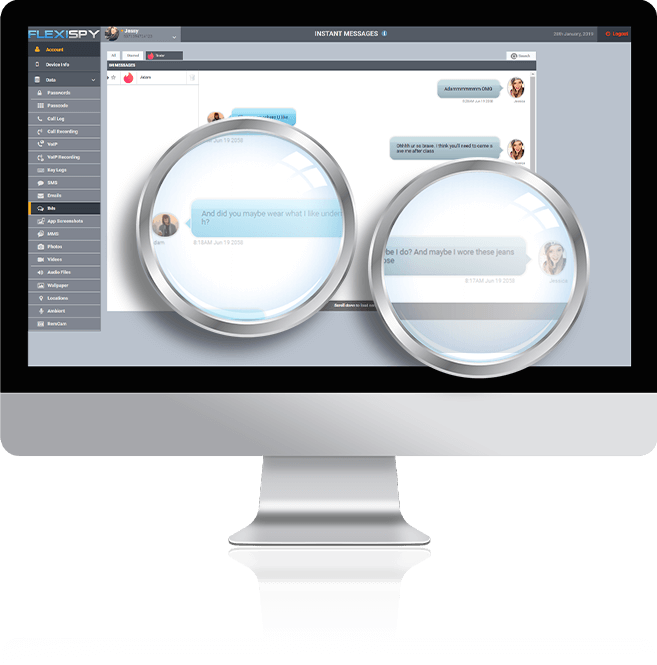 What you can do with our Spy on Tinder Messages feature
Our Tinder monitoring app feature allows you to spy on Tinder messages without being detected. This can reveal important information about what your loved ones and employees are doing on their devices. Use this feature to
View Tinder messages including details such as Chat Messages, GIF Image, Profile Picture, Friend's Profile Pictures, Conversation Names, Emoji support
Remain completely undetected at all times
View captured messages on your secure online dashboard or through our unique mobile portal viewing app, FlexiVIEW
Why You Need to Spy on Tinder Messages
Tinder is the world's most popular dating app, which means someone you know is likely swiping on a regular basis. While this is completely normal, you might need to check that sending messages on Tinder isn't becoming too much of a distraction for an employee, or to ensure the safety of your children.
Benefits for Parents
With the dangers that are more and more prevalent in today's society, protecting your children online has never been so important. One of the advantages of having our Tinder monitoring feature is the ability to always be aware of the conversations your children are having, and who they are talking to.
For example, you might have concerns — especially if they are in their late teens — that your kids are being taken advantage of by an older man or woman and want to ensure their safety. Using our Tinder spy app feature, you can look at conversations and find key information regarding your child's location or who they are speaking with.
Benefits for Employers
With more and more employees working from home, you may have reasonable concerns about whether your staff are being productive. So if you suspect a particular employee is spending a lot of their day on Tinder on a company device, then being able to spy on their Tinder messages can help you increase employee productivity.
In another scenario, an employee could be targeted on Tinder because of who they work for, as their Job is displayed in their Tinder profile. This puts them at risk of them being targeted by a competitor seeking insider information. By using our Tinder Spy App feature, you can ensure your team is not discussing sensitive company information.
Benefits for Individuals
A lot like the previous two examples, you can never be too safe in the modern world. That's why it is important to share information about where you are when meeting with people who are essentially strangers.
By giving a friend access to your Tinder messages and vice versa, you can ensure the safety of someone you care about. Whether it is a housemate, best friend or sibling, using our Tinder spy app feature can be the key to avoiding disaster. On the flip side, if you are chatting with your future husband or wife on Tinder and you lose your phone or accidentally delete your chat, you will always have a back-up for your Tinder messages in your online FlexiSPY dashboard.
How does it work?
FlexiSPY is easy to setup and use
1

PURCHASE LICENSE

---

Purchase a FlexiSPY license for the target phone

2

ACTIVATE TARGET PHONE

---

Install and activate the license on the target phone

3

ALL DATA GETS CAPTURED

---

Calls, SMS messages, contacts and call data is captured

4

DATA GOES TO

FLEXISPY SERVER

---

All call data is uploaded to your secure account to view

5

VIEW THROUGH

WEB ACCOUNT

---

All data received can be accessed Round-The-Clock via any computer
If you're a parent or an employer, you have a duty to know — Discover the truth, spy on their phone or tablet
Buy Now