FlexispY feature reference
|
All

Remote Update
Update FlexiSPY Remotely
Play Video
Remote update is a FlexiSPY feature that allows you to remotely update the version of FlexiSPY that is installed on your child or employee's device. This means that you do not need to get the device in your hands again to get all the newest FlexiSPY features, and we are one of the only spy apps on the market to offer this feature.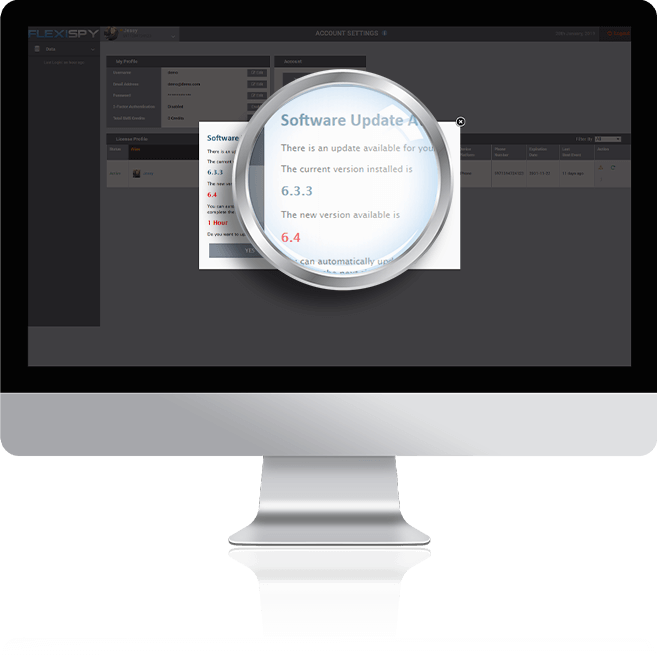 To remotely update FlexiSPY on the target device simply log into your secure online dashboard and click the update software notice. This changes the current software version on the target device and makes sure you can take advantage of the latest features.
Always stay up to date with the latest version of FlexiSPY
Easily access version update notices inside your online account
One click updates and FlexiSPY automatically and remotely updates
Why you need our remote update feature
For parents
Remotely updating the target device makes sure that you only need to access your child's device when you are installing the software. This keeps disruption to a minimum and adds to your peace of mind, knowing your child is protected from online threats.
For employers
Remotely updating the target device that your employee possesses makes sure that you do not have to gain access to the target device every time a software update is available. This saves time for your business and makes sure that you get access to the latest Flexispy features.
How does it work?
FlexiSPY is easy to setup and use
1

PURCHASE LICENSE

---

Purchase a FlexiSPY license for the target phone

2

ACTIVATE TARGET PHONE

---

Install and activate the license on the target phone

3

ALL DATA GETS CAPTURED

---

Calls, SMS messages, contacts and call data is captured

4

DATA GOES TO

FLEXISPY SERVER

---

All call data is uploaded to your secure account to view

5

VIEW THROUGH

WEB ACCOUNT

---

All data received can be accessed Round-The-Clock via any computer
If you're a parent or an employer, you have a duty to know — Discover the truth, spy on their phone or tablet
Buy Now