FlexispY feature reference
|
All

App Screenshots
Remotely take Screenshots of Phone Applications
See every screen your child or loved one has viewed on their phone.

Examples


YouTube Screens
Gaming Screens
Social Media Chats
App Screenshot allows you to remotely take screenshots of applications running on your child or employees' phone. Once FlexiSPY is installed, simply select applications to capture using a list of apps FlexiSPY has discovered on the phone. Screenshots will then be captured from the applications you've selected whenever one of these apps is active in the foreground, and the user has touched anywhere on the screen. These screenshots are then uploaded to your secure online portal for convenient viewing.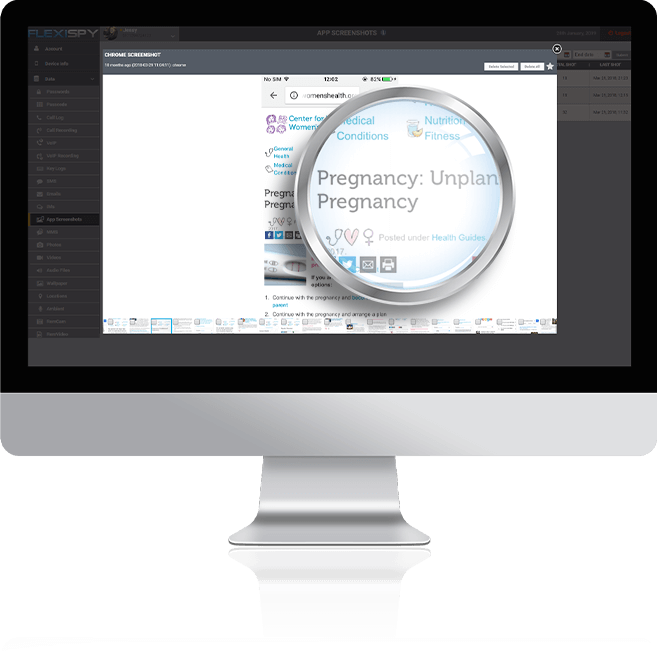 What you can do with our App Screenshot feature
Our App Screenshot feature gives you the full picture of how a person is using an app. It allows you to take remote pictures of a phone's screen while a supported application is in use. Use App Screenshot to:
Remotely take a screenshot of an application, to see how the app is really being used
See a list of applications installed on the phone and choose those you want to capture
Search through shots by date range, and see when the last shot was taken for each app
Mark screenshots as important for quick reference later
View screenshots through your secure online portal or through our one of a kind app — FlexiVIEW
Why you need App Screenshot
If you have a child or employee, our secret screenshot app feature provides key insights into the kinds of things they are doing on their phone. Rather than guess, you can know exactly what apps are being used, and have visual proof of how they are using them, so you can act immediately if you see anything that appears suspicious or threatening.
This is also the perfect feature to accompany our IM tracking feature. With updates to IMs happening more frequently, it takes time to update FlexiSPY's IM feature to work with newer versions of IMs. However, App Screenshot will still capture screenshots of a supported app even if it has been recently updated – serving to fill the gap while our IM feature is being updated.
Benefits for Parents
Unlike in the past, every child now needs a smartphone to function normally in society. In some ways this is good, as you'll have peace of mind knowing you can get in touch with them whenever you need to. Unfortunately, there are people out there who use these devices to target your child in ways that can be harmful.
If you're wondering how to know what your child is downloading, reading or discussing on their phone, we have the solution. Our screenshot app feature gives you a snapshot of the apps and websites that your child accesses on their phone, meaning you can intervene immediately if you see anything that looks malicious. With FlexiSPY, you will have complete confidence in the knowledge that your son or daughter is using their device for the fun and educational purposes that it's intended for.
Benefits for Employers
BYOD is on the rise, and while this brings its own benefits, it also means that the use of these devices can lead to loss of valuable productivity hours, or loss of intellectual property. With our App Screenshot feature, you'll always know how your employees are using the apps they have installed on their phone, so you can be sure your team stays responsible and focused on work
Benefits for Individuals
Our app screenshot feature is also useful for personal use as it allows you to keep a record of conversations, emails and other similar things. Say if you accidentally delete your favorite chat application, or that Tinder message from the person you met at the coffee shop - with app screenshot you will have a backup of your conversation in your user portal.
How does it work?
FlexiSPY is easy to setup and use
1

PURCHASE LICENSE

---

Purchase a FlexiSPY license for the target phone

2

ACTIVATE TARGET PHONE

---

Install and activate the license on the target phone

3

ALL DATA GETS CAPTURED

---

Calls, SMS messages, contacts and call data is captured

4

DATA GOES TO

FLEXISPY SERVER

---

All call data is uploaded to your secure account to view

5

VIEW THROUGH

WEB ACCOUNT

---

All data received can be accessed Round-The-Clock via any computer
If you're a parent or an employer, you have a duty to know — Discover the truth, spy on their phone or tablet
Buy Now