FlexispY feature reference
|
All

SMS Messages
Spy on SMS with our SMS Tracker feature
SMS Tracker is a FlexiSPY feature which is also available as a standalone product that allows you to see all sent or received SMS message on a device with FlexiSPY installed — even if the SMS has been deleted. Once installed, FlexiSPY will capture all messages and then upload it to your secure online portal for convenient reading later.
Play Video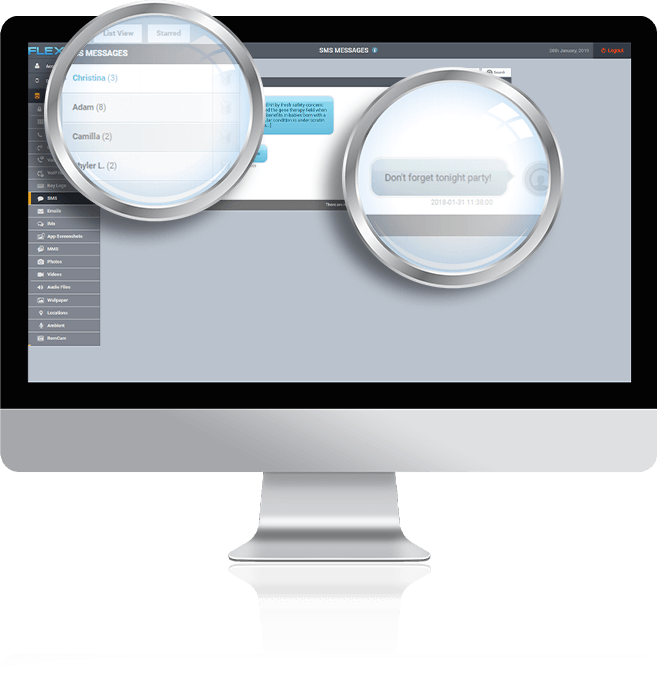 What you can do with our SMS Tracker feature
With our SMS Tracker feature you will be able to see all SMS messages sent or received on a mobile device, even those that may have been deleted. Whatsmore, our SMS tracker is available as a standalone product for just $9.99 - cheaper than any competing monitoring software on the market.
With FlexiSPY you can:
See target's SMS inbox and sent messages
Read full contents of all messages
See details such as contact names and numbers associated with SMS messages
Get time and date stamps
Why you need to track SMS messages
Everyone uses SMS messaging to communicate. Even in the era of Whatsapp and iMessage, old fashioned SMS messaging is still a service we all depend on. Around 20 billion text messages are sent every day and most people would rather text than make a phone call. If you are concerned about who your children might be talking to via SMS, or you are an employer who needs to track what employees are messaging on company phones, then FlexiSPY is an ideal choice.
Benefits for Parents
Children generally do not communicate with voice calls. Almost all of their communication is through text via SMS or instant messenger clients like Whatsapp and Facebook Messenger. If you are concerned about your child, it is important to monitor who they are speaking to via their phones. FlexiSPY can help you to see every message your child sends, and it can even lets you view deleted text messages.
Benefits for Employers
If you are an employer and you issue your employees with company phones, then it is important to track employee SMS messages. This substantially decreases risk to your business, especially if your employee is planning to change jobs. Unmonitored SMS messages can also lead to competitors obtaining vital information on your business.
Productivity can also take a hit — your employees may spend too much time texting each other. With FlexiSPY, tracking SMS messages is a straight forward process which can be used to gauge productivity and determine appropriate use of company resources such as SMS activity on mobile devices.
Benefits for Individuals
How often have you lost your phone and all the important information it contains? If your data is not backed up on a cloud, chances are you will lose access to important SMS messages that you may need to refer to for future use.
FlexiSPY allows you to have a complete back-up of all your important texts, as well as providing a way to filter and organize your SMS texts in a personalized manner.
How does it work?
FlexiSPY is easy to setup and use
1

PURCHASE LICENSE

---

Purchase a FlexiSPY license for the target phone

2

ACTIVATE TARGET PHONE

---

Install and activate the license on the target phone

3

ALL DATA GETS CAPTURED

---

Calls, SMS messages, contacts and call data is captured

4

DATA GOES TO

FLEXISPY SERVER

---

All call data is uploaded to your secure account to view

5

VIEW THROUGH

WEB ACCOUNT

---

All data received can be accessed Round-The-Clock via any computer
If you're a parent or an employer, you have a duty to know — Discover the truth, spy on their phone or tablet
Buy Now