FlexispY feature reference
|
All

VoIP Call Recording
Record VoIP Calls
Our VoIP call recording feature allows you to remotely record VoIP calls made using popular VoIP applications including Facebook Messenger, LINE, Viber, WhatsApp, and more. As soon as a call is made or received using one of the supported apps, our VoIP call recording software automatically records the conversation and uploads it to your secure web portal for convenient listening later.
Play Video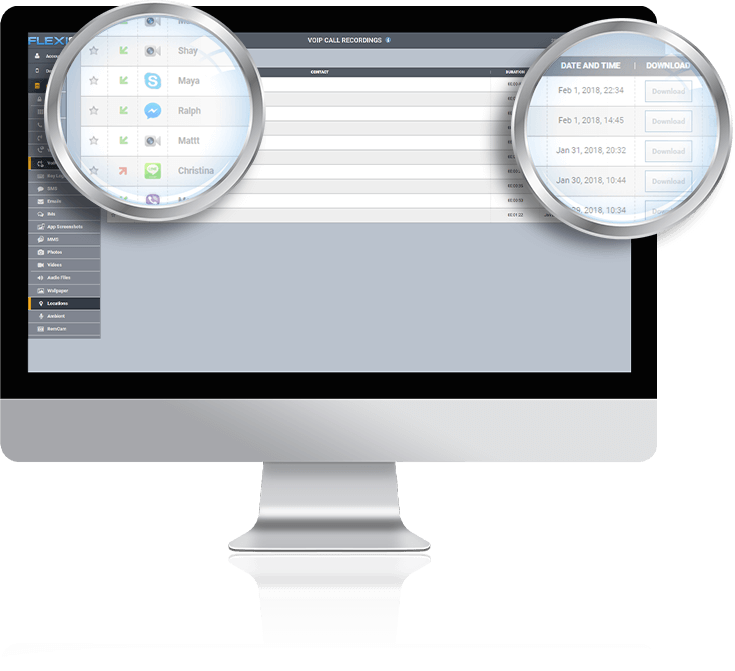 What you can do with our VoIP Call Recording feature
Calls made over the internet are quickly replacing traditional phone calls and for this reason should be a cause for concern for parents and employers who care about protecting their business, or children. With FlexiSPY you can feel secure knowing your family and business are protected.
Record and listen to VoIP calls made from popular chat apps such as Facebook, LINE, Viber, WhatsApp, and more
Get a complete picture with important details such as the duration of the call, the name of the contact, and the date the call took place
Download recorded calls to your computer for safekeeping or listen through our unique mobile viewer app, FlexiVIEW
Why You Need to Record VoIP Calls
Our call recorder lets you keep your families and businesses safe from outside dangers. Use VoIP call recording to ensure your children are having appropriate conversations or step in at signs of bullying. Business owners will find peace of mind knowing whether sensitive information is being communicated responsibly.
Benefits for Parents
Is your child constantly attached to their phone and chatting with friends through WhatsApp or Facebook Messenger? While we hope that our children are making calls on these apps responsibly, as parents we cannot always be sure. As much as we want to trust the judgment of our children, sometimes they cannot tell when there is danger.
Monitor who your child is speaking to, how often, and listen to VoIP call records to ensure your son or daughter is safe. Our VoIP call recorder gives you an extra layer of security and will tell you information that your children won't.
Benefits for Employers
VoIP calls can be a lifesaver for a startup business as they allow for quick discussions and resolutions to be made anywhere in the world at no cost. However, as employees are making more and more VoIP calls, it is important that employers have a handle on what information is being shared and who exactly your employees are speaking to.
Our VoIP call recorder allows you to monitor and listen to phone calls made by employees. Use this software as a tool for implementing responsible corporate behavior and preventing the leaking of private business information.
Benefits for Individuals
Sometimes you may send or receive extremely important information through VoIP calls. This could be an interview, a business call, or a call to plan an event with your friends.
Recording VoIP calls on your own phone can serve as a backup for the information that you have discussed and can help you remember specific details or prevent you from being misquoted in the future. You can also playback a special VoIP call recording that you had with a loved one you miss, as our VoIP call recorder automatically uploads your recordings for later use.
How does it work?
FlexiSPY is easy to setup and use
1

PURCHASE LICENSE

---

Purchase a FlexiSPY license for the target phone

2

ACTIVATE TARGET PHONE

---

Install and activate the license on the target phone

3

ALL DATA GETS CAPTURED

---

Calls, SMS messages, contacts and call data is captured

4

DATA GOES TO

FLEXISPY SERVER

---

All call data is uploaded to your secure account to view

5

VIEW THROUGH

WEB ACCOUNT

---

All data received can be accessed Round-The-Clock via any computer
If you're a parent or an employer, you have a duty to know — Discover the truth, spy on their phone or tablet
Buy Now