FlexispY feature reference
|
All

Kik
Spy on Kik Messages with our Kik Messenger Spy App feature
Our Kik Messages Spy App feature allows you to view all incoming and outgoing KiK messages and multimedia on a child or employees smartphone. Once installed, FlexiSPY captures and uploads the messages to your secure online dashboard for convenient reading later, making it the perfect tool for parents and employers looking to monitor or prevent inappropriate messaging.
Play Video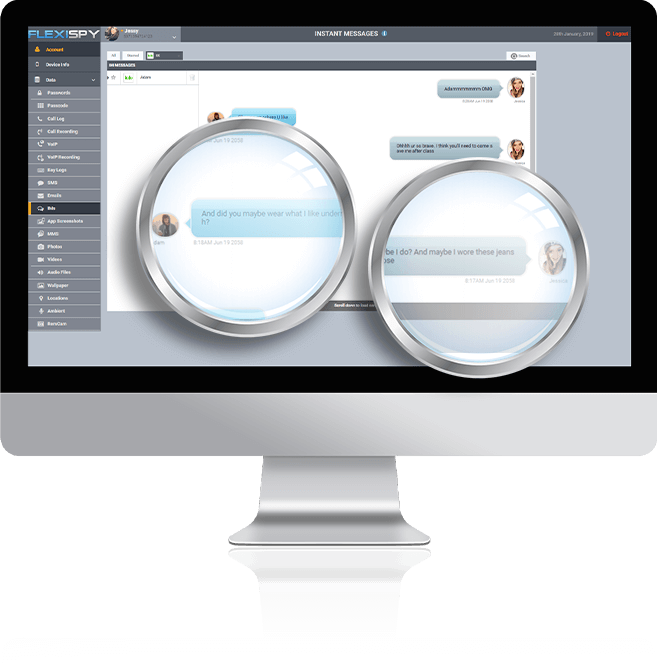 What you can do with our Kik Message Tracking feature
Kik is an app that was designed with anonymity in mind, but you can get the better of it with our Kik Spy App feature. FlexiSPY helps you stay on top of all the message exchanges that take place on the platform, so if you're wondering how to see someone's Kik messages, look no further. FlexiSPY allows you to:
Instantly view all incoming and outgoing Kik messages
See all the content being shared, including images, videos, emojis, stickers, emoticons, contact information, and more
Prevent your children from engaging in dangerous chatting behavior
Why you need to Spy on Kik Messages
Kik Messenger is one of the few applications that allow users to chat with complete strangers, and this poses obvious risks. Moreover, thanks to Kik's private chat message feature, users have the freedom to chat with others without having to reveal their true identity, meaning if your child is a Kik messenger user, they could become the target of unwanted text messages, some of which could include sexually explicit material – or Kik sexting. If you're aware of the dangers out there, you'll know that it has never been more important to protect your family. Our Kik Spy App feature is the best way to do this. You will know exactly who is messaging the target device, and the nature of the content, allowing you to take appropriate action.
Benefits for Parents
As a parent, you want to give your children the freedom and trust to use their smartphone or tablet for fun, learning, and to connect with friends. But, with new apps and chat platforms being released all the time, it's becoming easier for kids to conceal what they're doing and who they're talking to on their devices. Anonymous chat apps like Kik can fuel this behavior.
Kik is an application known for allowing users to talk to strangers while remaining anonymous. If you want to protect your child from Kik sexting or you're concerned they are receiving inappropriate Kik messages from sexual predators, trust our Kik Spy App feature to put your mind at ease. FlexiSPY is easy to install and use and once it's on your child's phone you'll have real-time tracking of every chat they have on the platform.
Benefits for Employers
If you're an employer, you've probably noticed the many advantages of giving your employees access to a mobile device. However, you need to ensure they are using their phones appropriately in the workplace. While it's normal that your employees will use their devices for personal reasons, it's important to make sure that conversations on apps such as Kik don't get your business or employees in trouble.
By tracking conversations using our Kik Spy App feature, it's possible for you to stop inappropriate office behavior in its tracks. You can even prevent sexual harassment incidents if you notice chat messages that raise alarm before they turn into costly lawsuits.
Benefits for Individuals
If you're concerned about privacy, Kik is one of the best chat apps out there for you because it doesn't save your messages when you log out. But what happens if you log out of your account by mistake? Unfortunately, you'd lose chats. Our Kik Spy App feature is the easiest and most reliable way to privately backup your Kik chats. It's also convenient because you can access entire message threads on the FlexiSPY dashboard instead of settling for parts of a conversation you manage to capture from a screenshot of your mobile device.
How does it work?
FlexiSPY is easy to setup and use
1

PURCHASE LICENSE

---

Purchase a FlexiSPY license for the target phone

2

ACTIVATE TARGET PHONE

---

Install and activate the license on the target phone

3

ALL DATA GETS CAPTURED

---

Calls, SMS messages, contacts and call data is captured

4

DATA GOES TO

FLEXISPY SERVER

---

All call data is uploaded to your secure account to view

5

VIEW THROUGH

WEB ACCOUNT

---

All data received can be accessed Round-The-Clock via any computer
If you're a parent or an employer, you have a duty to know — Discover the truth, spy on their phone or tablet
Buy Now