FlexispY feature reference
|
All

IM Monitoring for PC & Mac
Read Their IM Chats Without Them Knowing
Want to read their IM chats without them knowing, so you can protect them from online threats? With FlexiSPY's IM Monitoring feature, you can!
Hint! You can also monitor their IMs with FlexiSPY for Android, iPhone, or iPad.
Your child probably spends an hour or more each day talking with their friends on the internet using either their computer, phone, or tablet. And most of the time while this is going on you'll have no idea what they are saying or whether the person they are talking to is truly a friend, or someone who may have bad intentions. So at some point you have probably asked yourself "what exactly are they saying?" and worried they might be putting themselves at risk. To truly protect your loved ones, you need to monitor their chats, to make sure they haven't been saying anything harmful. FlexiSPYs monitoring software for computers and mobiles lets you read their IM chats without them knowing, and is the perfect solution for anyone who wants to protect their loved ones. Let's look at how you can protect them with FlexiSPY for Computers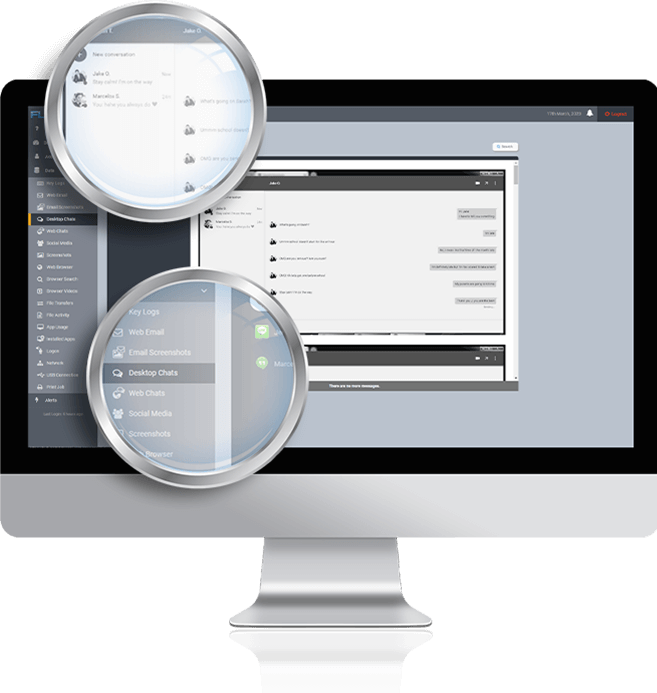 What You Can Do With Our IM Monitoring Feature for Computers
FlexiSPY lets you remotely spy on popular IMs like Skype, Facebook Messenger, WhatsApp, LINE, Viber, iMessage, and more!
Once installed on the computer you wish to monitor, FlexiSPY will capture their chats by taking a screenshot of the chat and uploading it to your secure online portal - providing full details of an instant message thread including the date, timestamps, and images.
With our IM monitoring feature you can:
See what they are saying while you are not there to supervise them
Captured chats include date and time stamps, as well as contact names and profile pictures
Captures both desktop and web-based versions of IM using (learn more)
View photos, stickers, and emojis
Access captured information directly from your online portal or through FlexiVIEW, our unique mobile portal viewer app
Why You Should Monitor Their IM Chats
If you've ever worried about what your child, loved one, or even employee is saying on their favorite IM, consider FlexiSPYs monitoring software.
Benefits for Parents
For most parents, determining whether the instant messaging apps their children use are safe and appropriate can be a challenging layer to digital parenting.
It is essential you invest in reliable monitoring software to protect your children from threats posed by IMs. These threats include but are not limited to the following:
Cyberbullying
Is your child about to be the new kid at school, or has their behavior changed noticeably as of late? These are just two common examples of scenarios experts say are associated with online bullying.
Unfortunately, cyberbullying can occur across any chat platform and when left unchecked — can lead to depression, anxiety, and self-harm.
Cyberbullying on instant messengers can be particularly dangerous because of several factors, including ease of access and anonymity. And because the focus of most instant messaging companies is to attract as many users as possible, little care is given to vetting new users or in monitoring what goes on in the community.
Online Predators
Despite the many advantages technology has brought us, the reality is that there are numerous nefarious individuals who look to abuse tech through online channels such as instant messengers, with many targeting young children and teenagers.
These online predators use instant messengers to gain access to children then attempt to obtain details such as what school they go to, who their friends are, what they look like, and even where they are at a specific time.
They may even pose as peers or an acquaintance to solicit sexually explicit images or video, and in the most dangerous cases — arrange to meet up in real life or show up at your home.
To safeguard your children from online predators, Director of the CID's Major Cybercrime Unit Edward Labarge suggests the following:
"Never let your child have free rein on any electronic device… it is important to discuss safety and boundaries before giving access and lay out the consequences for not adhering to them." (https://www.dvidshub.net/)
With FlexiSPY installed on your child's computer, you get an all-in-one solution that always lets you know who your child is interacting with on IMs. Allowing you to protect them from dangerous situations when needed.
Scams & Phishing
Often, your child may be sharing the family computer to play games, do homework, or in this case — chat, send and receive attachments and multimedia via an instant messaging platform.
If your child is not careful about who they interact with online, they could be persuaded to provide remote access to your home computer by a deceiving adult or an opportunistic hacker. This is dangerous, especially if you are storing sensitive data such as your credit card information or home address into the very same computer.
Protect your kids from cyberbullying, exposure to sexual predators, and other dangers with the Best Parental Control App designed by experts.
Benefits for Employers
Prevent data leaks, malicious downloads, and know everything that is sent and received on IMs on your company computers.
Did you know that more than a third of organizations have no policy concerning instant messaging using personal accounts? This is despite the well-documented risks associated with how the use of personal instant messaging within a corporate network could potentially introduce malware into an organization.
While IM Chats can accelerate business-related interactions, they can also pose a significant threat to your company's sensitive or proprietary data. As a result, many organizations choose to adopt an employee monitoring policy that includes monitoring software for computers.
With FlexiSPY, companies can capture and archive instant messages into a centrally managed, easily searchable repository that is stored on a web portal accessible 24/7.
Benefits for Individuals
FlexiSPY's IM Monitoring feature is a valuable tool for individuals! Here's Why:
Access to Deleted Messages: Once the chat has been captured. It will be stored in your online account. This means even if you accidentally delete the message from the IM application, you will still have a backup. This can be useful in situations when you need to recover important messages that were accidentally deleted or were intentionally deleted by someone else to hide their tracks.
If you're a parent or an employer, you have a duty to know — Discover the truth, spy on their phone or tablet
Buy Now