FlexispY feature reference
|
All

File Activity Tracking
Track File Changes with FlexiSPY's File Auditing Software
Track file changes with FlexiSPY's File Activity Monitoring Software. Imagine you're an employer with a valuable, proprietary database of customer information stored on your company's computers. You suspect that someone may be accessing and copying that data without your permission, but you have no way of knowing for sure. With FlexiSPY, you can track file changes in real-time on your PC or Mac, and protect your company's valuable data.
But it's not just employers who need to keep an eye on file activity. Parents can also use FlexiSPY to monitor their children's computer usage and ensure they're not accessing inappropriate or harmful content.
Once installed on the computer you wish to monitor, FlexiSPY logs all file and folder activity and uploads them to your secure online dashboard. From then you can know anytime a file is created, copied, moved, renamed, deleted, or transferred. This allows you to act swiftly to address any unauthorized file activity and prevent data leaks.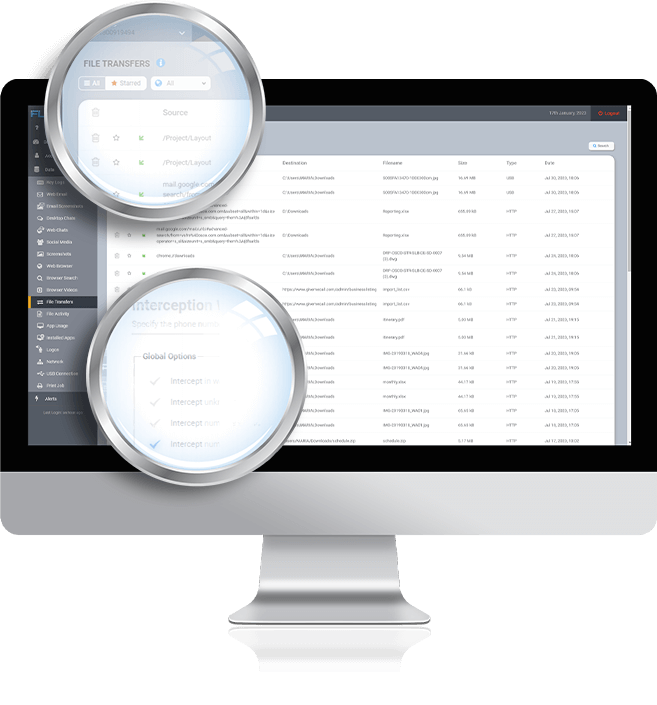 Track File Changes with FlexiSPY's File Monitor Software
With FlexiSPY you can:
See all File Activity that occurs on the computer (copied, moved, edited, and more)
See the time and date stamps of each activity
Use the filter option to quickly sort through activities
Receive Alerts when a File Activity occurs
Combines with FlexiSPY's mobile monitoring solution for over 150 powerful features to protect your data and monitor activity on all your devices
Why you Should Track a Computer's File and Folder Activity
As cyber-threats continue to rise, File and Folder Activity Monitoring has become a vital part of any data security strategy for businesses serious about protecting their IP and employee data. Being able to track file changes is also an important parental control tool for parents to help protect their children from online threats.
Benefits for Employers
Do you suspect that someone is misusing company computers, or has secretly accessed or deleted files on your private laptop? Use FlexiSPY to perform a file audit and to monitor folder access and file changes on Windows and Mac computers in real-time.
With our file access auditing feature, you can detect malicious activity such as when a dangerous file is being copied and shared or when a sensitive folder is moved outside of your organization's network.
FlexiSPY gives you immediate insight when File Activity occurs at times when nobody should have been accessing a computer. Pair this with our User Log on Activity Feature and you'll be able to identify any wrongdoers and take action to prevent violations in the future.
Benefits for Parents
Video and image files downloaded to any computer can contain harmful viruses and malware. In fact, hackers are known to embed Trojan viruses on music-file sharing networks, pornographic, and online gambling websites. Is it possible that your child downloads files or folders from these sources?
If your child downloads a music file or porno and infects your family computer, you'd have no idea until your machine slowed to the point of becoming unusable, or you start receiving erroneous charges on your credit card. As a parent, you can prevent these attacks by knowing when a file is downloaded, renamed, or moved to hide its' true contents.
To add to this, most children are more tech-savvy than their parents and will find ways to hide their computer activity, this includes renaming downloaded files and folders. To get ahead of this, you can install FlexiSPY for computers to always know when file activity occurs.
Benefits for Individuals
FlexiSPY helps you keep track of all files and folders on your computer, letting you know when anything is edited, copied, deleted, or moved. This feature can be especially useful for individuals who need to secure their digital documents for work or personal reasons.
Frequently Asked Questions
How to track when someone accesses a folder on your computer?
You can use FlexiSPY to track when someone accesses a folder on your computer.
FlexiSPY tracks when files and folders are:
Created
Copied
Moved
Deleted
Modified
Renamed
Permissions Changed
Attributes Changed
With FlexiSPY, you can even remotely track when someone accesses a folder on your computer.
How to see when a file was last accessed?
You can see when a file was last accessed on any PC or Mac with FlexiSPY installed. You'll also be able to know the exact date and time the access occurred.
Use FlexiSPY to monitor folders and files that are:
Video files
Image files
Encrypted files
Text document files
FlexiSPY offers a non-intrusive way to monitor file access and activity at work or at home.
How to see who is accessing a file on a server?
You can use FlexiSPY for Computers to see who is accessing a file on a server. Assuming your network of computers have FlexiSPY installed – you will be able to track all file activity and know exactly which computer, and user log-in, accessed the file on the server.
With FlexiSPY installed on any PC or Mac, you can see:
File Transfers
Web Emails
Desktop IM Chats
Browser Activity & Search History
Desktop Screenshots
Network & USB Connections
Print Activity
FlexiSPY is used by companies worldwide to monitor employee productivity and protect their sensitive data.
How to track file access in Windows?
Track file access on any Windows PC by installing FlexiSPY for Computers. FlexiSPY's file monitor feature also tracks Mac desktops or laptops.
After FlexiSPY is installed you can track all file activity and monitor:
File access
File versions
File movement
File downloads
File uploads
Our software is designed to be an easy-to-use tool for monitoring, auditing, and alerting users when file and folder activity occurs on Windows Systems.
If you're a parent or an employer, you have a duty to know — Discover the truth, spy on their phone or tablet
Buy Now