FlexispY feature reference
|
All

iMessage
Spy on iMessage with our iMessage Spy App feature
Our iMessage spy app feature allows you to see all incoming and outgoing iMessage's made on the device that FlexiSPY is installed on. Once installed, FlexiSPY will capture these messages and automatically upload them to your secure online portal where you can conveniently read through them later. And with iMessage being one of the more popular IM's currently being used by people today, if you're a concerned parent or employer worried about what messages are being sent, we believe you will find this an essential monitoring feature.
Play Video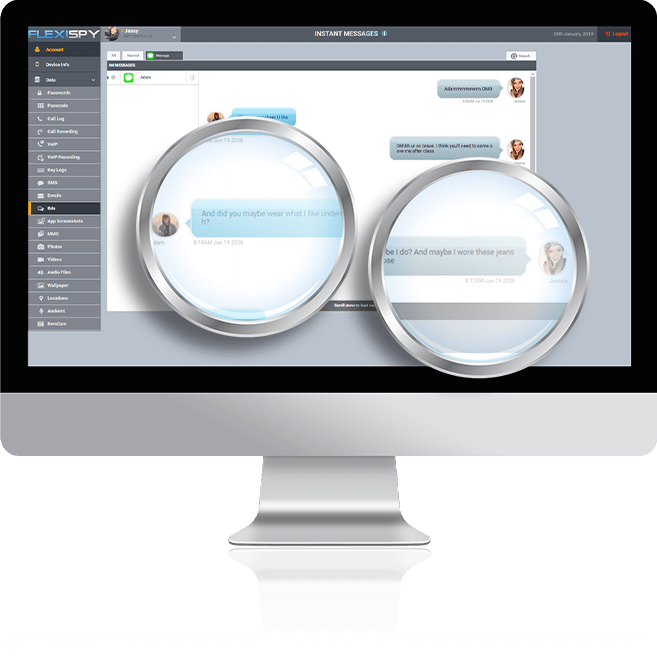 What you can do with our iMessage tracking Feature
If you've ever worried about the contents of your child or employees iMessage's, and you wanted more visibility into what was being said, then our iMessage spy app feature is here to help. FlexiSPY let's you
View all the incoming and outgoing iMessages on a target device
View individual or group message exchanges
See all images, videos, contact information or group chats shared
Why you need to spy on iMessage
Every day, millions of texts are exchanged between iOS devices using the iMessage app. While there are many upsides to iPhone text messaging, it can also be an easy tool to exploit for those who want to cause harm to you, your family, or your business. By monitoring iMessage, you'll have peace of mind that you can intervene if you spot any suspicious text messages.
Benefits for Parents
Any parent knows that Apple devices are a popular and cool gift for their child. You may find yourself choosing an iPhone for your teen to make it easier to keep in touch with them, or your child may need an iPad for school or college. These devices offer great opportunities to connect and learn, but there are people out there who try to use them in malicious ways.
If someone gets access to your child's mobile number, email address or Apple ID, they can start contacting them directly using iMessage. As a parent, you'll want to know the content of these texts to make sure they are appropriate.
FlexiSPY makes it simple for parents to monitor iMessage's on their child's device. Our software allows you to see all incoming and outgoing texts, and we also give you full access to texts, photos, videos, and other contact information that is being exchanged. In this way, you can step in immediately if you believe your child is exposed to danger.
Benefits for Employers
Providing your employees with iPhones or iPads can be a smart move for any business.
It can allow your staff to work wherever they are resulting in a productivity boost, while the built-in communication apps such as iMessage can cut costs by reducing mobile phone bills.
With FlexiSPY, you can ensure that your team stays focused on business activities by monitoring the iMessage's they receive and send. Our iMessage tracking enables you to instantly see if private company information is being inadvertently shared with people who shouldn't have it, or if your employees are using the device you've provided improperly.
Benefits for Individuals
If you've ever lost your iPhone and couldn't remember your Apple ID login details, you'll know how stressed you can feel at that moment as you think of all the contact details, photos, and special text messages you may have lost. FlexiSPY's iMessage spy app feature can be useful in situations like this by helping you get back on your feet by providing a handy backup of all the iPhone text messages, videos and images that were sent to and from your device using the iMessage app.
How does it work?
FlexiSPY is easy to setup and use
1

PURCHASE LICENSE

---

Purchase a FlexiSPY license for the target phone

2

ACTIVATE TARGET PHONE

---

Install and activate the license on the target phone

3

ALL DATA GETS CAPTURED

---

Calls, SMS messages, contacts and call data is captured

4

DATA GOES TO

FLEXISPY SERVER

---

All call data is uploaded to your secure account to view

5

VIEW THROUGH

WEB ACCOUNT

---

All data received can be accessed Round-The-Clock via any computer
If you're a parent or an employer, you have a duty to know — Discover the truth, spy on their phone or tablet
Buy Now