FlexispY feature reference
|
All

VoIP Call Logs
Spy on VoIP Call Logs
FlexiSPY's VoIP call logging feature allows you to view calls made using popular VoIP applications, including Skype, WhatsApp, LINE, Viber, Facebook Messenger, and more. As soon as a call is made or received using one of these apps, our VoIP call logging software automatically logs the conversation allowing you to view it later inside your portal.
Play Video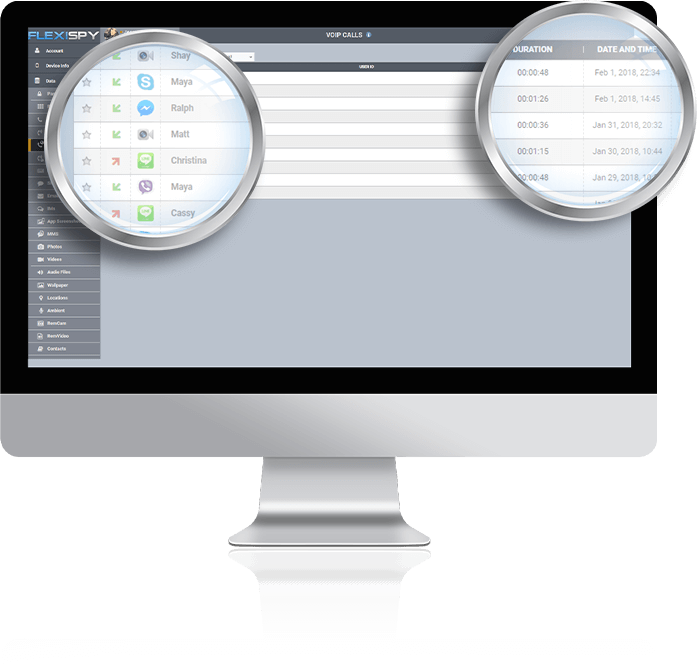 What you can do with our spy on VoIP call logging feature
Traditional phone calls are quickly being replaced by calls made over VoIP. This means if you're a parent or employer concerned about the phone calls being made to or from a device, you'll need to be able to monitor these logs. With our VoIP call logs feature you can do things like:
View VoIP call logs made using popular services such as Facebook, LINE, Skype, and more
View the exact date and time the call took place
See all contact information
Know the duration of every call
Why you need to spy on VOIP call logs
Sometimes you may need to keep tabs on who your child or employee is calling. If you've ever wondered something along the lines of "who is my son staying up late on the phone talking to?" or "is my sales manager on the phone with a competitor" then you absolutely benefit from this feature.
Benefits for Parents
Kids these days are wizards with their phones and they are on them all the time. How do you ensure that your child is not talking to someone they shouldn't be, or worse yet a complete stranger? While we hope that our children are making calls responsibly, there's normally way to be certain.
Our spy on VoIP call logs feature solves this problem, allowing you to monitor who your child is speaking to, for how long, and how often. Giving you crucial information that your children may not want revealed to you.
Benefits for Employers
VoIP is being adopted on a mass scale by businesses, and it's no wonder as it requires no hardware or equipment and is often free. Infact research indicates businesses can save anywhere from 50 to 70% in extra costs by switching to VoIP calls instead of traditional phone calls.
This means that as employees are making more and more VoIP calls, it is important that employers have a handle on what information is being shared and who exactly your employees are speaking to. In businesses where VoIP is widely used — such as in a multinational telemarketing company with weekly conference calls, or a customer service center offering assistance via VoIP to customers — our spy on VoIP call logs feature can help to log meetings as well as verify productivity.
Benefits for Individuals
Being able to view VoIP call logs can also have benefits for personal use. For example, if you wanted to know the date that you last called a friend, but you recently switched phones, or the call log was so old that your phone auto-deleted the record, then you would still have the record safe inside your FlexiSPY portal.
How does it work?
FlexiSPY is easy to setup and use
1

PURCHASE LICENSE

---

Purchase a FlexiSPY license for the target phone

2

ACTIVATE TARGET PHONE

---

Install and activate the license on the target phone

3

ALL DATA GETS CAPTURED

---

Calls, SMS messages, contacts and call data is captured

4

DATA GOES TO

FLEXISPY SERVER

---

All call data is uploaded to your secure account to view

5

VIEW THROUGH

WEB ACCOUNT

---

All data received can be accessed Round-The-Clock via any computer
If you're a parent or an employer, you have a duty to know — Discover the truth, spy on their phone or tablet
Buy Now