FlexispY feature reference
|
All

BBM Messenger
Spy on BBM Messenger with our BBM Spy App feature
Our BBM messenger spy app feature allows you to see all incoming and outgoing instant messages on the target device. FlexiSPY makes it simple for users to obtain key information, details are there to be viewed instantly and can be saved for a later date. Captured data can even be previewed from your online FlexiSPY account - and then downloaded in an easy-to-interpret format.
Play Video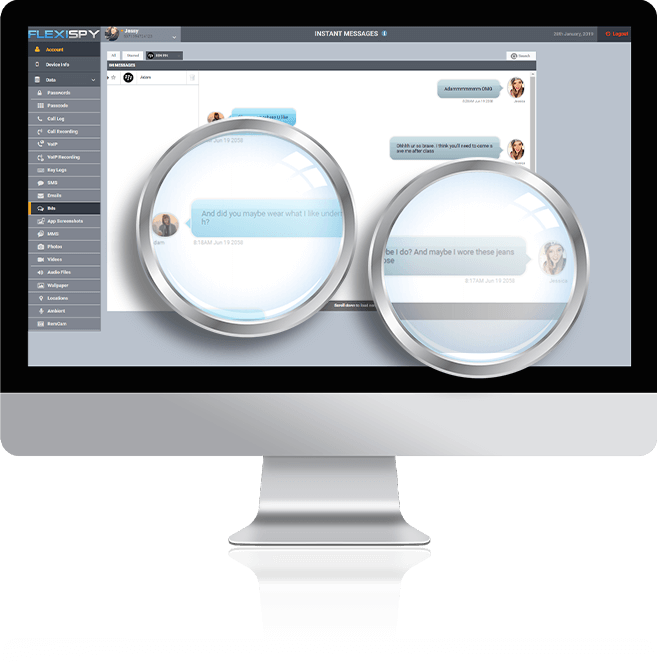 What you can do with our BBM Messenger spy app feature
Our BBM messenger spy app allows users to spy on Blackberry messenger conversations completely undetected. The benefits of this feature include:
Read incoming and outgoing BBM messages
Capture sent and received pictures and videos
Save BBM messages, pictures and videos in your FlexiSPY account
View important information like contact details
Why You Need to Spy on Blackberry Messenger
There are many reasons why you need to know how to spy on someone's Blackberry messages. Whether you are a parent, employer or individual, our BBM Messenger spy app feature can provide you with data and answers other products cannot.
Benefits for Parents
Ensuring the safety of your children online is becoming more of a challenge than ever.
If like many parents you are worried about the company your kids keep, or you are concerned about the people they are speaking to on BBM, you'll be glad to learn our Blackberry Messenger spy app is what you need to protect them from danger.
Online bullying is another huge concern for parents in the modern age. Having technology as useful as the BBM Messenger spy app feature can be vital for ensuring your children are safe.
With FlexiSPY's Blackberry Messenger spy technology, you will remain completely anonymous and be able to protect your children from threats and predators.
Benefits for Employers
If your employee is using a company device with Blackberry Messenger, our BBM Messenger monitoring feature will enable you to track employee activity and productivity. It gives employers the technology they need to record every Blackberry message sent and received by a target device. Importantly, employers can make sure their employees are not sharing valuable company information to their friends or worse, competitors. All contact details between the sender and recipient are also available, so you will know exactly who is communicating with whom.
Benefits for Individuals
If you own a Blackberry or use the Blackberry Instant Messenger and would like to back up important conversations, FlexiSPY is the ideal choice for this. It makes it easy to archive and access Blackberry messages at any time. You will feel secure knowing that your messages are saved even if your phone is lost or stolen.
How does it work?
FlexiSPY is easy to setup and use
1

PURCHASE LICENSE

---

Purchase a FlexiSPY license for the target phone

2

ACTIVATE TARGET PHONE

---

Install and activate the license on the target phone

3

ALL DATA GETS CAPTURED

---

Calls, SMS messages, contacts and call data is captured

4

DATA GOES TO

FLEXISPY SERVER

---

All call data is uploaded to your secure account to view

5

VIEW THROUGH

WEB ACCOUNT

---

All data received can be accessed Round-The-Clock via any computer
If you're a parent or an employer, you have a duty to know — Discover the truth, spy on their phone or tablet
Buy Now