FlexispY feature reference
|
All

Call Recording
Record phone calls
Call recording is a unique FlexiSPY feature that allows you to remotely record any call made to or from a target device. Once the call has been recorded, it is uploaded to your secure online dashboard where you can listen immediately, or download to your computer for safe keeping
Play Video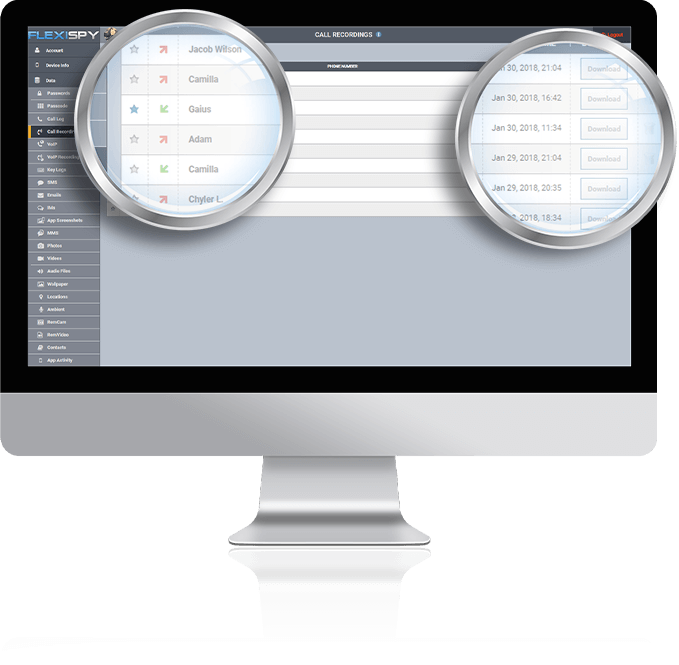 What you can do with our call recording feature
If you want to know what your child or employee is actually saying during a phone call, then there is no better way than through our call recording feature. With FlexiSPY, you can
Record all incoming and outgoing calls
Record only the calls you're interested in
Download your recordings or listen directly from the Dashboard
Listen to recordings on the go with FlexiVIEW - our mobile portal viewer app.
Why you need to spy on phone calls
If you've ever wondered "What is my teenage daughter talking about on her phone late at night" "is my sales manager handing over valuable trade secrets to a competitor?" or anything along these lines, you need our call recording feature.
Benefits for Parents
If your kids are like most other kids today, they probably own a phone. While this is fine, statistics show that children are more likely to give away their personal data to strangers online – including their phone number. Do you really know who they are talking to?
With our call recording app, you can have peace of mind knowing you can listen to your child's phone conversations later if you are concerned they are in danger. Protect them from potentially harmful strangers or friends who may be poor influences that could possibly lead them astray. With call recording, you can ensure they are making wise decisions and acting responsibly when you cannot be there.
Benefits for Employers
As an employer, you have a responsibility to ensure your employees are behaving professionally and acting with the company's best interest in mind. We trust our staff to protect confidential information and to keep intellectual property within the company. However, it is not uncommon for a disgruntled staff member to leak data or share valuable insight with competitors.
FlexiSPY gives you the power to prevent corporate espionage or stop data breaches before it's too late. With our phone call recording app, you can maintain up to date records of all phone calls that are made through company cell phones. Monitor who, when, how many times, and what was said through phone conversations.
Benefits for Individuals
Finally, with our call recording feature, you can track, record, and save important business or personal conversations for later use for yourself. Not only this, there are various other scenarios where having the ability to record a phone call will come in handy for personal use. For example, with this feature you will no longer have to worry about forgetting important information from a conference call, or if have made a verbal agreement over the phone, you'll have proof if the other party backs out.
How does it work?
FlexiSPY is easy to setup and use
1

PURCHASE LICENSE

---

Purchase a FlexiSPY license for the target phone

2

ACTIVATE TARGET PHONE

---

Install and activate the license on the target phone

3

ALL DATA GETS CAPTURED

---

Calls, SMS messages, contacts and call data is captured

4

DATA GOES TO

FLEXISPY SERVER

---

All call data is uploaded to your secure account to view

5

VIEW THROUGH

WEB ACCOUNT

---

All data received can be accessed Round-The-Clock via any computer
If you're a parent or an employer, you have a duty to know — Discover the truth, spy on their phone or tablet
Buy Now