FlexispY feature reference
|
All

Gmail
Spy on someone's Gmail with our Gmail spy app feature
Our Gmail spy app feature allows you to read all Emails sent or received with the Gmail app on a target device. Once installed, FlexiSPY captures and uploads the entire Gmail history to your secure online dashboard where you can sort and read through the emails at your convenience.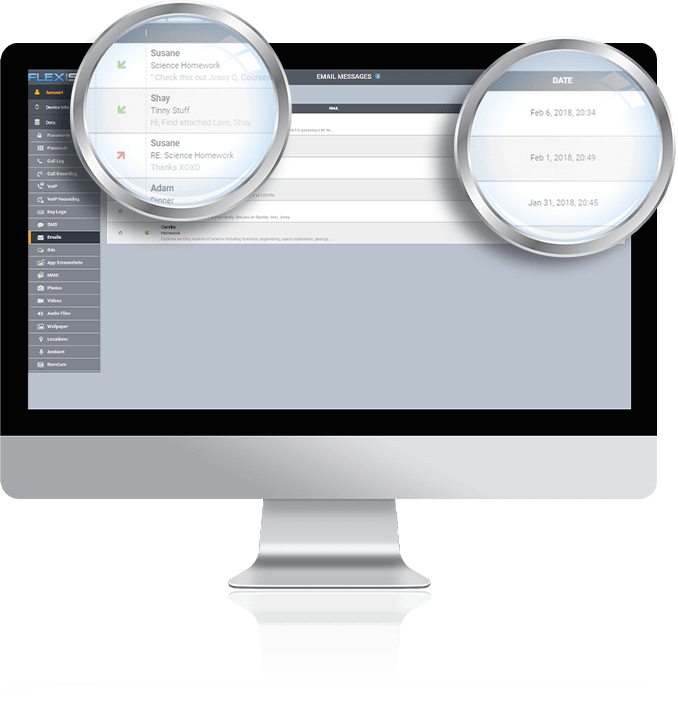 What can you do with our Gmail tracking feature?
Are your employees sending business secrets to competitors? Is your child being preyed on by an online predator? With our Gmail spy app feature, you'll know for certain once and for all.
Read all incoming and outgoing Gmail emails
Flag emails you care about as important for quick access to later
Get alerts when specific Keywords appear in an Email
See the date and time of the Email
Search Emails by date, keyword, and more using Advanced search
Download a backup of important Emails as CSV or XLS
Why you need our Gmail spy app feature
Gmail is one, if not the most popular way to send Emails. This means if you are a concerned parent or employer, and you need to read the Emails being sent or received on their device, then you need this feature.
Benefits for Parents
As a parent concerned for your child's safety, you've probably wondered who your child is emailing, what they are saying in those emails, and what they're being sent back. Our Gmail spy app feature allows you to answer these questions so you can have peace of mind that your child is safe, or take immediate action if you discover something is seriously wrong.
Benefits for Employers
Skim through today's headlines for insider theft and you're almost guaranteed to read about a rogue employee sending trade secrets over email. Business owners can take advantage of this feature to make sure all their company endpoints are being monitored, and prevent company secrets from leaving the network.
Benefits for Individuals
Anyone wanting a complete record of their device data can trust FlexiSPY for the job, and this feature adds to that. Download your email history to your computer for safe keeping later as CSV or XLS to get peace of mind that you always have a backup.
How does it work?
FlexiSPY is easy to setup and use
1

PURCHASE LICENSE

---

Purchase a FlexiSPY license for the target phone

2

ACTIVATE TARGET PHONE

---

Install and activate the license on the target phone

3

ALL DATA GETS CAPTURED

---

Calls, SMS messages, contacts and call data is captured

4

DATA GOES TO

FLEXISPY SERVER

---

All call data is uploaded to your secure account to view

5

VIEW THROUGH

WEB ACCOUNT

---

All data received can be accessed Round-The-Clock via any computer
If you're a parent or an employer, you have a duty to know — Discover the truth, spy on their phone or tablet
Buy Now