FlexispY feature reference
|
All

Delete SMS
Delete SMS containing special keywords
Our SMS deletion feature automatically intercepts and deletes SMS messages containing special keywords, allowing you to control exactly what messages appear on the target device. With this feature you will be able to intercept and delete SMS messages before the recipient even sees them.
Play Video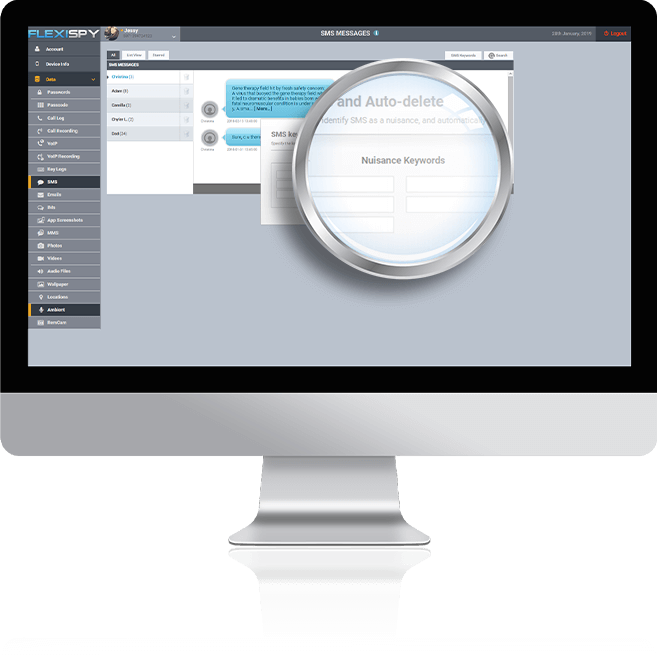 What you can do with our SMS deletion feature
FlexiSPY lets you specify keywords contained in SMS messages to intercept. Once it detects the keyword, it deletes the entire message, so the target never sees the message come through. With our SMS deletion tool you will be able to:
Specify keyword phrases easily from inside your online account
SMS messages containing the keyword you set will never be seen on their phone
Control what SMS messages they see and do not see
Why you need our SMS deletion feature
Have you ever accidentally sent a text before the whole message was ready? Or have you ever wanted to be able to screen what SMS your children or employees receive or send? If so, FlexiSPY provides you with an ideal solution by allowing you to intercept and delete SMS messages remotely.
Benefits for Parents
FlexiSPY's SMS deletion feature is particularly useful for parents who are monitoring a child's phone. For example, you may want the ability to screen what SMS content your child is exposed to. You can stop messages from reaching their phone if they include certain keywords that you specify.
Benefits for Employers
For employers, the delete SMS feature is a powerful tool that can help prevent your employees from being distracted in the workplace. Employees spending too much time on YouTube? Set the SMS keyword as 'youtube' and any links shared through SMS will never make it to their phone, keeping your workers focus on the task at hand.
Benefits for Individuals
The Delete SMS feature can be useful for personal use. Say for example you accidentally sent an inappropriate message and wish to delete it immediately. Or if there are keywords you do not wish to reach a person's mobile device. You can control exactly what SMS messages appear on the device via your online FlexiSPY account.
How does it work?
FlexiSPY is easy to setup and use
1

PURCHASE LICENSE

---

Purchase a FlexiSPY license for the target phone

2

ACTIVATE TARGET PHONE

---

Install and activate the license on the target phone

3

ALL DATA GETS CAPTURED

---

Calls, SMS messages, contacts and call data is captured

4

DATA GOES TO

FLEXISPY SERVER

---

All call data is uploaded to your secure account to view

5

VIEW THROUGH

WEB ACCOUNT

---

All data received can be accessed Round-The-Clock via any computer
If you're a parent or an employer, you have a duty to know — Discover the truth, spy on their phone or tablet
Buy Now