FlexispY feature reference
|
All

Desktop Web Activity
Monitor Internet Usage on PC & Mac with FlexiSPY
Are you a concerned parent looking to monitor internet usage and track websites visited on any computer? FlexiSPY's internet monitoring features provides valuable insights into productivity and helps eliminate risky or unwanted online behavior. So whether you're a concerned parent or a business owner, our software can give you the ability to Monitor Internet Usage on any PC or Mac.
Imagine you are a parent and you have a teenager who you suspect might be visiting inappropriate websites. With FlexiSPY, you can monitor their internet activity and see a list of all websites they have visited, giving you peace of mind or alerting you to take action. Or as a business owner, you can use our software to ensure that employees are not wasting time on non-work related websites and are being productive during work hours.
Once installed on the computer you wish to monitor, FlexiSPY's internet monitoring software captures all websites visited and uploads them to your secure online dashboard for convenient reading, searching, and downloading later.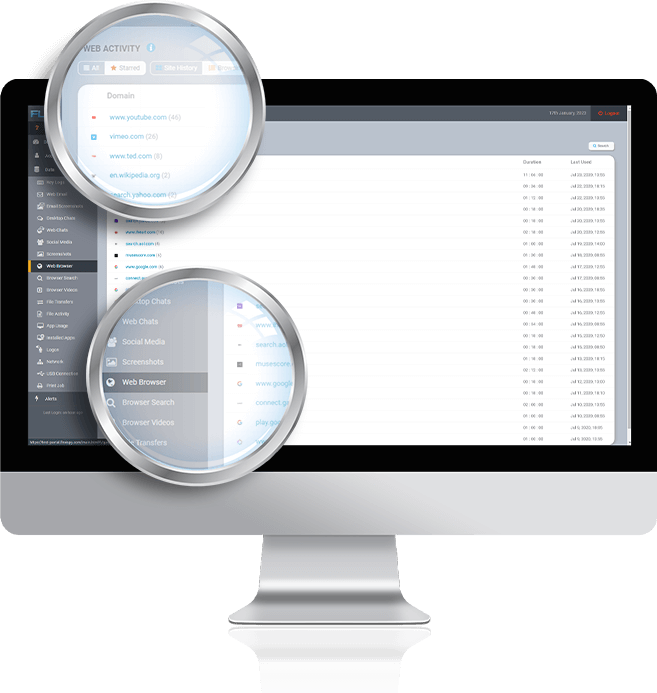 Monitor Internet Usage with FlexiSPY Website Tracking App – What you Can Do
You can:
See a list of every webpage the target has visited from your secure online dashboard
Includes important clues such as date and time of each visit, as well as the duration
Websites visited in incognito mode are also captured
Use advanced filter options to quickly identify problem sites or narrow results by date
Why you Should Track Websites visited on a Computer
While most of us would prefer that our website history remains private — there are many instances where being able to access this may not only be insightful, but necessary. For example, you may need to know how productive your employees really are or want to ensure your children are not making bad decisions online.
Benefits for Parents
As a parent, it can be difficult to keep up with your child's online activities and ensure they are safe from potential dangers.
According to a 2020 study by the Cyberbullying Research Center, about 25% of students reported being bullied online. In another study, the National Center for Missing and Exploited Children found that 1 in 5 children have been sexually solicited online. These statistics highlight the importance of knowing which websites your children are visiting.
By using our software, you'll see a list of all websites your child has visited, including those visited in incognito mode. So you'll immediately know if your child stumbles upon something concerning.
Just imagine, if your child was being bullied online, or was being groomed by a predator, FlexiSPY would have been able to detect these activities and you could have intervened before it was too late.
Benefits for Employers
In today's business world, cyber threats continue to grow and become more sophisticated. For this reason, having the right tools to monitor employee internet usage is vital.
If you're a business owner with employees with company computers, working on-site or remotely, then it's a smart idea to know exactly what happens on them — especially if they contain your company's sensitive or proprietary information. After all, all it takes is for one employee to unknowingly interact with a nefarious phishing site to put your company at serious risk.
Considering the multifaceted dangers associated with employee computer misuse including loss of information, data security breaches, legal liability, and productivity loss — employing reliable monitoring software has become a risk management priority for many businesses.
With FlexiSPY installed, you can even find out how productive employees really are and reduce instances of workers wasting company resources by making sure websites visited on the clock are for the most part, safe and work-related.
Frequently Asked Questions
How to check browsing history on Wi-fi router?
To spy on the browsing history that occurs on a specific Wi-Fi router, you can install FlexiSPY onto any laptop or desktop computer that is on its network.
Once our software is installed, you'll be able to view all the browsing history that the device uses on that wi-fi network including details such as:
The domain name and clickable hyperlink to take you directly to the web page
Time spent on all websites
Sort history between different browsers including Chrome, Edge, Safari, and more
How to view private browsing and incognito history on Chrome?
You can use FlexiSPY for Computers to view private browsing and incognito history on Google Chrome.
Track internet browsing history in normal, private, and incognito modes on chrome by installing our website tracking app.
FlexiSPY tracks private browsing for the following:
Chrome
Internet Explorer
Mozilla Firefox (Windows only)
Microsoft Edge (Windows only)
Opera
Safari
How do employers monitor internet usage at work?
FlexiSPY is used by employers to monitor internet usage at work. Spy on your staff's internet activity by tracking website history, bookmarks, and more.
FlexiSPY for Computers has over 20 features and is great for monitoring your workplace. With our software installed on company computers you can:
View all internet browser history, including searches and bookmarks
Track all incoming and outgoing e-mails on Chrome, Safari, and more
Spy on Desktop IMs, including multimedia and attachments including Skype, Line, QQ, and Hangouts
Protect sensitive files and folders and always know when files are uploaded or downloaded to cloud storage such as OneDrive or Google Drive
How to check browsing history after it has been deleted?
Once installed, FlexiSPY will track browsing history after it has been deleted. FlexiSPY allows you to view browsing history and bookmarks, including URLs, date, and time of visit, giving you full visibility of browsing history.
*Please note that FlexiSPY does not track browsing history that occurred before software installation.
How to view someone's browsing history from a different computer?
You can view someone's browsing history and internet usage by installing FlexiSPY onto their computer. Here is how:
Check whether your device is compatible with FlexiSPY's computer monitoring software
Install & activate the software
FlexiSPY will track all browsing activity and internet history on the computer
The data is logged and uploaded to your online FlexiSPY portal for your viewing
How to record or track browsing history secretly?
You can record or track browsing history by using FlexiSPY — the best PC & Mac monitoring software for anyone who owns a computer and needs to protect themselves or loved ones from online dangers and cyber threats.
Did you know that one wrong click on a nefarious website and you're at risk of having your credentials stolen? Track browsing history secretly to protect your family from browsing-related cyber-threats.
Here are some other things you can do with FlexiSPY for Computers:
Read Instant Messenger Chats
Monitor all emails
Track all key logs
View all file transfers
View network connections
Track USB connections and user logins
How to see incognito history?
Use FlexiSPY to see incognito history on a computer. Our monitoring software lets you remotely spy on any PC or Mac and offers over 20 great features.
FlexiSPY for Computers is suitable for:
Employers to discreetly spy on employee's browsing activity in the workplace
Parents to monitor their child's computers remotely and track internet history
You! To protect your own system when others are using it while you're away
Install FlexiSPY in minutes, or use our worry-free installation service and let your tech team handle the set-up for you and begin tracking immediately.
How can I see what has been viewed in private browsing?
See what has been viewed in private browsing by installing FlexiSPY.
To see private browsing with FlexiSPY, you'll need:
A FlexiSPY subscription
Access to the computer
Admin access (username & password)
An internet connection
After installation, FlexiSPY will track Incognito Search History even if the user deletes the data.
How to monitor internet usage on a home network?
FlexiSPY is the best software to monitor internet usage on your home network.
Here's how you can get FlexiSPY for your home:
Install FlexiSPY to get the exact date and time stamps of all internet usage including websites visited, then view captured data in your secure online portal and download logs for future reference — all remotely and discreetly.
If you're a parent or an employer, you have a duty to know — Discover the truth, spy on their phone or tablet
Buy Now