FlexispY feature reference
|
All

Location Tracking
Spy on a Phone's GPS Location with our Hidden GPS Tracker feature
GPS tracking is a FlexiSPY feature that enables you to discreetly know exactly where someone is at any given time. Once FlexiSPY has been installed on the target device, FlexiSPY will upload their GPS location to your secure online dashboard for convenient viewing.
Play Video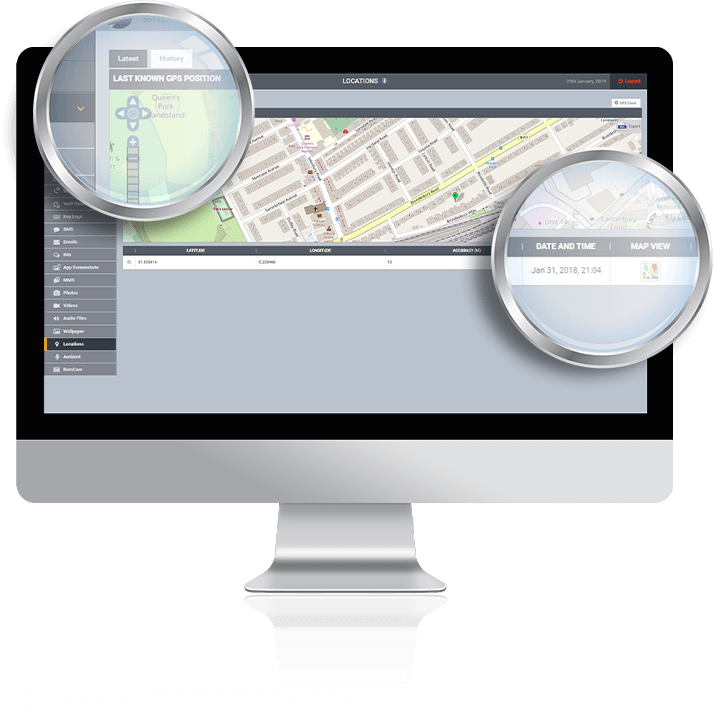 What you can do with our GPS tracking feature
With FlexiSPY you can be sure you're getting the best hidden GPS tracker on the market, having the ability to track a phone completely undetected.
Some features include:
Accurate, real-time GPS tracking of a target smartphone or tablet
A map view that clearly shows current and historical locations
Dates and times when the target device coordinates were recorded
The ability to star favorite locations
Tracks a mobile device in hidden or visible mode depending on your preference
Why You Need A Hidden GPS Tracker
Where is everyone? Whether you are looking to track your children during a family outing to Disneyland, or an employee making an important delivery, our hidden GPS Tracker provides the accurate location data you need in real-time.
Benefits for Parents
One of the worst nightmares you could face as a parent is not being able to reach your child and not knowing where they are. It's even more distressing to try calling them and getting no response. Our hidden GPS spy tracker app was developed with this exact scenario in mind. By tracking your child's phone without them knowing, you can keep them safe. If you notice that your son or daughter is not where they are supposed to be and you suspect they may be in danger, you can act quickly without wasting time. You will also be able to track their movements in real-time, which is especially useful if they walk, cycle, or take public transport to school by themselves. Our software is just what you need to reliably track your child's location so you can have the comfort of knowing that they are fine.
Benefits for Employers
If you are an employer whose employees are on the road or work outside of the office, you may decide to provide them with a tablet or smartphone to make it easier for them to get their job done.
Our hidden GPS tracker is an essential business tool for you to manage the day-to-day operations of your team and business. Since you can see the current and historical locations of the devices you are tracking, you can figure out if employees are where they say they are or if they are wasting any time during delivery runs.
Benefits for Individuals
FlexiSPY's GPS tracker is useful for more than knowing the whereabouts of those you care about. It's also great for your own personal use. It is an easy way for you to let your family know where you are without the interruption of a phone call, text, or instant message. And if you don't have a built-in location tracker on your smartphone or tablet and it gets stolen or goes missing, our hidden GPS tracker app is an effective way to find your mobile device again.
How does it work?
FlexiSPY is easy to setup and use
1

PURCHASE LICENSE

---

Purchase a FlexiSPY license for the target phone

2

ACTIVATE TARGET PHONE

---

Install and activate the license on the target phone

3

ALL DATA GETS CAPTURED

---

Calls, SMS messages, contacts and call data is captured

4

DATA GOES TO

FLEXISPY SERVER

---

All call data is uploaded to your secure account to view

5

VIEW THROUGH

WEB ACCOUNT

---

All data received can be accessed Round-The-Clock via any computer
If you're a parent or an employer, you have a duty to know — Discover the truth, spy on their phone or tablet
Buy Now