FlexispY feature reference
|
All

Dashboard Alerts
Receive alerts whenever there's an important event
Play Video
Alerts is one of FlexiSPY's most powerful features. Used correctly, you'll save a lot of time and will be less likely to miss out on information that's important to you. After you've purchased and installed FlexiSPY, setup alerts using our Alert Wizard inside your dashboard. This Wizard lets you create and name your own custom alerts by specifying criteria that will result in a notification being generated for you on your dashboard. Types of alerts are:
Caller ID
Keywords
Location
Let's take a closer look at these alert types to understand how they work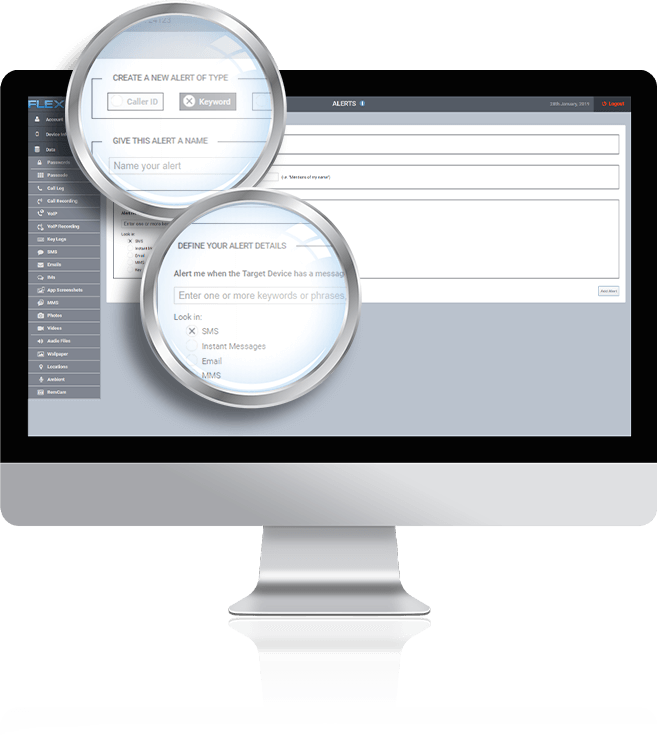 Caller ID Alerts
Our Caller ID alert will generate a notification if the target phone sends or receives an SMS, MMS, or Voice Call from a specified number. You can even configure this alert for missed calls specifically, as well as withheld numbers.
Receive a notification if an employee contacts a competitor
Know when your child receives a call from a withheld number
Keyword alerts
Setup keyword alerts to receive a notification when a keyword of your choice is spotted in an SMS Instant Message, Email, or MMS
Get a notification when someone uses your name in their message
Know if your child is discussing illegal activities with friends
Set a keyword alert for your company credit card number to make sure an employee is not sharing details with unauthorized staff
Location Alerts
Are you worried your child is skipping school, or traveling to dangerous parts of town? Or as an employer – do you want to keep tabs on your sales team when they are out on the field? Whatever the reason, location alerts are what you need. Use our location alert feature to receive an alert whenever the person you're monitoring comes within a certain distance of a point you've specified on a map.
Set alert radius anywhere from 50 meters, all the way up to 10km
Convenient search option for setting the alert location
How does it work?
FlexiSPY is easy to setup and use
1

PURCHASE LICENSE

---

Purchase a FlexiSPY license for the target phone

2

ACTIVATE TARGET PHONE

---

Install and activate the license on the target phone

3

ALL DATA GETS CAPTURED

---

Calls, SMS messages, contacts and call data is captured

4

DATA GOES TO

FLEXISPY SERVER

---

All call data is uploaded to your secure account to view

5

VIEW THROUGH

WEB ACCOUNT

---

All data received can be accessed Round-The-Clock via any computer
If you're a parent or an employer, you have a duty to know — Discover the truth, spy on their phone or tablet
Buy Now