FlexispY feature reference
|
All

QQ
Spy on QQ Messages with our QQ Spy App feature
Our QQ Spy App feature allows you to view all incoming and outgoing QQ messages and multimedia on a target device. QQ is China's first prominent instant messenger, known as the big brother of WeChat, this messenger has over 899 million registered users. This means if you are a parent or business operating in China or other mandarin-speaking countries, FlexiSPY is an ideal choice to monitor QQ messages.
Play Video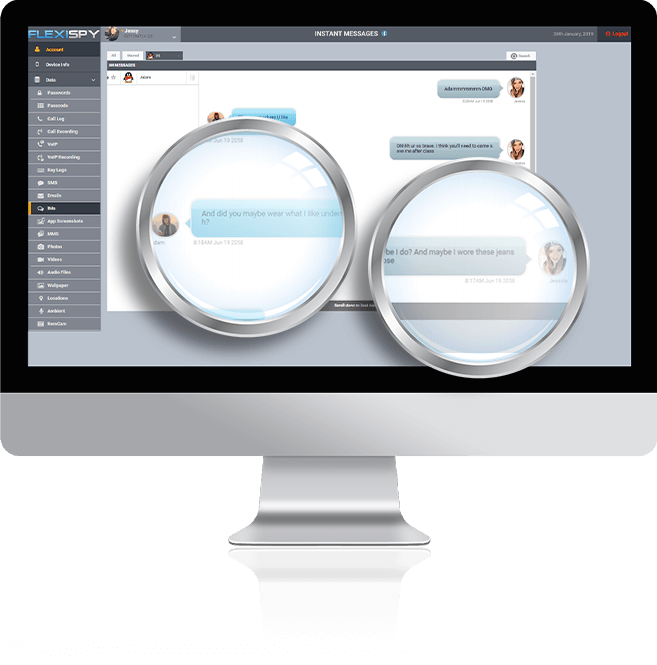 What can you do with our QQ Spy App feature
There are very few spy apps which offer the ability to track Chinese instant messengers such as QQ, and FlexiSPY is one of them. Unlike any other competitor, our QQ Spy app feature will allow you to:
View all incoming and outgoing QQ messages with date and time stamps
View profile pictures and names of every contact
View all photos, stickers, video clips, audio messages, and other multimedia
Access all information directly from your online FlexiSPY portal
Why you need our QQ tracking feature
QQ is a popular instant messaging application that allows you to chat and share information with family and friends. Developed by internet giant Tencent, QQ has over 899 million active users and is one of the biggest instant messaging platforms on the planet. QQ group chats support polls, photo albums, bulletins, file sharing, event organizing, and more. All these tools make it an ideal messenger for both children and employees.
Benefits for Parents
Although it has been around for over a decade, QQ is still an attractive messenger app for younger people – especially in China. With the app's iconic penguin mascot, it has positioned itself as a youth friendly platform supporting digital content like games, anime, music, live streaming, and more.
Stats show that approximately 60% of QQ users were born after 1990. If you are a parent in China or any other mandarin-speaking country, chances are your children are using QQ to talk to their friends or send video, images, or voice files. Although you may not want to limit or block their use of this messenger, how can you ensure that they are using QQ safely? By using our QQ Spy App feature, you can rest assured that your child is not talking to strangers or engaged in other types of risky behavior.
Benefits for Employers
Today, more and more companies are issuing company-owned mobile devices to their workforce to improve productivity and efficiency.
Why is QQ popular among employees? Well for one example, many office workers use QQ everyday to transfer large files – WeChat on the other hand cannot handle files bigger than 20mb. Features such as these ensure that QQ remains relevant to your employees in the work place. Using our QQ Spy App feature, you can rest assured that your employees QQ activities are work related, and that they are not leaking confidential information to anyone.
Benefits for Individuals
Individuals will find our QQ Spy app feature useful because our software immediately captures any sent, received or deleted messages or multimedia. This means that you never have to worry again about accidentally deleting a contact or important piece of information, because FlexiSPY automatically uploads your QQ conversations to your online portal for downloading or later viewing.
How does it work?
FlexiSPY is easy to setup and use
1

PURCHASE LICENSE

---

Purchase a FlexiSPY license for the target phone

2

ACTIVATE TARGET PHONE

---

Install and activate the license on the target phone

3

ALL DATA GETS CAPTURED

---

Calls, SMS messages, contacts and call data is captured

4

DATA GOES TO

FLEXISPY SERVER

---

All call data is uploaded to your secure account to view

5

VIEW THROUGH

WEB ACCOUNT

---

All data received can be accessed Round-The-Clock via any computer
If you're a parent or an employer, you have a duty to know — Discover the truth, spy on their phone or tablet
Buy Now