FlexispY feature reference
|
All

Renewing
Easily renew your FlexiSPY subscription
Play Video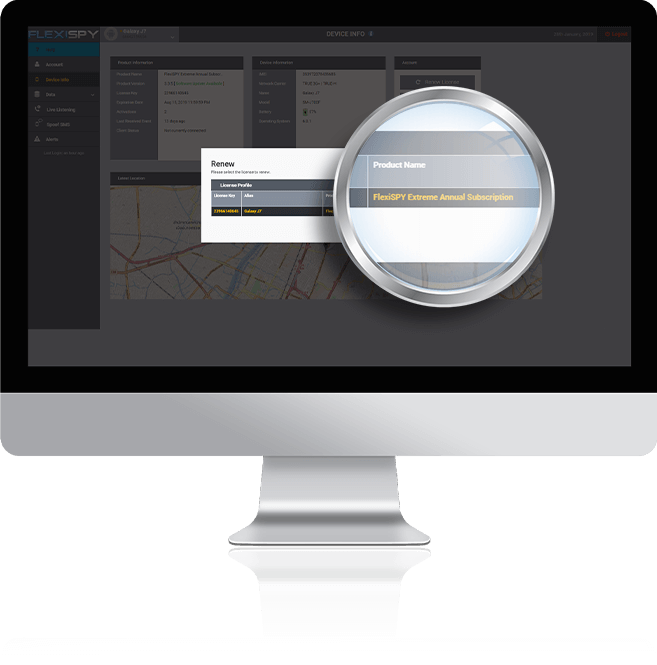 Why Renew Your Subscription?
This question answers itself. FlexiSPY prides itself on its high level of customer support, innovative monitoring features and the constant need to push the boundaries of what customers expect from monitoring software and its capabilities. It makes sense then to always maintain service with FlexiSPY and renew your subscription as often as possible so that you do not miss out on any important new features or updates.
This is all done conveniently though your online account. There is no need to get the device physically and in just a few clicks and a few minutes of your time you can have another year of FlexiSPY and the added peace of mind that, after renewal, the software will continue to work immediately where it left off so you do not need to reinstall or reconfigure anything again.
How does it work?
FlexiSPY is easy to setup and use
1

PURCHASE LICENSE

---

Purchase a FlexiSPY license for the target phone

2

ACTIVATE TARGET PHONE

---

Install and activate the license on the target phone

3

ALL DATA GETS CAPTURED

---

Calls, SMS messages, contacts and call data is captured

4

DATA GOES TO

FLEXISPY SERVER

---

All call data is uploaded to your secure account to view

5

VIEW THROUGH

WEB ACCOUNT

---

All data received can be accessed Round-The-Clock via any computer
If you're a parent or an employer, you have a duty to know — Discover the truth, spy on their phone or tablet
Buy Now