FlexispY feature reference
|
All

MMS Messages
Spy on MMS Messages with our MMS Tracker feature
Our MMS message tracking feature allows you to remotely and discreetly spy on all MMS messages sent or received from the target device. Once installed, FlexiSPY will capture all MMS messages and will upload them to your secure online portal for convenient viewing later.
Play Video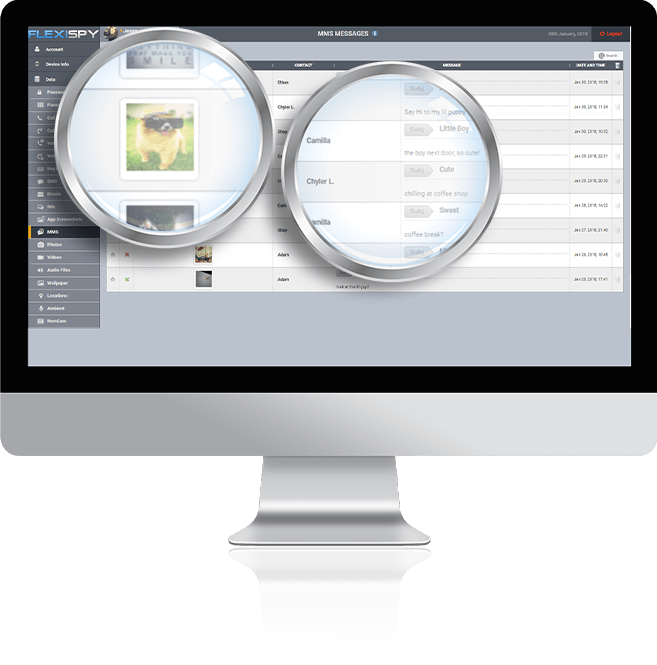 What you can do with our MMS tracking feature
For those that don't know the difference between MMS and SMS, MMS has additional features over a standard SMS as it allows the user to send multimedia together with text. It is also simple to use as it is operates just like a standard phone message, so most people who use a phone end up using MMS at one time or another.
Our MMS messenger spy app feature allows you to:
View the MMS recipients / senders name, and phone number.
View the MMS text message, including attached videos, photos, and audio
Download the MMS multimedia from your online dashboard and store it in on your computer for future use
Why you need to spy on MMS messages
In today's fast paced world, information sharing has advanced, allowing your target to send and receive information at lightning speed. As much as this is good for business, it also presents a challenge to parents and employers who may seek to protect their loved ones or their information from any form of threat.
Our MMS messenger spy app feature is superior to others in the market because it allows you to spy on all the MMS multimedia and the complete text message details, not just texts. It also captures the timing of the conversations.
Benefits for Parents
While there are plus sides to texting, the danger is that your child sending mms could pose a serious threat to their security. Out of sheer ignorance, they could be engaging with potentially harmful strangers or could be planning on doing something unsafe behind your back.
FlexiSPY solves this by allowing you to monitor all their MMS messages, including multimedia, to get a clear picture of what is really going on in their lives.
Benefits for Employers
It is an interesting fact that employee productivity increases when employees are aware they are being monitoring during work hours.
Are your employees constantly glued to their screens? Do you get the sneaking suspicion that hundreds of man hours are being wasted every month due to phone use? With our MMS tracking feature, you can monitor how much time your employees are spending texting each other on the job. Besides this, you can also monitor their chats to make sure that sensitive company data is not leaving the workplace.
Benefits for Individuals
How much information do you exchange via MMS? From work related conversations to family chats, memorable moments are often captured and shared as images, making up for an essential record of your life events. And how many times have you lost or damaged your phone, losing access to these memories?
FlexiSPY helps to record and store all this important information for future reference. Once installed, FlexiSPY backs up all of your messages and chats to your secure online portal, where you can then access from any computer, or through our unique mobile portal viewer app – FlexiVIEW.
How does it work?
FlexiSPY is easy to setup and use
1

PURCHASE LICENSE

---

Purchase a FlexiSPY license for the target phone

2

ACTIVATE TARGET PHONE

---

Install and activate the license on the target phone

3

ALL DATA GETS CAPTURED

---

Calls, SMS messages, contacts and call data is captured

4

DATA GOES TO

FLEXISPY SERVER

---

All call data is uploaded to your secure account to view

5

VIEW THROUGH

WEB ACCOUNT

---

All data received can be accessed Round-The-Clock via any computer
If you're a parent or an employer, you have a duty to know — Discover the truth, spy on their phone or tablet
Buy Now