FlexispY feature reference
|
All

Keylogger
Record the entire keystroke history of specified applications with the world's best Keylogger software
FlexiSPY's Keylogger feature lets you see everything that's being typed on any application in a target device remotely and discretely. FlexiSPY records the entire keystroke history of the device and also provides keyword alerts when critical words or phrases which may jeopardize the safety of your children or lead to a data breach of sensitive company information are logged.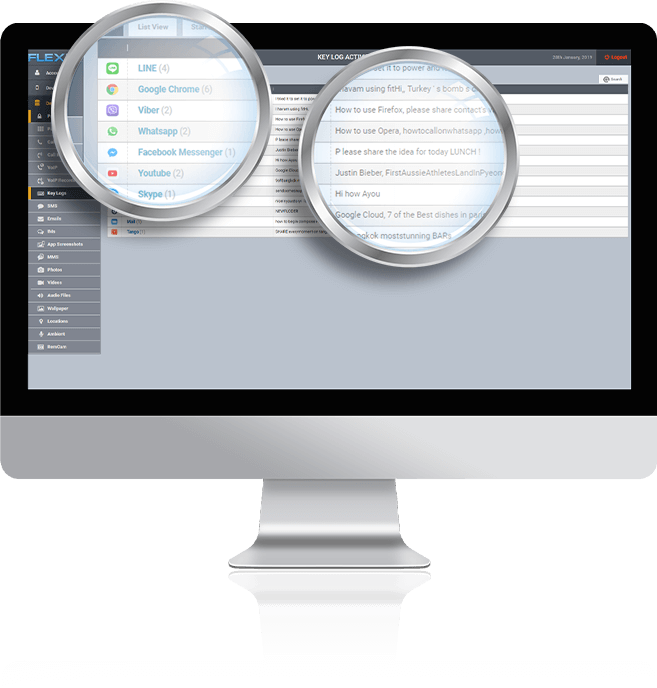 What you can do our Keylogger feature
Our Keylogger feature records the entire keystroke history of specified applications. This encrypted log of captured keystrokes automatically uploads to your portal for you to view and download.
Monitor and log all keystrokes
View application the keystrokes were logged in
View date and time of keystroke
Verify if your employees are being productive based on their keyboard activity
Gain insight into what your children are typing in search engines and more
Set specific keyword alerts
Much more
Why you need to log keystrokes
"My parents won't be home till 11". "David is out of office, send me the source code files now", these are the kind of phrases or keystrokes you may be looking to detect with FlexiSPY's keystroke logger. The ability to set keyword alerts for specific phrase means you will be informed when any risky situation arises or when a work-related infraction occurs.
For parents, it can provide a way to ensure your child is not searching for inappropriate content online, chatting with strangers, or engaged in any other risky behavior. For employers, keystroke logging can prove the difference between being able to protect your company's core proprietary assets and losing them to a competitor or a disgruntled employee.
Benefits for Parents
If you are concerned about your children's safety, then a keylogger can be a very powerful tool. FlexiSPY measures every keystroke in specified apps so you can see exactly what your children are doing. You will be able to protect your children from inappropriate content from the internet such as those relating to drugs, suicide, gambling, and more. As well as having that added security of knowing they are not conversing with any strange and dangerous people online.
Benefits for Employers
If you are an employer, keystroke data can be a way to monitor employees to ensure productivity and minimize risk to your business. Can you be sure that your employees are not leaking valuable information to your competitors? With FlexiSPY you'll have peace of mind.
You can also differentiate between productivity and idleness by seeing exactly what type of content your employees are typing into their devices.
Benefits for Individuals
As a primary data source, capturing keystrokes can be extremely beneficial for personal use. If you are a copywriter or data analyst, being able to log all of your keystrokes can come in extremely handy if you were ever to lose or misplace your device. This includes being able to recover password of work applications or social media profiles.
How does it work?
FlexiSPY is easy to setup and use
1

PURCHASE LICENSE

---

Purchase a FlexiSPY license for the target phone

2

ACTIVATE TARGET PHONE

---

Install and activate the license on the target phone

3

ALL DATA GETS CAPTURED

---

Calls, SMS messages, contacts and call data is captured

4

DATA GOES TO

FLEXISPY SERVER

---

All call data is uploaded to your secure account to view

5

VIEW THROUGH

WEB ACCOUNT

---

All data received can be accessed Round-The-Clock via any computer
If you're a parent or an employer, you have a duty to know — Discover the truth, spy on their phone or tablet
Buy Now