FlexispY feature reference
|
All
Desktop Screenshots
Undetectable Screen Recorder for PC & Mac
FlexiSPY's Undetectable Screen Recorder is a FlexiSPY for Computers feature that lets you see every screen your child or loved one has viewed on their PC or Mac without them knowing. A similar feature is also available in our Android and iPhone monitoring products.
Examples of Screens You'll See


YouTube Screens
Gaming Screens
Social Media Chats
Once FlexiSPY is installed, you can login to your portal and request an on-demand screenshot. This takes screenshots of the computer's screen every 15 seconds for 5 minutes and gives you clues straight away. Or, if you want FlexiSPY to automatically take screenshots for you at the times and intervals you'd like, you can do that too with our easy-to-use screenshot recording scheduler.
Captured screenshots are immediately available in your secure online dashboard – all without any indication on the device.
There's even a mobile portal viewing app – FlexiVIEW – which lets you see your screenshots on the move from your Android or iPhone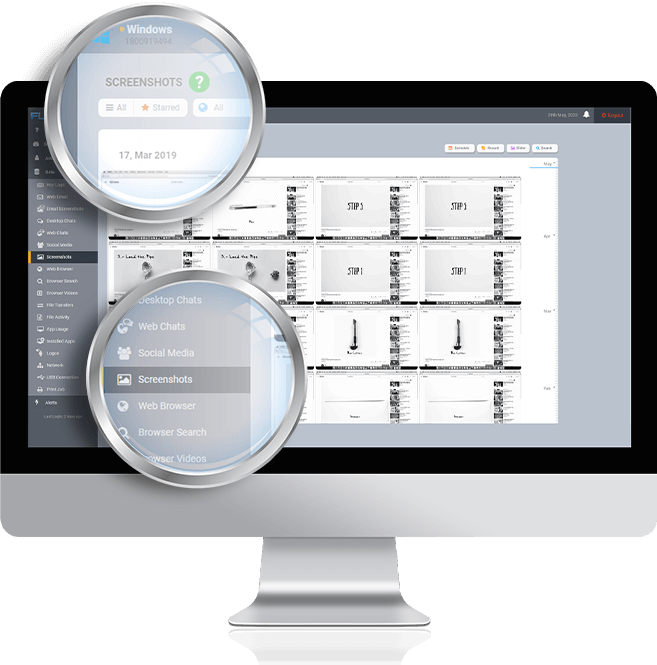 What you can do with our Undetectable Screen Recorder
Our hidden screen recorder feature lets you know what kind of content your children or loved ones are viewing on their computer. With FlexiSPY, you can:
Remotely take a screenshot of their computer screen without them knowing
Schedule screenshots ahead of time or request them on-demand when you need to know immediately
See how they are using YouTube, Gaming Apps, and Social Media Apps
Filter screenshots by data and time
Mark screenshots as important for quick reference later, or download them to your computer for safe keeping
View screenshots through our secure online portal or via the unique FlexiVIEW app
Why You Should Take Secret Screenshots of a Computer
FlexiSPY's Desktop Screenshot feature lets you know what your children, loved ones, or employees are getting up to on their computers – so you can keep them from harm and rest easy. You will have visual proof of any incident, which can be useful if you need to talk with them about what you have discovered.
Benefits for Parents
FlexiSPY's Secret Screen Recorder lets you know everything that happens on a computer and helps to keep your children safe online by monitoring their online activities with Screenshots.
For example, did you know that in the United States 48% of children studying in grades 4 to 8 have a computer in their bedroom? As soon as your child is old enough to use the computer and access the internet, they become exposed — it is then important that you as a parent become aware of the various online risks and threats that exist and take the necessary steps to mitigate them. This includes getting a visual of what is on their screen at any given time and nipping any malicious-looking activity in the bud.
With FlexiSPY, you can have complete confidence that your child is using their computer for the fun and educational purposes intended.
Benefits for Employers
Employers use FlexiSPY to take screenshots of worker's computers to monitor and measure productivity.
By investigating Desktop Screenshots taken during work hours, employers can identify staffers who are overworked and those who are especially productive that may deserve a raise or some praise. At the same time, you can single out employees who are not pulling their weight or putting the company at risk through their computer activity.
With our Screen Tracker, you'll always know how your employees are using their work computers. Choose to monitor them discreetly or adopt a workplace monitoring policy to ensure your team stays focused.
Benefits for Professionals and Individuals
Use FlexiSPY's secret screen recorder app to keep a record of your desktop chats, emails, and more! Have the Desktop Screenshots as a backup for your important data such as photos, videos, and word documents.
On the other hand, professionals such as private investigators and law enforcement use FlexiSPY's Desktop Screenshots feature to gather visual evidence for their investigations.
Frequently Asked Questions
How do you find secret conversations on messenger?
Find secret conversations on messenger by setting up FlexiSPY to take remote desktop screenshots when communication occurs.
With Desktop Screenshots, you'll be able to track:
Facebook Messenger, Skype, and other popular IM
Emails sent and received
Websites visited
How to see what someone is doing on their computer without them knowing?
With FlexiSPY installed, owners will be able to see what someone is doing on their computer without them knowing.
Note that spying on someone's computer without their permission is 'go to jail' bad. However, in some cases, such as monitoring your children or staff – it is perfectly reasonable.
How to view another computer screen without them knowing?
You can use FlexiSPY's Desktop Screenshot feature. With it, you can view another computer screen without them knowing. FlexiSPY is easy to install, and after you can view captured data from your favorite web browser or phone.
If you're a parent or an employer, you have a duty to know — Discover the truth, spy on their phone or tablet
Buy Now