FlexispY feature reference
|
All

LINE
Spy on LINE Messages with our LINE Spy App feature
Our LINE Messenger Spy App feature allows you to remotely spy on all incoming and outgoing LINE messages on your child or employee's device. Once installed, FlexiSPY captures and uploads these chats to your secure online dashboard for you to read through later. It's the perfect tool for parents concerned about who their children are chatting with and for employers who need to ensure their employees aren't leaking out confidential company data using LINE.
Play Video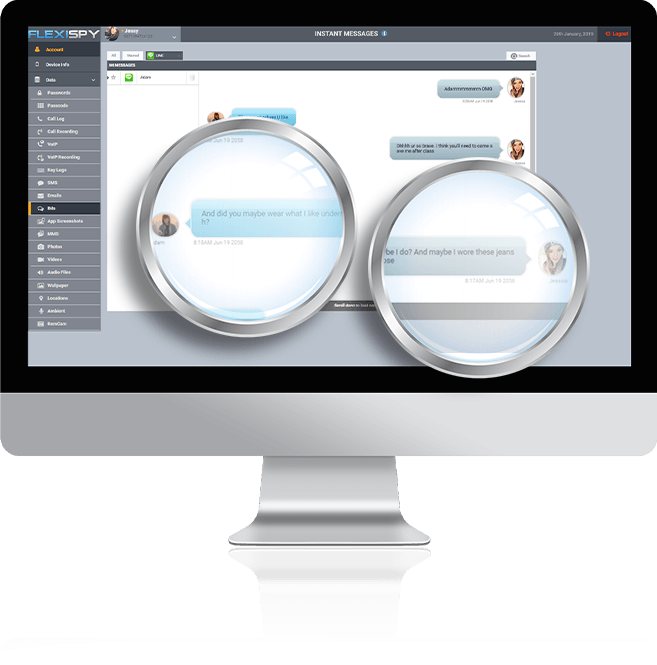 What you can do with our Spy on LINE Messages feature
With over 600 million registered users, LINE is one of the world's most popular chat applications. And with this growth comes a greater need to know exactly what kind of information is being shared – and how safe it is for those involved. LINE gives users access to free messaging, free voice and video calls, games and the ever-popular stickers. The "free" factor makes it very attractive to kids and employers keen on reducing costs.
Unlike others, our LINE messenger spy app feature lets you:
Spy on LINE app messages, including emoticons and stickers
Download and view all photos, videos and audio files
View details and status of every contact
Track full LINE messenger app conversations – even if the conversation gets deleted
Why you need our LINE Messenger monitoring feature
We live in a nomophobic generation where it's nearly impossible for both kids and adults to be away from their phones and applications. LINE messenger is one such app that keeps individuals glued to their screens.
Our LINE messenger spy app feature is superior to competitors in that it allows you to spy on LINE stickers, emoticons, contacts and sent and received messages. FlexiSPY has 24/7 support and is easy to install – we even have an installation service that removes any hassle of installation or jailbreaking/rooting a phone.
Lastly, our spy software lets you circumvent LINE's secret chat feature by capturing data before it is automatically erased from the phone and server. This guarantees that you have all the information that you need.
Let's look at the benefits of our LINE Messenger spy app.
Benefits for Parents
As a parent, you are aware of the risks that are involved in children having uncensored internet access. They are bombarded with information and are an easy prey to LINE messenger scams and sex predators. As much as you cannot keep them physically from such attacks, as a parent you can always be a step ahead by secretly monitoring their LINE app activity.
With this information you can see if your children are violating your trust, teach them about responsible online behavior and protect them from bullies and predators.
Benefits for Employers
Employee productivity is your business, and you need to make sure it stays as optimal as possible. Monitoring LINE messenger conversations can help you see if your employees are using the application for work or for play.
This is especially important for businesses with sensitive information, because employees can easily take snapshots of tables and figures and share it in groups (or with those outside the company).
With all these possibilities, it is important to monitor your employees' LINE messenger activities to know what exactly is going on and see if information is shared innocently or with malicious intent.
Benefits for Individuals
Our phones have become an extension of ourselves, and we store so much information through our IM apps. These could be photos of moments we cherish or deep conversations we had on LINE messenger. What happens when we lose our phones? Most of the time we lose our data too. With our LINE messenger spy app feature installed on your phone, you will have a backup of all your messenger info and can download it at any time from your dashboard. You can also search through keywords to locate a message instead of going through a whole conversation.
How does it work?
FlexiSPY is easy to setup and use
1

PURCHASE LICENSE

---

Purchase a FlexiSPY license for the target phone

2

ACTIVATE TARGET PHONE

---

Install and activate the license on the target phone

3

ALL DATA GETS CAPTURED

---

Calls, SMS messages, contacts and call data is captured

4

DATA GOES TO

FLEXISPY SERVER

---

All call data is uploaded to your secure account to view

5

VIEW THROUGH

WEB ACCOUNT

---

All data received can be accessed Round-The-Clock via any computer
If you're a parent or an employer, you have a duty to know — Discover the truth, spy on their phone or tablet
Buy Now