FlexispY feature reference
|
All
Laptop Locator
Spy On Their Location Using Their Laptop
Laptop Locator is a feature in FlexiSPY for Computers that lets you see a complete history of where your loved one or employee has been with their Windows laptop — giving you peace of mind when you need to know. Once FlexiSPY has been installed, FlexiSPY will use a combination of location retrieval technologies, including GPS, Wi-Fi triangulation, cellular tower triangulation, and IP geolocation to determine the physical location of the laptop. FlexiSPY will then upload this location to your secure online dashboard for your viewing. This dashboard is accessible through your favorite web browser, or through our unique mobile portal viewing app — FlexiVIEW — for on-the-go viewing.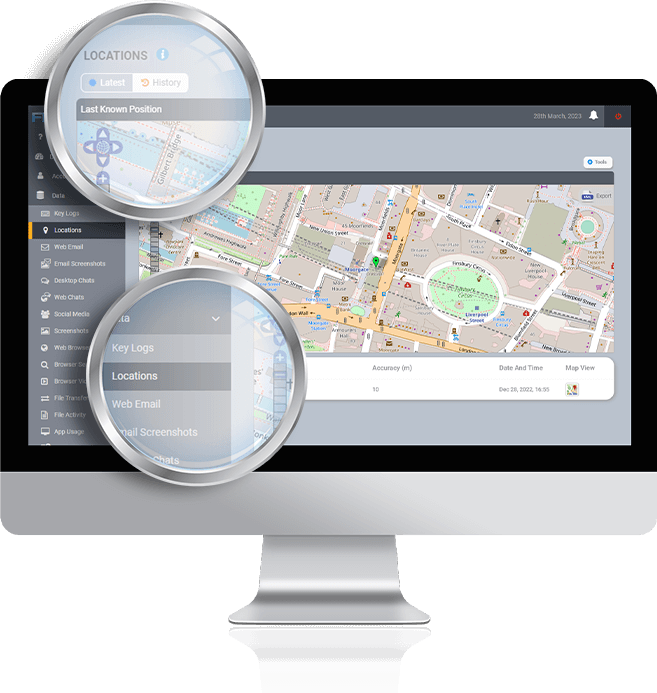 What you can do with Laptop Locator
With Laptop Locator you will know your loved one's location as long as they have their laptop with them. You can even use this feature with your own Laptop should your device be stolen. Here's more on what you can do with this amazing feature
See a complete history of everywhere they've been with their Windows laptop
Request the laptop's current location on-demand or on a schedule
See location data like longitude, latitude, accuracy, date and time — and a Google Maps link is provided for added for convenience
Location events can be exported as a KML file and then imported into your favorite mapping software
Includes our unique GPS navigator so you can walk in their shoes
Why you need to spy on their location using their laptop
Monitoring the location of a loved one or employee's laptop provides peace of mind and ensures everyone's safety. Utilizing the laptop locator feature helps to prevent potential dangers, promotes responsible behavior, and secures valuable devices against theft or loss.
Benefits for Parents
As a parent, keeping an eye on your child's laptop location can give you peace of mind and help you ensure their safety. And because laptop locator is part of our computer monitoring software package, not only can you easily track where your child is, you can also ensure they're not engaging in any dangerous online behavior. You'll be able to set healthy boundaries for internet usage and make sure your child is attending school, other any important activities.
Benefits for Employers
Keeping track of your employees' laptop locations can provide many benefits for employers. With laptop locator, you can easily monitor the whereabouts of your team members, ensuring they are safe and on task. This can be particularly useful for remote workers or those traveling for business. Additionally, laptop locator can help you prevent the loss or theft of company laptops, which can contain sensitive information.
Benefits for Individuals
Laptop theft is a serious concern for anyone, but with laptop locator, you can have peace of mind knowing that your device can be tracked in case of theft. By using the location tracking feature, you can easily locate your stolen laptop and take action to recover it.
If you're a parent or an employer, you have a duty to know — Discover the truth, spy on their phone or tablet
Buy Now