FlexispY feature reference
|
All
Login Activity
Computer Login History App for PC & Mac
See a complete history of times someone logged in/off the computer
FlexiSPY's hidden computer login history tracking feature lets you secretly monitor and record every login or logout event on you or your loved one's computer. This feature even tracks when the screen was locked or unlocked and can detect remote logins. With the power to filter and favorite login events, you can quickly locate suspicious activities. All this data can be viewed from your secure online dashboard or through our unique mobile portal viewer app — FlexiVIEW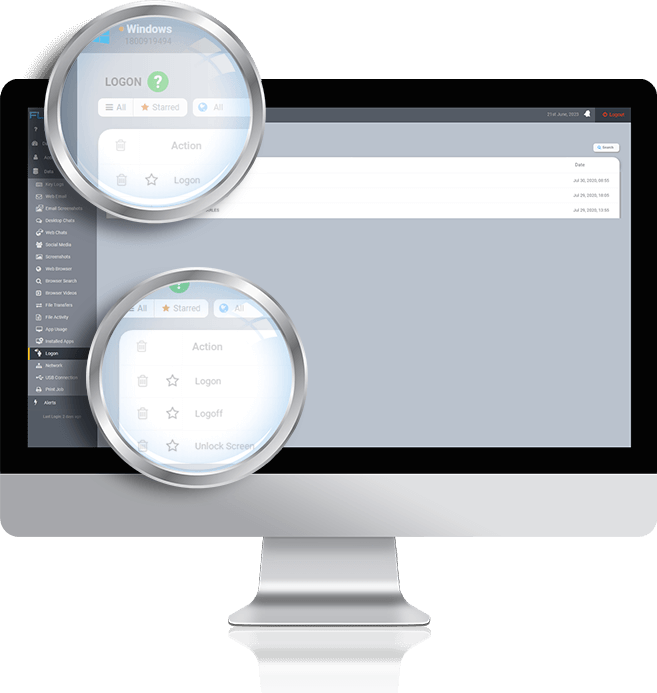 What You Can Do With Our Computer Login History Feature
Always know who's been accessing your computer. This feature lets you:
View the detailed windows logon log or mac logon log, capturing the login name, date, and time of each event.
Monitor both local and remote logins, including instances when the screen was locked or unlocked.
Quickly identify suspicious logins by filtering and favoriting specific login events.
Retrieve the login records on your computer from your secure online dashboard or our unique mobile portal viewing app — FlexiVIEW
Why You Need This Feature
In today's interconnected world, ensuring the privacy and security of your computer is crucial. Each login, whether by you, a family member, or a potential intruder, can risk exposure of your personal or sensitive data. FlexiSPY allows you to mitigate these threats. It offers you a detailed record of all login and logout activities, helping you to detect any unauthorized access fast. By tracking your computer's login history, you not only secure your digital data but also gain peace of mind knowing that your computer usage is under constant surveillance.
Benefits for Parents
As a parent, ensuring the safety of your children's digital lives can be a complex task. With FlexiSPY, this task becomes easier. FlexiSPY equips you with the necessary tools for retrieving login records on computers, which could prove to be invaluable for monitoring your child's activities online. You can keep a detailed record of when and how frequently your child is accessing their computer and detect any unusual login patterns.
Suppose you notice any suspicious activities, such as logins during school hours or late at night. In that case, FlexiSPY allows you to address these concerns promptly. Unauthorized access can also be detected and dealt with, ensuring your child's digital safety. By actively monitoring and managing your child's computer usage, you can also guide them towards responsible digital habits and a balanced online lifestyle. FlexiSPY doesn't just give you control; it empowers you to educate and protect your child in the digital world.
Benefits for Employers
Our computer login tracking feature is a powerful tool for businesses. It enables employers to track all logins, logouts, screen locks, and unlocks on company computers. This can show when employees are logging in and out, providing a clearer picture of work habits and potential security concerns. If someone logs in remotely or at unusual hours, you'll know immediately. This proactive approach helps to keep your company's data secure.
Additionally, these login records can be a valuable resource for improving productivity. By monitoring when employees are working, you can identify patterns such as late-night logins or unusually long work hours. These could be signs of overwork or inefficiency, which you can then address to ensure a healthier work environment. FlexiSPY also assists in internal audits or investigations, as it provides a clear record of who was using each computer and when. This gives you more control over your company's resources and helps to maintain a secure, efficient workplace.
Benefits for Individuals
In the digital age, safeguarding your personal computer is as crucial as securing your home. Our Computer Login History feature serves as your digital security guard, diligently tracking every login, logout, screen lock, and unlock event on your computer. This includes monitoring remote logins, giving you complete visibility over who accessed your computer and when. If there's an unauthorized access or an unexpected login event, you'll know immediately, protecting your personal data from potential threats.
Aside from security, the feature also gives you insightful data about your own usage patterns. You can track the times you log in and out or lock and unlock your screen, providing a clear picture of your digital habits. This can be an excellent tool for self-improvement, allowing you to optimize your time spent on the computer and establish healthier digital behaviors. In essence, the Computer Login History feature is not just about protection — it's about empowering you to have a safer, healthier, and more productive digital life.
Frequently Asked Questions
How to know if someone has been using my PC/check who logged in my PC?
There are a few methods you can employ to verify if someone has been using your PC, and these include both built-in system checks and FlexiSPY.
For Windows systems, you can use the Event Viewer to check your PC user log:
Type "Event Viewer" into the search box and open the Event Viewer app.
Expand the Windows Logs section and select Security.
Within the Security logs, open all the events with Event ID 4624 or 4648. Look for entries with Logon Type = 2 and the Account Name reflecting the username of a user (not SYSTEM, NETWORK SERVICE, etc.).
View the Logged time to see the login time and date of the user.
To view logout times, check the events with Event ID 4647.
This method allows you to track the login and logout events on your PC. However, it can be a bit tedious to navigate through system logs, especially if there are many entries.
Alternatively, FlexiSPY provides a more streamlined and comprehensive approach to tracking PC user logs.
It offers a detailed record of every login and logout event on your computer. By viewing this log, you can identify who logged into your PC, including the date and time of each event. Furthermore, it captures screen lock and unlock events, detects remote logins, and allows you to filter and favorite specific login events for quick reference. This information is easily accessible from your secure online dashboard or our unique mobile portal viewer app.
How to tell if someone was using your Mac?
You have a couple of options to check if someone has been using your Mac - either by using the built-in Terminal application or FlexiSPY computer monitoring software
If you're comfortable using the Terminal:
Open the Terminal on your Mac.
Type in `last` and press Enter.
This command will list all the login events with your account username and the exact login time. It includes the history of your Mac being restarted or shut down. From this information, you can infer if someone else may have logged into your Mac without your knowledge.
While the Terminal method is effective, it only offers raw data, which can be difficult to sift through, especially in cases where there are numerous login events. Moreover, it lacks the ability to capture remote logins, filter events, or mark specific logins for reference later.
In contrast, FlexiSPY offers a more comprehensive solution. Along with the basic login and logout events, it detects remote logins and allows you to filter and favorite specific login events. This feature provides you with an easy-to-understand and organized login history, viewable from your secure online dashboard or our unique mobile portal viewer app.
By using FlexiSPY, you can effortlessly keep track of your Mac's login history, ensuring no unauthorized access goes unnoticed.
How to check computer login history on Windows 10/11?
There are a couple of ways to check the computer login history on Windows 10/11 - either by using the built-in Event Viewer or using FlexiSPY's Computer Login History feature.
If you prefer to use the built-in Event Viewer:
Search for 'Event Viewer' in the search box and open the app.
Expand 'Windows Logs' and select 'Security'.
In 'Security' logs, look for events with Event ID 4624 or 4648. These events show the login times. For each event, make sure 'Logon Type' equals '2' and 'Account Name' displays the username of the user, not 'SYSTEM', 'NETWORK SERVICE', etc.
To see the logout times of a user, look for events with Event ID 4647.
For each relevant event, view the 'Logged' time to see the login or logout time and date.
While the Event Viewer method is built into Windows, it can be technical and cumbersome for some users. If you're seeking a simpler and more efficient approach, we recommend using FlexiSPY.
With FlexiSPY, you get an easy-to-understand log of all login and logout events, including remote logins and screen lock/unlock events. This information can be accessed conveniently from your secure online dashboard or our unique mobile portal viewer app. FlexiSPY simplifies the process of tracking login history, providing a user-friendly alternative to the traditional method.
If you're a parent or an employer, you have a duty to know — Discover the truth, spy on their phone or tablet
Buy Now