FlexispY feature reference
|
All

Application Activity
Spy on a Phone's Application Activity
Application Activity is a FlexiSPY feature that shows you the complete details about the usage of every app being used on the device being monitored. This lets you do things like detect when an app was launched or closed, see how many times it was used in a specific date range, for how long, and more. Why did your daughter install a dating app on her phone? Why has your employee started using a job searching app? Our Application Activity feature helps answer pressing questions like these and many more.
Play Video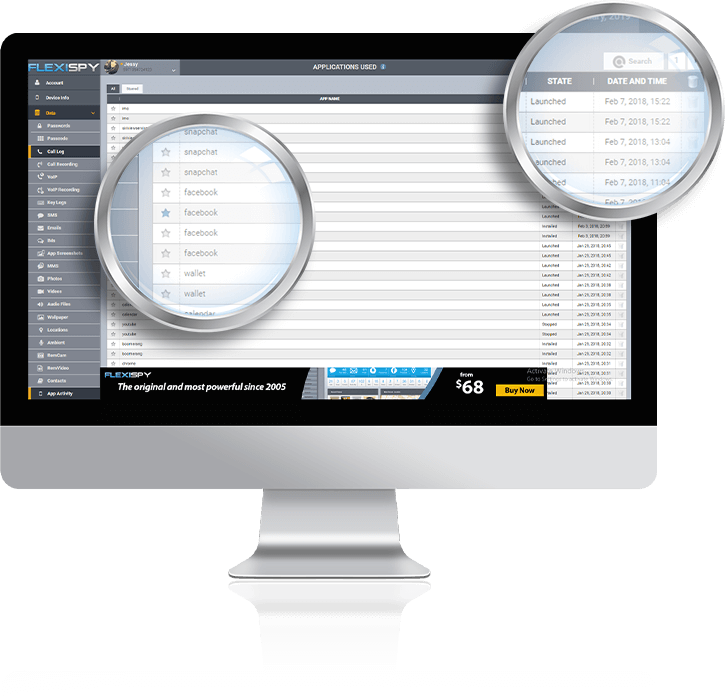 What you can do with our Application Activity Tracking feature
Once installed on your loved one or employees' phone, FlexiSPY will capture the usage of every app opened or closed. It will then upload this information to your secure online portal for convenient viewing later. Use this feature to
Know which apps are being used most often
See the date an app was installed
Know how much time is being spent in each app
See at what times of the day or night each app is being used
View additional information like what time the app was launched, closed, or uninstalled
Why you need to spy on a Phone's application activity
By monitoring application activity, you can see exactly how a device is being used on a day to day basis. As a parent, being informed of how exactly your child is using the device you have given them can help you keep them safe. If you are an employer, it is useful to see when an employee installed a certain app, or to check if an employee is using Facebook or other unproductive apps while at work.
Benefits for Parents
Monitoring your child's application activity will give you a full picture of what your child is doing with their smart device. You will know if your child is downloading paid apps without your permission or installing apps that enable them to view inappropriate content. You can also check the times each app is being used, against their bed time (Why are they using Google Maps in the middle of the night?)
Benefits for Employers
If you are a business owner who gives employees access to work smartphones, then FlexiSPY is an invaluable tool. By monitoring an employee's device, you can see if they are installing software that damages productivity or even applications that may present a security risk to your business.
Benefits for Individuals
There are many benefits to monitoring your own phone's application activity. Say for example you wanted to keep track of your usage of social media applications, to make sure not too much of your time was being wasted. With our Spy on Application Activity feature, you would be able to do just that. You might even share a device with another person and you want to diagnose any software issues that the device might be having. Only FlexiSPY gives you this level of detail.
How does it work?
FlexiSPY is easy to setup and use
1

PURCHASE LICENSE

---

Purchase a FlexiSPY license for the target phone

2

ACTIVATE TARGET PHONE

---

Install and activate the license on the target phone

3

ALL DATA GETS CAPTURED

---

Calls, SMS messages, contacts and call data is captured

4

DATA GOES TO

FLEXISPY SERVER

---

All call data is uploaded to your secure account to view

5

VIEW THROUGH

WEB ACCOUNT

---

All data received can be accessed Round-The-Clock via any computer
If you're a parent or an employer, you have a duty to know — Discover the truth, spy on their phone or tablet
Buy Now