FlexispY feature reference
|
All

Spoof SMS
Send Fake SMS Messages
Spoof SMS is a unique FlexiSPY feature that allows you to send an invisible SMS from the target device to any contact that can be found in the target's phone book – or another number of your choice.
Play Video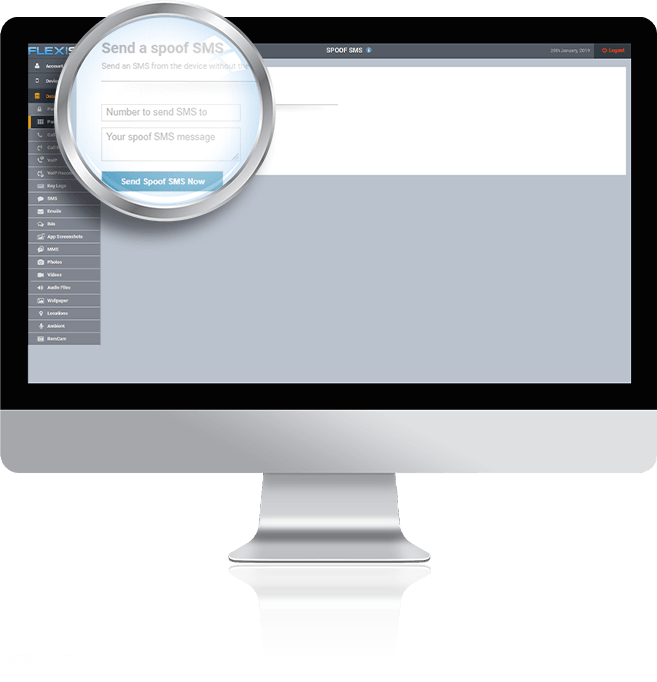 What you can do with Spoof SMS
A spoof SMS is a fake text message that users can send from the target phone to another device. After you install FlexiSPY on the target device, you can remotely control that phone to send an SMS to any number you choose. The spoof text looks like other text messages from the phone, except that there is no evidence of it in the target's outbox.
Send spoof SMS without the device owner knowing
Create fake texts in your online user portal and then invisibly send to the target device or phone number
Spoof SMS messages do not appear in the target's outbox
Why You May Need to Send A Fake Text Message
You may ask yourself, why would I ever need to send a fake text message? The reality is that sending fake text messages can be extremely useful for parents, employers and individuals, because it allows you to find out information about the target or helps you stop communication between the target and one of his or her contacts. The target will be unaware of any SMS spoofing and the spoof text will be impossible to trace back to you.
Benefits for Parents
A spoof text is a great way of finding out information regarding your children or helping them get out of trouble – especially if you notice your daughter has started hanging out with the wrong crowd or if you suspect your son is being bullied. As parents we want to protect our kids and FlexiSPY's spoof text feature is a powerful tool to do this.
Use SMS spoofing to find out where your daughter is really going when she says she's meeting her best friend at the mall, or have the ability to intervene in situations where an adult is needed to step in before things get out of hand.
Benefits for Employers
Employers can use SMS spoofing to confirm or disprove a suspicion that an employee is stealing company data or sharing confidential information.
Send a fake text message to the contact you suspect your employee is communicating with and arrange a meeting – such as ''Hi John, Meet me at 7pm at the café? Have some more information. No need to respond." – or to end the correspondence – "Hi John, I think my boss suspects something. Best if we keep it low for a while and I'll contact you when things settle down."
Benefits for Individuals
Sending fake text messages is useful in everyday life too. Use Spoof SMS to throw your best friend off the scent of their upcoming surprise birthday party or to share a secret with someone that can't come from you.
How does it work?
FlexiSPY is easy to setup and use
1

PURCHASE LICENSE

---

Purchase a FlexiSPY license for the target phone

2

ACTIVATE TARGET PHONE

---

Install and activate the license on the target phone

3

ALL DATA GETS CAPTURED

---

Calls, SMS messages, contacts and call data is captured

4

DATA GOES TO

FLEXISPY SERVER

---

All call data is uploaded to your secure account to view

5

VIEW THROUGH

WEB ACCOUNT

---

All data received can be accessed Round-The-Clock via any computer
If you're a parent or an employer, you have a duty to know — Discover the truth, spy on their phone or tablet
Buy Now