FlexispY feature reference
|
All

WeChat
Spy on WeChat Messages with our WeChat Spy App feature
Our WeChat Spy App feature enables you to view all incoming and outgoing WeChat messages (including details like multimedia) sent to or from your child or employees device. Once installed, FlexiSPY will capture and upload these messages to your secure online dashboard where you can easily read through them later, or save them to your computer for archiving.
Play Video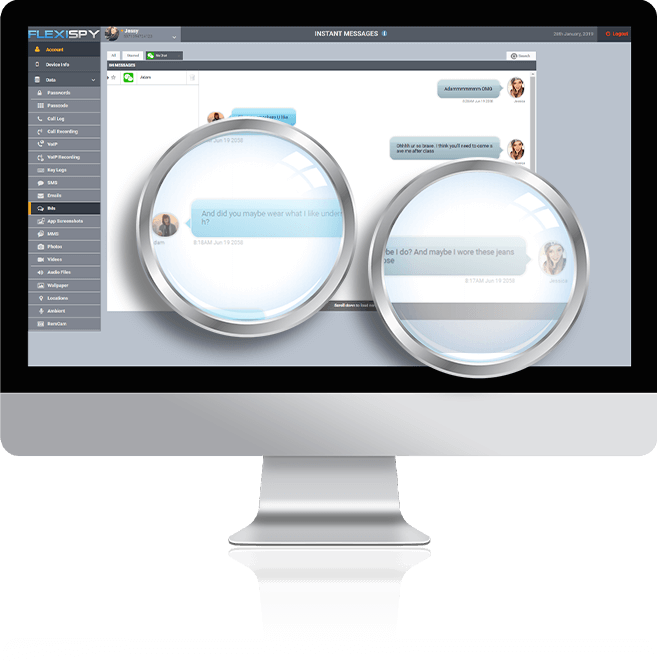 What you can do with our WeChat Tracking feature
With our WeChat monitoring feature, you can track all their activities in secret, giving you the information needed to keep your loved ones or business safe. This feature allows you to:
View all incoming and outgoing messages
View all contacts, dates, and time stamps
Download and store important messages to your computer for safe-keeping
Access all information from secure FlexiSPY portal
And more
Why you need our WeChat Messenger Spy App feature
WeChat messenger commands quite a huge following among the young and old alike. This could be attributable to some revolutionary features it presents. A WeChat user can connect with another user in the vicinity by merely shaking their phones. If you are a parent, this can be worrying knowing predators could be present within a five-mile radius.
Is your teenager chatting with a potentially dangerous stranger? Are your employees sharing critical business information, or could they be in conversation with competitors? What about your private information, are any of your friends disclosing your secrets maliciously? FlexiSPY is an ideal tool to find out the answers to all these important questions you may have.
Benefits for Parents
WeChat has a massive inter-connected user pool that allows strangers to connect via chat. How can you ensure that your children are using this app safely and appropriately? Often, the temptation is for parents to lock out their children from interactions that may expose them to any form of threat. But with our WeChat monitoring feature, this is not necessary. FlexiSPY lets you monitor the activities of your children 24/7. You know who they are talking to, what they are saying, if their profile picture is appropriate for their age and what they are planning.
Benefits for Employers
WeChat messenger presents many tempting options that may affect employee productivity. If left unmonitored, this may cause a sharp dent to your bottom line. Worst of all is the threat of employees leaking confidential business information through WeChat conversations.
With this feature, employers can catch lazy or dishonest employees and take appropriate action against them.
Benefits for Individuals
Have you ever forgotten your password and been locked out of your favorite chat application? Or had to reinstall an app when you get a new phone – thereby losing all previous chat history? Our WeChat Messenger spy app feature backs up your conversations by uploading them directly to your online portal. You can even search through the messages for specific dates or keywords without having to scroll through an entire conversation.
How does it work?
FlexiSPY is easy to setup and use
1

PURCHASE LICENSE

---

Purchase a FlexiSPY license for the target phone

2

ACTIVATE TARGET PHONE

---

Install and activate the license on the target phone

3

ALL DATA GETS CAPTURED

---

Calls, SMS messages, contacts and call data is captured

4

DATA GOES TO

FLEXISPY SERVER

---

All call data is uploaded to your secure account to view

5

VIEW THROUGH

WEB ACCOUNT

---

All data received can be accessed Round-The-Clock via any computer
If you're a parent or an employer, you have a duty to know — Discover the truth, spy on their phone or tablet
Buy Now