FlexispY feature reference
|
All

Uninstall Remotely
Remotely uninstall FlexiSPY from a device
Play Video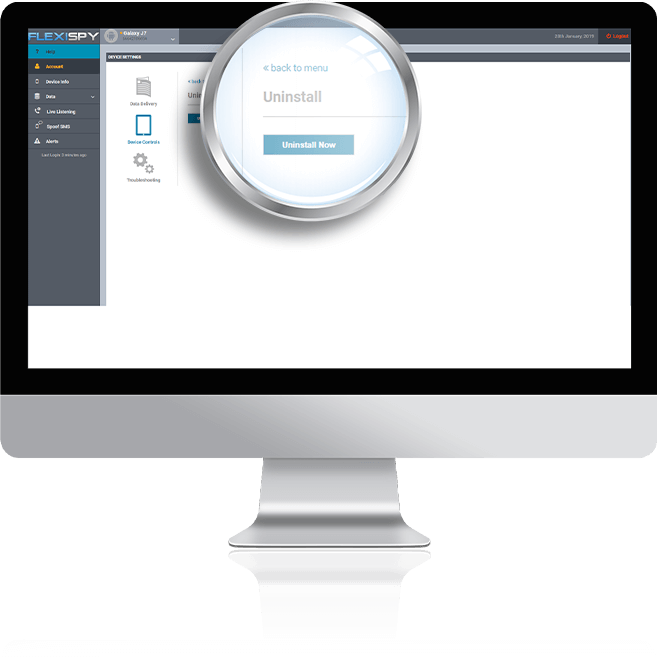 Our Uninstall Remotely feature allows you to uninstall FlexiSPY completely from your child or employees' device using your secure online dashboard. In just a few clicks FlexiSPY can be removed and they will never know the difference. FlexiSPY understands the need to be covert and that is why our remote uninstall feature is not traceable on their device.
Uninstall FlexiSPY in just a few clicks from inside your online account
Removes FlexiSPY completely from their device
Does not affect their device remains undetectable at all times
Why You Need This Feature
If you child or employee has switched to a new device and you wish to monitor that new device, you're in luck! Use our Uninstall Remotely feature to remotely uninstall FlexiSPY so that you can reuse your license and install it on a new device. Our installation process ensures no traces are left, so that you can remain undetected at all times.
How does it work?
FlexiSPY is easy to setup and use
1

PURCHASE LICENSE

---

Purchase a FlexiSPY license for the target phone

2

ACTIVATE TARGET PHONE

---

Install and activate the license on the target phone

3

ALL DATA GETS CAPTURED

---

Calls, SMS messages, contacts and call data is captured

4

DATA GOES TO

FLEXISPY SERVER

---

All call data is uploaded to your secure account to view

5

VIEW THROUGH

WEB ACCOUNT

---

All data received can be accessed Round-The-Clock via any computer
If you're a parent or an employer, you have a duty to know — Discover the truth, spy on their phone or tablet
Buy Now