Spy On Any Computer With Our
Powerful Computer Monitoring Software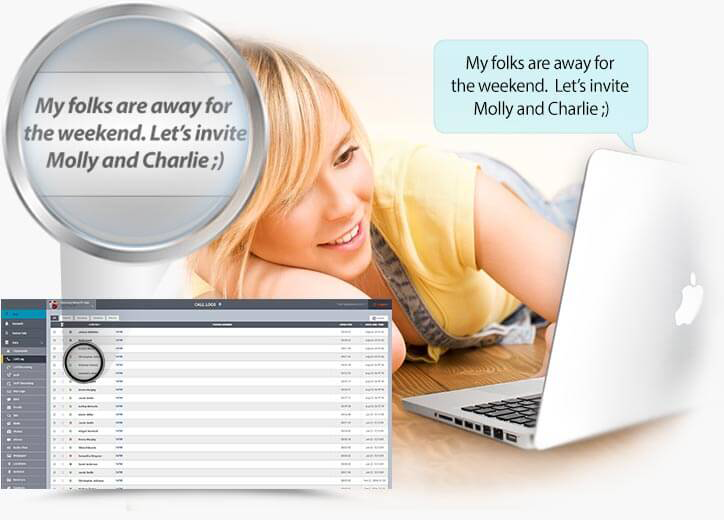 FlexiSPY is the best computer monitoring software, because you can:
Read popular IM chats and emails

Record browser activity

Monitor PC and Mac devices

Includes Laptop Locator

NEW

Supports Microsoft Outlook 365 Webmail

Track all keystrokes and view Keylogs

See file transfers

Trade in your old software

Measure bandwidth activity

Track USB activity and user logins

24x7 support

No hassle Installation service

FREE FOR LIMITED TIME
With 40+ unique features, FlexiSPY is the world's best computer monitoring software for parents and employers
Who Needs Computer Monitoring Software?
FlexiSPY is for anyone who owns a computer and needs to protect themselves or those they're responsible for from all forms of cyber-threats.
Employers can use

FlexiSPY to record keystrokes, track USB connections and monitor employee productivity, browser history, desktop screenshots and emails. You can even monitor network bandwidth and stop potential data breaches before they happen with our file activity tracking features.

Parents can use

FlexiSPY's complete suite of parental controls to supervise their child's internet activity. Never worry again about what applications they install, what websites they visit or who they chat with on IM or email.

You can use

our computer monitoring software to monitor and protect your own system when others are using it.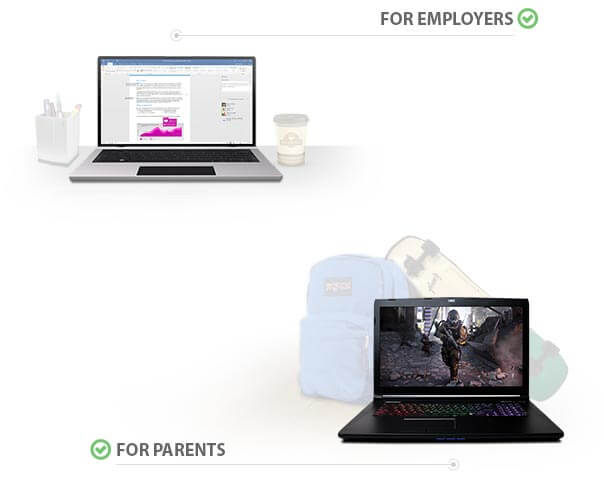 Use FlexiSPY's computer monitoring software to monitor employees, protect your children from risky behavior or secure your personal computer from unauthorized usage.
What Is Computer Monitoring Software?
FlexiSPY computer monitoring software is an application that you install on to a PC or Mac to supervise the processes and activities that take place on a particular machine or computer network.
Our software provides the best monitoring solution for employers, parents and even personal users who understand the importance of protecting their businesses, personal information and loved ones.
With over 40 features - and more being added every day - FlexiSPY gives you more options than any other competitor. And if you have a competitor's product and are not happy with it, check out our trade in service.
What Can FlexiSPY For Computers Do?
FlexiSPY remotely monitors PC and Mac devices and uploads the data to a convenient online portal. With the world's most powerful computer monitoring software, you get more because FlexiSPY can do more!
Once installed, FlexiSPY invisibly monitors the target computer and records everything. The data is uploaded to your online portal where you can view usage and activity reports. Use this information to prevent insider threats, increase employee productivity, back up your data or start a discussion with your children about appropriate online behavior.
Have a mobile device? You can protect it with FlexiSPY for Android or iPhone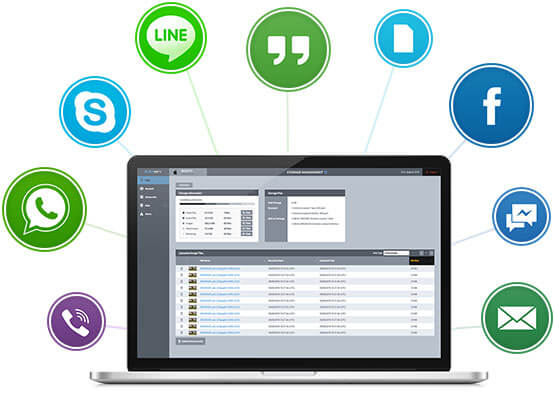 FlexiSPY's Computer Monitoring Features
Monitor IMs

See every word typed

View the contents of the most popular IM chats - Facebook, LINE, WhatsApp, etc. - even those that have been deleted

Laptop Locator

Monitor their location using their Laptop

FlexiSPY triangulates their laptop's position and stores it in your secure online account — letting you see a complete history of where your loved one or employee has been with their device.

Verify Network Activity

Know what and who is connected

Keep track of all computer network connections - including bandwidth usage, user log-ins and even print jobs - that take place.

Spy on Internet Activity

Track website history and bookmarks

View browsing history and bookmarks, including URLS, date and time of visit, giving full visibility of browsing history.

Safeguard Your Data

Monitor all file activity and transfers

Know when a file was opened, who modified it and where it was sent with our file transfer and activity tracking feature.

Tamper Controls

Select visibility option

FlexiSPY gives you the option to run our software in visible or hidden mode. No other software gives you this flexibility.

Easy-to-View Data

Data is uploaded to your portal

View all computer activity in your secure online portal or download our first-of-its-kind mobile viewer app — FlexiVIEW — for access on the go.

Mac or PC

FlexiSPY is compatible with Macs & PCs

Our computer monitoring software is compatible with Mac and PC operating systems, giving you the ability to install on any computer.

Keylogger

See everything that's being typed

Our keylogger lets you see everything that's typed - even if it's deleted. Discover search terms, notes and more.

Read Emails

Track sent and received emails

Instantly read all incoming and outgoing emails, as well as the time-stamp and contact details of the sender.
How Do I Read My Computer Spy App Data?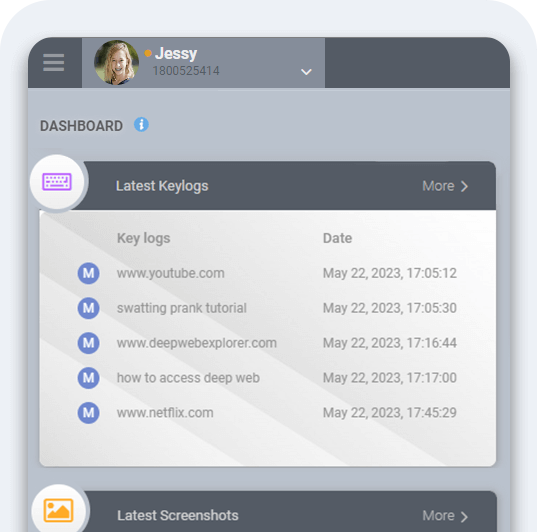 The information captured by our computer spy app is encrypted and sent to a secure web portal. Use a web browser — or our unique mobile app — to browse data, carry out searches, set alerts, generate reports and much more.
The portal includes a number of innovative features, including:
FlexiSPY Alert Wizard

— Get alerts when 'hot' words appear in IM, Email, Key Logs — or even when a file is deleted or renamed.

GPS Navigator Widget

— Always know where the laptop is. Manage hundreds of coordinates for use in other tracking apps like Google Maps — you can even replay the step-by-step movements of the target laptop!

Individual Dashboards

— Handle multiple devices at once — allowing you to easily monitor your workforce or family.

Stay informed on-the-go

— With our free FlexiVIEW mobile app for Android & iOS, you can access your most useful data right from your smartphone.
FlexiSPY lets you spy on your computer device data from the comfort of your favorite armchair.
Why Is FlexiSPY The Best Computer Monitoring Software?
The best computer monitoring software is the one that gives you the most features, the most reliability, the best customer support and the ability to upgrade to more powerful versions as your needs grow. Not all computer spy apps are created equal - so why settle for less than the best? FlexiSPY provides:
More Features.

FlexiSPY for Computers offers 40+ features - many of which cannot be found anywhere else. FlexiSPY gives you information, insights and clues that no one else can.

Easy Access. View your data with any computer browser or on our unique mobile app — FlexiVIEW. Simply log in to your portal and see all the information captured from the monitored computer.
Unrivaled Customer Support.

FlexiSPY has 24x7 customer support, so you can be sure your questions will be answered - no matter when or where.

Multi-device Support.

Monitor mobiles, tablets and computers seamlessly from one portal. Move licenses instantly across devices anytime during the subscription period.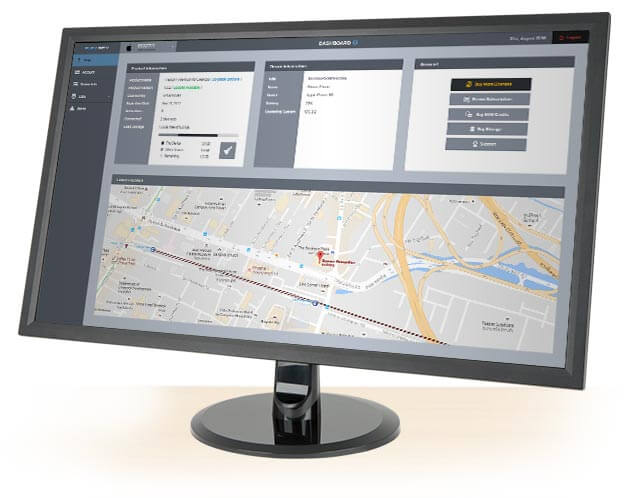 What Our Customers Are Saying

( Excerpts from real reviews )
"Personally, I have used other tools before like Mobile spy but I have to say FlexiSPY is the best among all these. The customer service is very efficient and always ready to answer all the questions and this was my motivation in the first place to subscribe. I would recommend FlexiSPY at any time. 10/10 for me.

"I have a business and need to keep track of my trucks. The best feature for me is definitely the GPS. It shows the location and is constantly updating to new locations, making it easy to track my employees. I would definitely recommend using this product if you are trying to keep track of someone or something!

"I used this to monitor my son to see if he was going anywhere before or after school as I just wanted to make sure he wasn't going anywhere I disapproved of. I was able to do this quite easily using the GPS tracker and I was quite impressed with the accuracy of the locations. I went to the locations and saw who he was with and where he was going.
Start Monitoring A Computer With
FlexiSPY for COMPUTERS
COMPUTERS$

79
The most powerful spy app for PC & Mac.
With over 40+ features, more than any competitor, to help you monitor the complete computer usage of your employee or teenager.
Key logs
Browser videos
Application activity
Installed applications
Access by secure key combination
Dashboard Alerts
Renew Anytime

Before you buy ...
To continue to checkout, please acknowledge the following
To proceed, you must select the checkbox above

If you're responsible for a child, manage employees or want to protect your own computer then
You Have A Duty To Know
Find out the truth with FlexiSPY for COMPUTERS
Not Ready To Buy?
Subscribe to our newsletter to receive exclusive monthly promotions you won't find on the website.
Installation
Service
The FlexiSPY installation service lets you schedule a time when an experienced technician will remotely log into your PC and configure and install FlexiSPY onto your device.
---
Learn More About The Installation Service
FREE FlexiVIEW Mobile Portal Viewer App
Gone are the days of needing a computer to view your monitoring data! With our unique FlexiVIEW Mobile Portal Viewer App, you can now access your most important information on-the-go, right from your iOS or Android device. Stay connected and make smarter decisions, no matter where you are.
---
Learn More About FlexiVIEW
How To Monitor
Computer Activity?
Determine the target computer to monitor
Ensure you have an Internet connection
Choose the best FlexiSPY package for you
Log in to your computer monitoring software portal
Install and activate FlexiSPY on the target computer
Select the data you wish to view
Search for specific keywords
Bookmark important data for easy retrieval
Download usage reports and activity logs
Spyphone Reviews
The authoritative no-nonsense spy phone review website. Head on over to spyphonereview.com to access the most in-depth, technical test reports on all major spyphone products and check out how we compare against competitor products.
---
Visit Spyphone Reviews
Related Products
Discover how children and employees behave online by monitoring the Android devices they use.
The world's only iPhone tracker that intercepts phone calls, makes spy calls and monitors over 12 IM's.
Trade Up To FlexiSPY
Recover your losses, trade your existing computer monitoring software product.
Have you bought a copycat computer monitoring product. Are you unhappy with it? So are we. For a limited time only, we will redeem your remaining license against a copy of FlexiSPY. Contact Live Support for details.
---
Learn How To Trade Up To FlexiSPY