FlexispY feature reference
|
All
YouTube Monitoring
Best YouTube Parental Control App
Secretly see every YouTube video your child or loved one has watched on their phone.
Navigating the ocean of content on YouTube and making sure your children or loved ones have been watching the right things can feel akin to keeping track of sand grains on a beach. The challenge is amplified when you're not physically there to guide them through the endless tide of YouTube videos, comments, and interactions.
Fortunately, there is a solution. Once installed on your loved one's Android or iPhone, FlexiSPY's YouTube parental control app feature will take screenshots of their YouTube activity and upload them to your secure online dashboard for your viewing – all in secret without them knowing should you choose.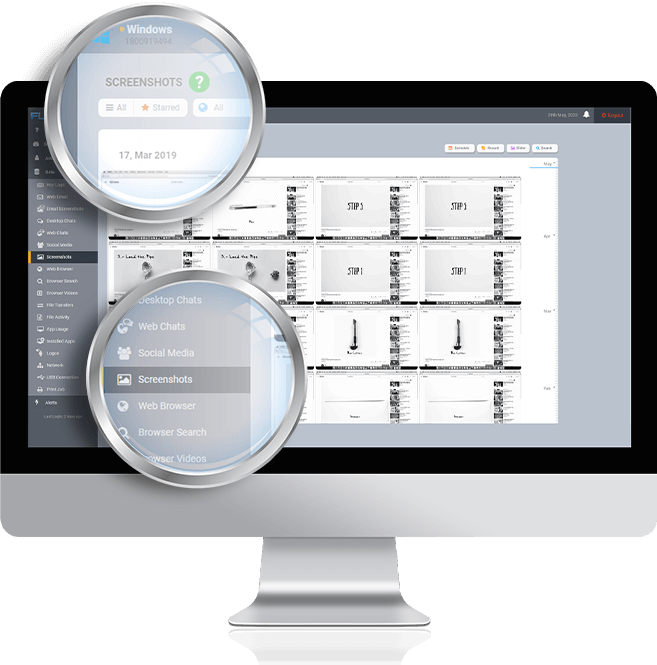 What you can do with our YouTube Monitoring feature
Have you ever wanted to know what your child is watching on YouTube, or see the comments they're posting? Our YouTube Monitoring feature lets you:
See what YouTube videos your children or loved ones are watching
Monitor their YouTube comment activity
Know if they have a YouTube channel they are uploading to
Search captured YouTube screens by date range for easy filtering
Mark important screenshots for quick reference later
Access and view screenshots through your secure online portal or FlexiVIEW app
Why you need our YouTube Parental Control App
In an era where online safety is a major concern, having the ability to supervise your child's YouTube activity is a game-changer. You may be worried about what your child is viewing on YouTube, who they are interacting with, and what information they are sharing. FlexiSPY's YouTube Parental Controls is a proactive approach to online safety.
Benefits for Parents
In today's digital age, it is crucial to ensure that your child's exposure to YouTube is both safe and suitable for their age group. This concern has been addressed by FlexiSPY's YouTube Monitoring tool, a comprehensive YouTube parental control app that grants you the power to see someone else's YouTube history. You can rest assured knowing that your child isn't encountering harmful or inappropriate content, as you'll have the insights to guide them towards a safer online journey.
FlexiSPY's YouTube monitoring feature is more than just a tool to put parental controls on YouTube; it's a digital window into your child's online behavior. It allows you to check your child's comments, uploads, and interactions on the platform. This level of monitoring can initiate essential conversations about online safety, responsible internet use, and the implications of digital footprints. It's not just about control, but education and communication, too.
Benefits for Employers
As an employer, the productivity of your workforce and the secure usage of company resources can often be a cause for concern. FlexiSPY's YouTube Monitoring feature serves as a helpful tool for ensuring that company devices are being utilized effectively. By monitoring YouTube usage during work hours, you can prevent potential distractions and foster a more focused work environment.
Another critical aspect of this feature is its ability to protect your business from data leaks. If an employee unintentionally or deliberately uploads sensitive information on YouTube, FlexiSPY gives you the power to detect such activity in real-time. This proactive measure can help prevent potential breaches and protect your company's interests, reputation, and valuable information.
Benefits for Individuals
If you've ever experienced the frustration of forgetting the name of a video or channel you found interesting, FlexiSPY offers a solution. With our monitoring tool, your YouTube history is always available at your fingertips, providing a digital breadcrumb trail back to your favorite content.
Frequently Asked Questions
How to check YouTube history of someone?
FlexiSPY's YouTube Monitoring feature lets you see the YouTube history of the monitored device. Simply log into your secure dashboard to view all screenshots captured while the YouTube app was active.
Does YouTube have parental controls and why is FlexiSPY better?
While YouTube does have basic parental control settings, they can be easily bypassed, and don't provide comprehensive protection. FlexiSPY's YouTube Monitoring feature, however, provides detailed insights into YouTube usage, including video views, comments, and uploads.
How to monitor what videos my child is watching on YouTube?
By using FlexiSPY's YouTube Monitoring feature, you can remotely access screenshots of your child's YouTube activity, allowing you to see exactly what videos they have viewed. This helps ensure your child's online safety and appropriate use of the platform.
How can I put parental controls on YouTube?
Parental controls for YouTube generally involve using the Restricted Mode feature in the app or website. This feature filters out potentially mature content, though it may not be 100% accurate. It can be enabled on each device your child uses but can easily be removed by your child.
A more comprehensive solution would be to use a parental control application, such as FlexiSPY's YouTube Parental Control app, which has extensive features to ensure online safety for your kids.
What is FlexiSPY's YouTube Parental Control app?
FlexiSPY is a powerful parental control app that you can install on your child's devices, including Android, iPhone, Computers, and iPad. It has more monitoring features than any other product on the market, allowing you to monitor all forms of communication, including email, SMS, chat apps, phone calls, and YouTube usage. It offers features such as tracking device locations, monitoring online activity, accessing media files, listening to live phone calls, and capturing every keystroke used for search terms, notes, SMS, emails, and more. Importantly, it also has the ability to take secret screenshots of the YouTube app, providing an additional layer of security and control.
Why should I use FlexiSPY's app instead of YouTube's built-in controls?
YouTube's built-in controls like Restricted Mode can help filter out some inappropriate content, but they are not foolproof. With FlexiSPYs parental control YouTube App, you have much more control and visibility into your child's online activities. The app can provide you with more information about who your children are talking to, what they are talking about, and what they are viewing when on their devices. FlexiSPY also offers the ability to set the app to be detectable or undetectable based on the needs of your family. Moreover, it is a proven technology that's been used by hundreds of thousands of people around the world, and it provides extensive customer support.
How to put parental control on YouTube Android?
Setting up parental controls on YouTube for Android involves using the Restricted Mode feature in the app settings. However, this built-in feature can be easily circumvented, and it may not be as comprehensive as parents may wish. This is where FlexiSPY's YouTube Parental Control App provides a more effective solution. Once installed on the target device, FlexiSPY operates in stealth mode, capturing screenshots every time the YouTube app is active. These screenshots are uploaded to your secure online dashboard, offering a more robust and detailed way of monitoring your child's YouTube activities, giving you peace of mind about their online safety.
If you're a parent or an employer, you have a duty to know — Discover the truth, spy on their phone or tablet
Buy Now