FlexispY feature reference
|
All

Viber
Spy On Viber Messages with our Viber Spy App feature
Our Viber spy app feature allows you to view all Viber messages sent and received on your child or employees' phone. Once installed and activated, FlexiSPY will capture and upload the message contents to your secure online dashboard for convenient reading later.
Play Video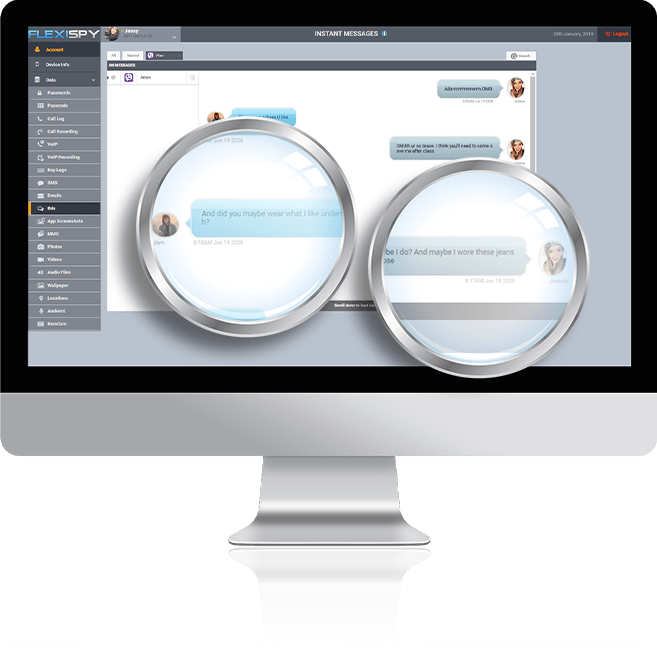 What you can do with our Viber Spy app feature
As a parent, our Viber tracker feature is an effective tool for monitoring what your child is being exposed to. As an employer, you can track how employees spend their work hours and how careful they are with confidential business information.
Our Viber tracker feature allows you to:
See which participants are in a Viber group chat
Read Viber messages with all the emoticons, doodles and stickers
View photos, videos and audio files shared on Viber
Access Viber contacts and profile pictures
Download all captured data to your computer
Why you need our Viber Spy App feature
Once FlexiSPY is installed on the target device, it can run invisibly in the background to collect the information that you need to protect your children and business. It is easy on battery life arousing no suspicion and begins monitoring automatically.
Benefits for Parents
As a parent, you may feel concerned about what your child is exposed to daily through Viber. Who are they chatting with and what is being discussed? As much as their phone is a useful tool, it can pose a threat to their safety or become a source of negative influence to them. With FlexiSPY, you can be on top of all that is going on in their lives.
Benefits for Employers
Are your employees not completing their tasks on time? Are you suspicious of how they are spending their time at work? If you have doubts that they're taking advantage of your business, or otherwise putting it in jeopardy, then our Viber spy app feature can help you to start protecting your business by giving you eyes on everything that's being said.
Benefits for Individuals
If you use Viber, then this means you're sending and receiving a lot of important information. So what happens if you lose your phone, or get locked out of your account? This is not an uncommon scenario, and your precious memories could potentially be lost forever. By installing FlexiSPY, you'll always have a backup of this information available to you either via your online dashboard or on your computer if you've chosen to download them.
How does it work?
FlexiSPY is easy to setup and use
1

PURCHASE LICENSE

---

Purchase a FlexiSPY license for the target phone

2

ACTIVATE TARGET PHONE

---

Install and activate the license on the target phone

3

ALL DATA GETS CAPTURED

---

Calls, SMS messages, contacts and call data is captured

4

DATA GOES TO

FLEXISPY SERVER

---

All call data is uploaded to your secure account to view

5

VIEW THROUGH

WEB ACCOUNT

---

All data received can be accessed Round-The-Clock via any computer
If you're a parent or an employer, you have a duty to know — Discover the truth, spy on their phone or tablet
Buy Now