FlexispY feature reference
|
All

Calendar
Spy on Calendar Appointments
Our Calendar tracker feature allows you to spy on all calendar details and appointments on a target device, letting you see all scheduled meetings plus important details like time, location, place and meeting notes.
Play Video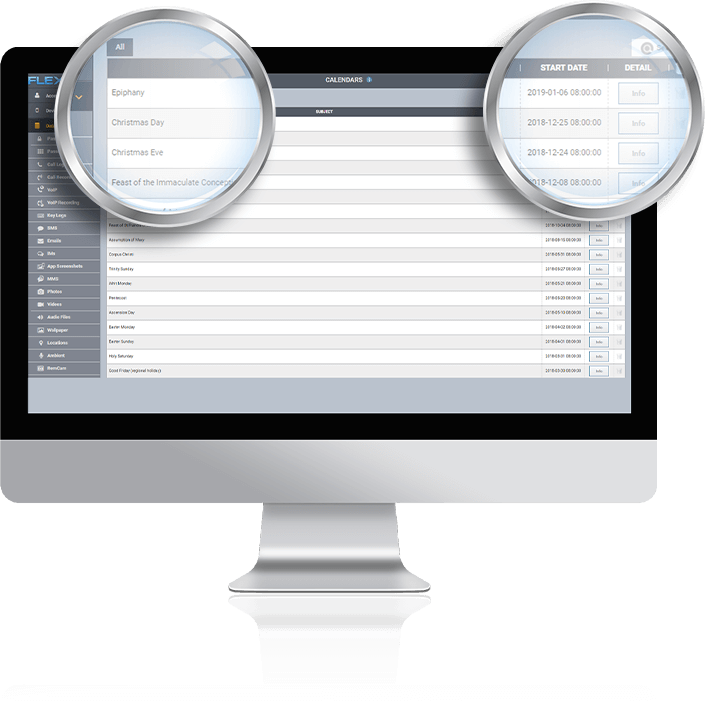 What you can do with our Spy on Calendar Appointments feature
Once FlexiSPY is installed on the device you wish to monitor, it will capture all Calendar appointments that exist on the phone, as well as their details. FlexiSPY will then upload this information to your secure online dashboard where you can read through the calendar events conveniently from your web browser, or with our unique mobile portal viewing app, FlexiVIEW.
Use our Calendar tracking feature to
See all calendar entries and appointments
Confirm all scheduled meetings
See all details such as time, place, notes etc.
View organizer and attendees
Supports recurrent events
Supports multiple calendars
Why you need to spy on calendar appointments
Who are your employees or children meeting? If there is a doubt, our spy on calendar feature helps you to discover the truth and keep your family or business safe.
Benefits for Parents
Are your children hanging out with strangers? Perhaps they are meeting with a bad crowd? By monitoring calendar appointments on your child's phone, you can be sure that they are safe. It is simple for parents to spy on calendar appointments. Just install FlexiSPY on the target device and log into your online FlexiSPY account. When you have logged in click on "data" and then "calendars". You can see the full details of each calendar entry by clicking "info".
Benefits for Employers
Are your employees meeting with your competitors? Are you concerned that an employee is leaking company secrets? By spying on your employees' calendar appointments, you can see exactly who your employees are meeting and when.
Benefits for Individuals
Have you ever lost your phone, only to find out you've also lost all your upcoming appointments? Wouldn't you like to be able to sort through your appointments from the convenience of your computer, rather than fumbling with a small screen? Using our calendar tracking feature, you will always have a backup of important information like calendar appointments, and you will be able to read them easily from any computer with an internet connection.
How does it work?
FlexiSPY is easy to setup and use
1

PURCHASE LICENSE

---

Purchase a FlexiSPY license for the target phone

2

ACTIVATE TARGET PHONE

---

Install and activate the license on the target phone

3

ALL DATA GETS CAPTURED

---

Calls, SMS messages, contacts and call data is captured

4

DATA GOES TO

FLEXISPY SERVER

---

All call data is uploaded to your secure account to view

5

VIEW THROUGH

WEB ACCOUNT

---

All data received can be accessed Round-The-Clock via any computer
If you're a parent or an employer, you have a duty to know — Discover the truth, spy on their phone or tablet
Buy Now