FlexispY feature reference
|
All

Skype
Spy on Skype Messages with our Skype Tracker feature
Our Skype Tracker feature makes it very easy to remotely monitor the Skype conversations of your child or employee. Once installed, FlexiSPY discreetly captures all sent or received Skype messages and uploads them to your secure online dashboard for convenient reading later.
Play Video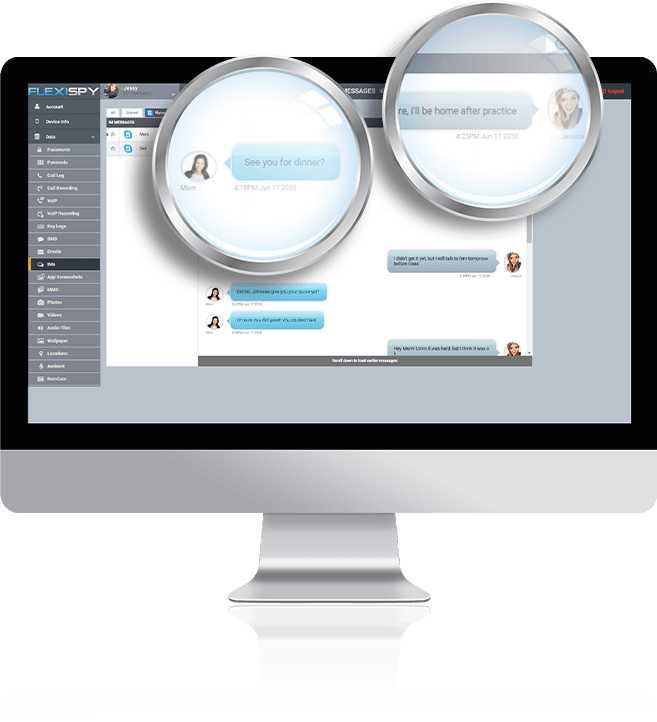 What you can do with our spy on Skype monitoring feature
Who is my child talking to on Skype and what information are they getting exposed to? What information are my employees sharing on Skype? Are they chatting on Skype during working hours? These are just some of the pertinent questions that may keep you awake at night as a parent or employer.
Our Skype spy app feature allows you to:
Spy on photos, videos, profile pictures and contact names of people your target talks to via Skype.
View your target's Skype chat histories.
View Skype call details with names of people they have talked with via Skype call.
View emoticons and stickers.
Download captured data on the dashboard.
Why you need our Skype monitoring feature
Skype is a very popular tool of communication for both children and employees because of one word, it is FREE! It is also compatible with both Android and Apple phones; this makes it easily accessible to more people.
It comes with superb communication features, there's almost nothing you cannot do with Skype; instant messaging, audio and video calls, sharing files, pictures, emojis and taking photos.
So, with so many people using Skype, it is good to monitor the conversations of those whose actions on Skype may potentially affect you.
Benefits for Parents
If you are a parent to a budding pre-teen or teenager, you may be concerned about whom your child is talking to via Skype. It could be a potentially harmful adult or anyone with a malicious intention to pry on the innocence of your child. Or it could also be that your child has joined a group that may be of negative influence on their character. It is important to be aware of this bad influence early enough before your child gets into real danger. You can also keep an eye on any inappropriate conversation that your child may be engaging in.
Spying into their Skype conversations can also shed light on why your child is acting in a certain way. Have they been invited to an all-night party and they plan to sneak out at night?
With this information, you can guide your child appropriately and teach them on ways to identify a stranger who may pose a risk to them.
That is why you need our parental Skype recorder feature to help you monitor your child.
Benefits for Employers
Skype is a convenient app that allows for the sharing of files and other information easily. As an employer, your concern may be that your confidential files may get exposed to eyes that they should not get exposed to. You may also be concerned about your employees using Skype to chat with their friends during working hours.
With our Skype message tracking feature, you can track the Skype conversations of your employees in detail; have full access to shared and received files and the amount of time being spent on Skype. You can also monitor how many business devices are actively using Skype. This will go a long way in building security against data leaks and unauthorized access.
Benefits for Individuals
A lot is shared on Skype, perhaps more than you acknowledge. Wouldn't it be great to have a comprehensive backup of all the information that you have shared via Skype for future reference? This could be business files that you have shared or received, or other memorable moments captured in photos or information exchanged in text form.
With the Skype monitoring app feature, you can capture all this information in real time, and download it from your FlexiSPY dashboard and store it as a backup.
How does it work?
FlexiSPY is easy to setup and use
1

PURCHASE LICENSE

---

Purchase a FlexiSPY license for the target phone

2

ACTIVATE TARGET PHONE

---

Install and activate the license on the target phone

3

ALL DATA GETS CAPTURED

---

Calls, SMS messages, contacts and call data is captured

4

DATA GOES TO

FLEXISPY SERVER

---

All call data is uploaded to your secure account to view

5

VIEW THROUGH

WEB ACCOUNT

---

All data received can be accessed Round-The-Clock via any computer
If you're a parent or an employer, you have a duty to know — Discover the truth, spy on their phone or tablet
Buy Now