FlexispY feature reference
|
All

Browser History
Spy on a Phone's Internet History with our Internet History Spy App feature
FlexiSPY allows you to spy on all websites visited by a target mobile device — even if the browser is in incognito or private browsing mode. Being able to view a child or employee's internet history is useful as it gives you numerous insights to increase your child's safety or your businesses overall productivity. Once installed on the device you wish to monitor, FlexiSPY will capture all websites that have been visited, and will upload them to your secure online dashboard for convenient reading and searching through later.
Play Video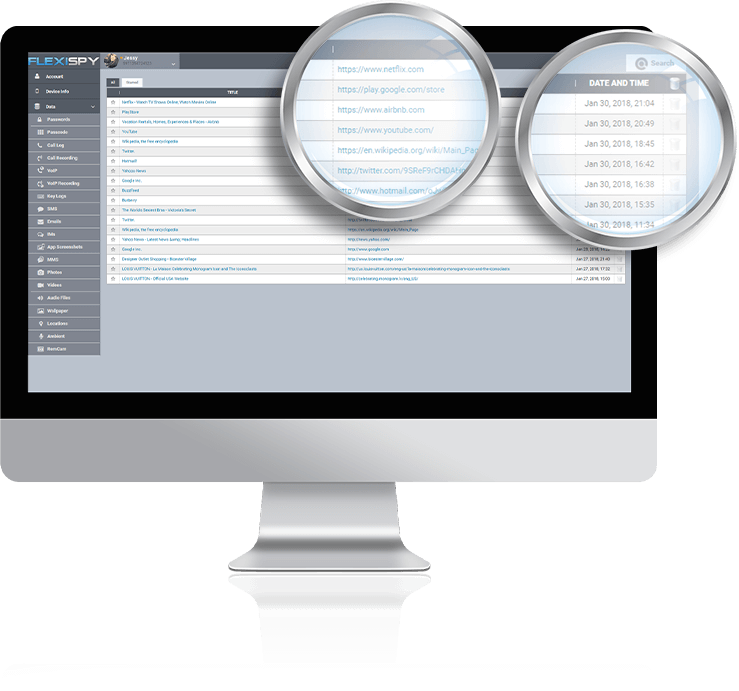 What you can do with our Spy on Internet History feature
FlexiSPY allows you to track all web history from a phone's web browser.
You can:
See all websites visited — even if the browser is in incognito or private browsing mode
Get time and date of each visit
Search through websites visited using keyword search, or date range
All URLs uploaded to online account Dashboard; click to visit any of them
Why you should track internet history on a phone
Monitoring internet history can provide you with a lot of powerful data. You can see what someone is planning on buying, what content they consume and even if someone is using dating websites. A real picture of who a person is can be found through their internet browsing history, so it can be important to monitor this data in certain circumstances.
Benefits for Parents
If you are a parent who is concerned about what your child is up to, then monitoring their internet history is essential. You can see if they are attempting to meet someone inappropriate or using your credit card to buy themselves gifts! They could even be browsing graphic content that is unsuitable for their age.
Spying on a child's internet history is easy with FlexiSPY. Once you have installed the program on the target device, you can easily view the internet history from your online FlexiSPY account. All you have to do is log in and then click on data, then web activity. You will then see a list of all the websites visited from the target device. By clicking on bookmarks in your online account you can also see what your child has bookmarked with their phone's internet browser.
Benefits for Employers
If you are an employer who issues cell phones to company employees, then it can be vitally important to monitor the devices' internet history. This not only helps protect company secrets from competitors, it can also aid productivity. Do you know what your employees are using company smartphones for during work hours? With FlexiSPY it's easy to find out.
Once you have installed FlexiSPY on your company devices, it's easy to see what your employees are up to. Simply log into your online FlexiSPY account, click on data and then on web activity. This will show you a full list of all the websites your employees are visiting, as well as the date and time they visited them. This is important as you can then tell exactly what your employees are doing during the working day.
Benefits for Individuals
Even if you are not a concerned parent or an employer, it can be important to observe the internet history on a device. If you have physical access to the device and the consent of the person you are monitoring. Then installing FlexiSPY is the easiest way to view a devices internet history.
How does it work?
FlexiSPY is easy to setup and use
1

PURCHASE LICENSE

---

Purchase a FlexiSPY license for the target phone

2

ACTIVATE TARGET PHONE

---

Install and activate the license on the target phone

3

ALL DATA GETS CAPTURED

---

Calls, SMS messages, contacts and call data is captured

4

DATA GOES TO

FLEXISPY SERVER

---

All call data is uploaded to your secure account to view

5

VIEW THROUGH

WEB ACCOUNT

---

All data received can be accessed Round-The-Clock via any computer
If you're a parent or an employer, you have a duty to know — Discover the truth, spy on their phone or tablet
Buy Now