FlexispY feature reference
|
All

Call Logs
Spy on Call logs
Call logging is a FlexiSPY feature that allows you to spy on the call logs of any phone that has FlexiSPY installed on it. Using this feature you can see things like when the call was made, the name of the person on the other end of the call, the call duration, and more.
Play Video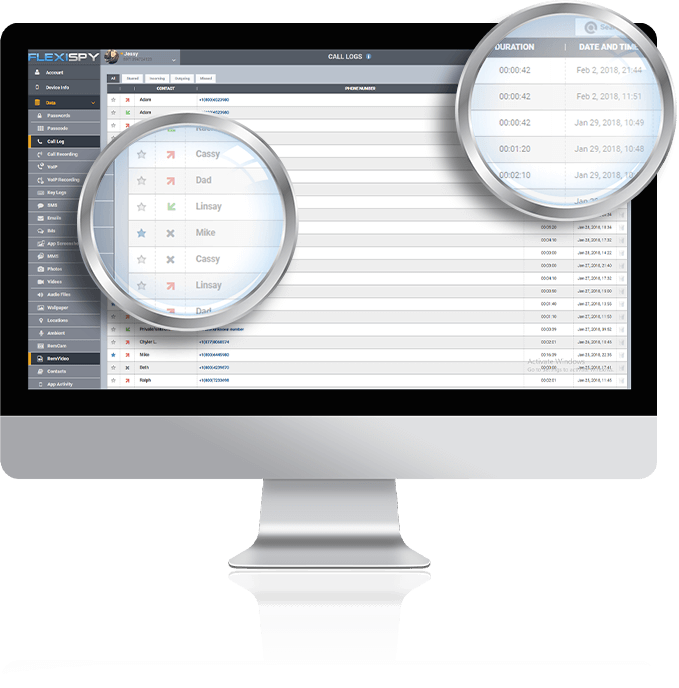 What you can do with our call logging feature
FlexiSPY offers a reliable way to track the incoming and outgoing calls of a target device. This includes missed calls and even calls records which have been deleted. What's more, all of this tracking occurs silently in the background, allowing you to discretely monitor your child or employee without them knowing. With our phone call logs feature you can do things like
See the details of every outgoing or incoming voice call
View contact information for any missed calls
See call logs even if they've been deleted
Verify everything including the caller's name, call duration and time of call
Download all call logs as a spreadsheet for later reference
Why you need to spy on call logs
It is important to know who your child or employees are talking to on the phone. Afterall, you want to make sure your child is not engaging in risky behavior, or that your employee is not leaking important company data to competitors.
Benefits for Parents
Children of this generation are more or less glued to their phones at all times. As parents, we want to protect our children, but it is not always possible to be with them around the clock. FlexiSPY allows you to find out if your child is communicating with a stranger or a contact which you consider inappropriate. We also provide insight into missed or deleted calls that could indicate if your children are hiding who they are contacting or if they are being harassed by school bullies.
Thankfully, with FlexiSPY's spy on call logs feature, it becomes easy to know the extent of what is going on behind any phone call. Parents will know exactly who is calling, how many times they are calling, for how long and at what times.
Benefits for Employers
With the rise of BYOD devices in the workplace, it's no surprise that employees are increasingly taking personal calls while on the job. As the owner of a company, you know that it's important to allow your employees to have some freedom with this — as long as it's not affecting their work. With our spy on phone call logs feature, you can avoid unneeded confrontation by confirming from your portal whether or not an employee you suspect of time wasting on the phone is actually wasting time or just making a couple calls.
Benefits for Individuals
We use our phones for different reasons from personal and social calls, to business and service calls. And while most times we hang up and forget the details of the call, there are situations when having a record of a call's details comes in handy.
If you are using legal services where phone calls are on billable time, it is important to keep track of the call duration you have with a lawyer. Others may find it useful to track the date and number of a call with a service agent who confirmed flight update changes that have not been sent through. In more serious cases, being able to track the amount of calls, the times of calls and the contact name of an individual can be useful evidence for bringing up a legal case against a stalker or harasser.
A convenient way to access your call logs, is to back up your call history using FlexiSPY. Where all data will be stored in your online dashboard for easy access at any time.
How does it work?
FlexiSPY is easy to setup and use
1

PURCHASE LICENSE

---

Purchase a FlexiSPY license for the target phone

2

ACTIVATE TARGET PHONE

---

Install and activate the license on the target phone

3

ALL DATA GETS CAPTURED

---

Calls, SMS messages, contacts and call data is captured

4

DATA GOES TO

FLEXISPY SERVER

---

All call data is uploaded to your secure account to view

5

VIEW THROUGH

WEB ACCOUNT

---

All data received can be accessed Round-The-Clock via any computer
If you're a parent or an employer, you have a duty to know — Discover the truth, spy on their phone or tablet
Buy Now