FlexispY feature reference
|
All

Skype Call Recording on Android
Record Skype Calls on Android
Android Skype Call Recording is a FlexiSPY feature that allows you to discreetly record and listen to skype calls on Android devices. Once the call has been recorded, it's uploaded to your online portal for convenient listening.
Play Video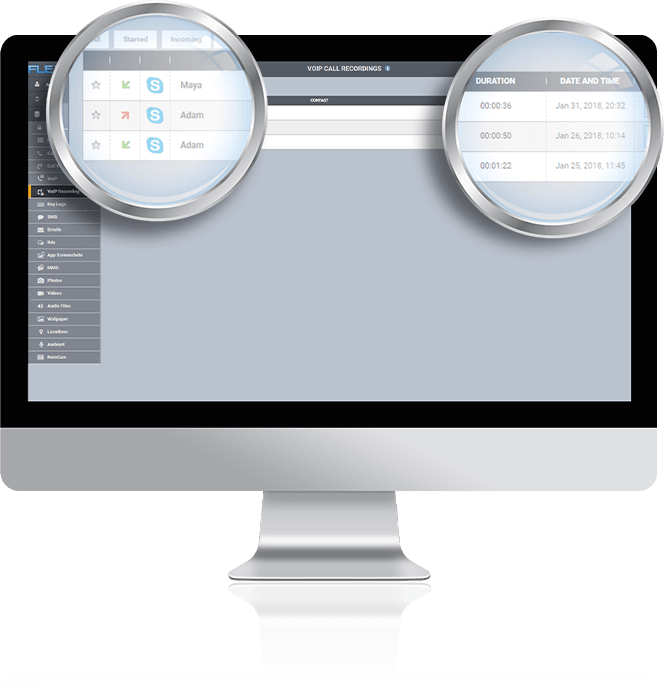 What you can do with our Android Skype Call recording feature
Whether you need to record Skype calls for business or personal reasons, our android skype call recording feature allows you to
Record incoming/outgoing Skype calls
Listen to recorded calls on your device
See date & time of Skype calls
View information of Skype contacts
Why you need to record Skype Calls on Android
VoIP applications such as Skype are replacing traditional phones calls as they let you make calls over the internet and cost virtually nothing. Our Skype recording software makes it easy to listen to these calls. You can know exactly who the target user is speaking to and what they are speaking about. All call recorder files are small in size for easy and convenient downloading so that you can listen to them whenever you want.
This feature has many benefits for parents, employers and individual users. Let's take a look.
Benefits for Parents
Recording a Skype call is extremely useful for parents, providing them with the ability to keep track of who their children are speaking to over the internet. It is not intended to spy, but rather our parental skype recorder allows you to step in at the first sign of inappropriate conversations or interaction with strangers. Use FlexiSPY Skype recording software to start a conversation with your children about appropriate online behavior and how to look for signs of danger.
Benefits for Employers
The use of Skype in the workplace is on the rise. As such, knowing how to record Skype calls on Android is important for employers too. It can be used for quality control training, recording phone interviews and reviewing details from an important client conference call. Recording a Skype call is also very important for protecting your business from insider threats and information breaches, as employers can automatically record phone calls made using Skype on company devices and detect any warning signs early on.
Benefits for Individuals
Individuals can record skype calls for use in their everyday lives. Think about the last time you spoke to a customer service representative and you either forgot or were not able to write down all the information from the call. Or has your landlord or contractor failed to follow through with something they agreed to verbally on the phone? With FlexiSPY, you will have the confidence that you will always have evidence to support your conversations and agreements.
How does it work?
FlexiSPY is easy to setup and use
1

PURCHASE LICENSE

---

Purchase a FlexiSPY license for the target phone

2

ACTIVATE TARGET PHONE

---

Install and activate the license on the target phone

3

ALL DATA GETS CAPTURED

---

Calls, SMS messages, contacts and call data is captured

4

DATA GOES TO

FLEXISPY SERVER

---

All call data is uploaded to your secure account to view

5

VIEW THROUGH

WEB ACCOUNT

---

All data received can be accessed Round-The-Clock via any computer
If you're a parent or an employer, you have a duty to know — Discover the truth, spy on their phone or tablet
Buy Now