FlexispY feature reference
|
All

Network Connections
Spy on a Phone's Network Connections
Network Connections is a FlexiSPY feature that allows you to see a list of names of all cellular and Wi-Fi networks the device has ever connected to, including the date and time the connection was made or broken. By spying on network connections, you can make sure your child is where they say they are, or check whether an employee is really attending a training conference — even if their phone's GPS is turned off.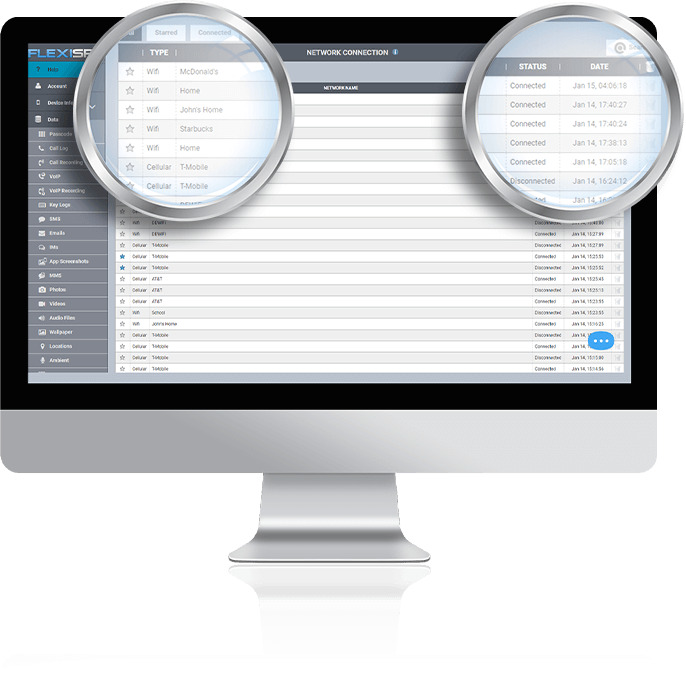 What you can do with our Network Connections feature
Once installed on the device you wish to monitor, FlexiSPY will make a record when the device connects or disconnects from any cellular or Wi-Fi network. It will then upload this information to your secure online dashboard where you can conveniently read through the list. Use this feature to:
See the network type – cellular or Wi-Fi
See the name of the Network
View the connection status
View the date of the connection
Mark events as important for quick referencing later
Why you need to spy on network connections
Monitoring their Network connections will provide you with powerful information you'll need to keep your business or loved ones safe. You can see what time your child left their school, what time they arrived home. Alternatively, you can see when your employees are arriving at the office for time-keeping purposes. This feature is also useful for individuals and we'll talk about this later.
Benefits for Parents
As a parent, do you know where your child is at all times? How can you be sure they're not skipping school, or that they are not at the mall when they should be prepping for an important test? With our network connections feature, you can review the names of the Wi-Fi networks they're connected to, getting instant confirmation that they are where they should be.
Benefits for Employers
Have you ever wondered "Is my employee really at work in their home office, or are they out looking for another job?" "Are my employees accessing restricted Wi-Fi spots?" if these are questions that keep you up at night, you'll benefit from our Spy on Network Connections feature. Confirm any suspicions you might have with your employees so you can resolve them and focus on other things important to growing your business.
Benefits for Individual Use
Do you wish to have a timeline of all the places you've visited throughout the month? This could be useful if you needed proof of where you were at a certain time, or if you lost your phone and needed to know its last location. In this past this would mean enabling GPS on your phone – which quickly drains the battery - and sharing your location data with companies who may be indifferent to your privacy. Our Network Connections feature gives you this timeline, by listing the names of all the Wi-Fi connections made in a specific date range (McDonald's Wi-Fi, Home Wi-Fi, etc.) as well as the time the connection was made or lost — all without having to turn on your GPS.
How does it work?
FlexiSPY is easy to setup and use
1

PURCHASE LICENSE

---

Purchase a FlexiSPY license for the target phone

2

ACTIVATE TARGET PHONE

---

Install and activate the license on the target phone

3

ALL DATA GETS CAPTURED

---

Calls, SMS messages, contacts and call data is captured

4

DATA GOES TO

FLEXISPY SERVER

---

All call data is uploaded to your secure account to view

5

VIEW THROUGH

WEB ACCOUNT

---

All data received can be accessed Round-The-Clock via any computer
If you're a parent or an employer, you have a duty to know — Discover the truth, spy on their phone or tablet
Buy Now