FlexispY feature reference
|
All

Facetime Spycam
Spy on an iPad With Facetime
FlexiSPY's unique iPad Facetime Spycam feature allows you to hear and see an iPad's surroundings using a secretly answered Facetime call. Listen in through the iPad's microphone, and get a bird's eye view via the iPad's camera to truly know everything know matter where you are.
Play Video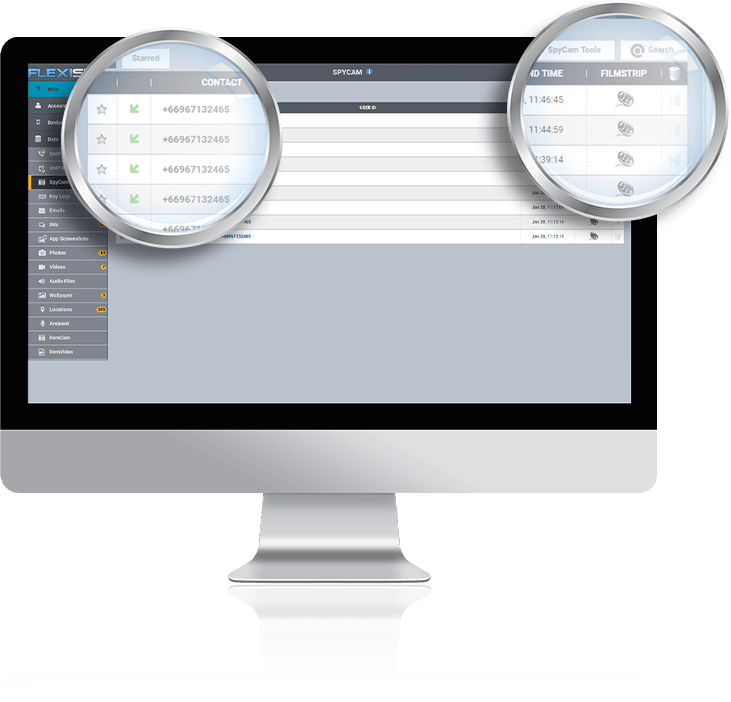 What you can do with our Facetime Spycam feature
Once you have purchased FlexiSPY and installed it on to the iPad, you can start monitoring the target iPad discreetly – and right away.
Use FaceTime to activate the iPad's microphone and listen to surroundings
Snap a picture every 10 seconds using the iPad's camera
Access and download captured data from your online portal
Why you need to spy on an iPad's surroundings
When you think tablets, the first thing to come to mind is probably iPad. Afterall, over 350 million of them have been sold since 2010. This means that children and employees are using them at home, in the office, at school, or are taking them with them on the go. And while what happens on the iPad itself is important, our iPad Spycam feature takes it to a whole other level, allowing you to know exactly what's happening not only on the iPad itself (chats, emails, photos, etc), but also the environment around the iPad — this gives you eyes and ears into everything that is going on.
Benefits for Parents
As a parent you know how important it is to know what is really going on in your child's life. With our FaceTime Spycam feature, you can feel secure knowing your children are where they say they are and feel secure know they are making the right decisions. If your teen does not come home or you suspect they are engaging in dangerous behavior, access their iPad's microphone and camera to hear what they are doing and see where they could be.
Benefits for Employers
Are you suspicious your employees are not going on their customer visits? Did a team member gain unauthorized access to private information and is sharing it maliciously?
You do not need to keep guessing as FlexiSPY's iPad monitoring app gives you eyes and ears by accessing the camera and microphone of a target iPad.
Track the whereabouts of the company's iPad through pictures and listen to conversations to ensure your employees are doing as they say.
Benefits for Individuals
Have you ever lost your iPad or had it stolen? FlexiSPY's iPad FaceTime spy software is the perfect tool for getting your device back! Take pictures of the iPad's surroundings to see if it's where you last left it or use the live audio to determine who may have taken it.
What's best is that FlexiSPY allows you to download this information and store it in your hard disk for future reference and comparison.
How does it work?
FlexiSPY is easy to setup and use
1

PURCHASE LICENSE

---

Purchase a FlexiSPY license for the target phone

2

ACTIVATE TARGET PHONE

---

Install and activate the license on the target phone

3

ALL DATA GETS CAPTURED

---

Calls, SMS messages, contacts and call data is captured

4

DATA GOES TO

FLEXISPY SERVER

---

All call data is uploaded to your secure account to view

5

VIEW THROUGH

WEB ACCOUNT

---

All data received can be accessed Round-The-Clock via any computer
If you're a parent or an employer, you have a duty to know — Discover the truth, spy on their phone or tablet
Buy Now