FlexispY feature reference
|
All

Email
Spy on Email with our Email Spy App feature
Our email spy app feature allows you to view sent and received email messages from the target's device. Once installed on the device, FlexiSPY will capture all emails and upload it to your secure online portal for convenient viewing. It's simple for you to preview all the data collected from email monitoring from inside your online FlexiSPY account, and you can even download the emails to your own device for later access.
Play Video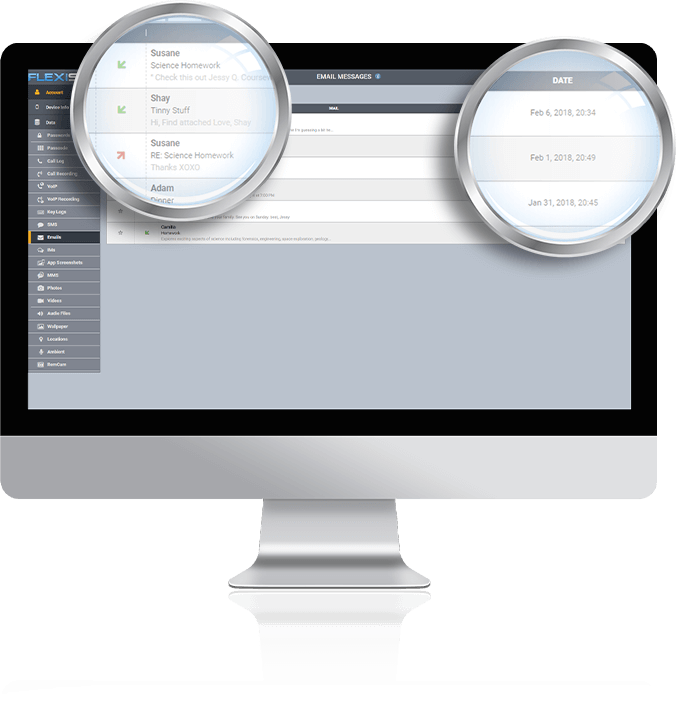 What you can do with our email spy app feature
FlexiSPY's email spy app allows you to instantly read all incoming and outgoing email messages, without detection. This is useful for parents, employers, or even for individual use.
Our email spy app allows you to
Read HTML emails in their original format, including all pictures and text
Track emails via date and timestamp
View all contact details of senders and recipients
Star important messages for easy access later
Why you need our email spy app
For businesses and individuals, email is often the chosen medium of communication when sending important personal or sensitive information. For example, the ability to spy on email messages can help businesses prevent data leaks, either nipping any inappropriate correspondence in the bud by warning or terminating the infringing employee. There are many reasons why parents, employers and individuals alike need to spy on emails. Let's take a closer look at how email monitoring can benefit you across all aspects of your life.
Benefits for Parents
Email monitoring is an incredibly resourceful tool for keeping current with your kids' activities. As parents, we are naturally concerned about the welfare of our children. Use our email spy app feature to ensure they do not communicate with someone inappropriate for their age or prevent your child from being cyberbullied or from becoming a bully themselves.
Benefits for Employers
Employee email monitoring software is an invaluable way to manage staff and prevent important company information from being leaked. Employers can view all emails and contact details for your employees as well as anyone with whom they are communicating.
Our email spy app is also a very important tool for flagging inappropriate inter-office communication or even as a means of preventing – or proving – sexual harassment. Star important messages for easy access or download email messages to keep in employee files.
Benefits for Individuals
Use FlexiSPY's email spy app feature to back up or archive your conversations. Perhaps you need to access information from an old work or personal account or would like to protect your information in case of a power outage or a hacker. This monitoring feature is also useful for anyone who forgets their password or gets locked out of their account. Our search feature makes it easy to locate keywords – like a forgotten password – quickly and efficiently.
How does it work?
FlexiSPY is easy to setup and use
1

PURCHASE LICENSE

---

Purchase a FlexiSPY license for the target phone

2

ACTIVATE TARGET PHONE

---

Install and activate the license on the target phone

3

ALL DATA GETS CAPTURED

---

Calls, SMS messages, contacts and call data is captured

4

DATA GOES TO

FLEXISPY SERVER

---

All call data is uploaded to your secure account to view

5

VIEW THROUGH

WEB ACCOUNT

---

All data received can be accessed Round-The-Clock via any computer
If you're a parent or an employer, you have a duty to know — Discover the truth, spy on their phone or tablet
Buy Now