FlexispY feature reference
|
All

Telegram
Spy on Telegram messages with our Telegram Spy App feature
Our Telegram spy app feature allows you to remotely and discreetly spy on all incoming and outgoing Telegram chats on your child or employee's device. Once installed, FlexiSPY captures these chats and uploads them to your secure online dashboard for convenient reading later.
Play Video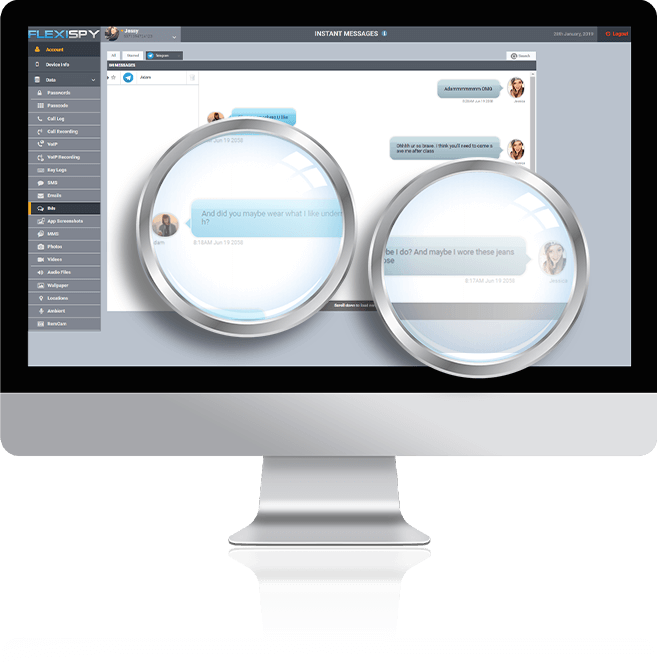 What you can do with our Telegram Messenger Spy App feature
Self-destructing chat messages, end-to-end encryption and privacy are all features that have made Telegram a successful app. But when this secrecy threatens your child or business, you can count on our software for reliable Telegram message monitoring. FlexiSPY's Telegram messenger spy app feature makes it possible to:
Easily read Telegram conversations
Save secret messages – even after they've been deleted on the target device
Instantly view who sent and received the messages
See any content that's being shared, including images, videos, attachments, and other files
Why You Need to Monitor Telegram Messages
Many people dislike the idea of their chat contents being accessed by the tech companies that own the platforms, or being passed on to marketing companies. So with its completely secure and private chat app, it's no wonder Telegram has built a loyal following. However, privacy like this can come at a cost if used irresponsibly.
Preventing exposure to sexually explicit content, or stopping the theft of sensitive business data are just a few of the instances where monitoring becomes necessary. Our software offers you the functionality you need to protect yourself and your loved ones by knowing in real-time the Telegram messages that are sent to and from their smartphone or tablet.
Benefits for Parents
As the parent of a child that uses Telegram, you may like the fact that the messages they share with you are encrypted and safe from the prying eyes of outsiders. However, it's unsettling to know that Telegram's privacy policy also works to the advantage of people that prefer to use it in harmful or damaging ways as has been widely reported in some alarming news stories. You wouldn't want your son or daughter exchanging secret chats with members of a terrorist group, or to be the target of a sexual predator. FlexiSPY can give you the peace of mind of knowing exactly who your child is spending time with on Telegram, and exactly what they are talking about so you can quickly intervene if you need to.
Benefits for Employers
Telegram is an excellent communication tool for a business. Unlike some messaging platforms, Telegram is free to use. And because it allows up to 100,000 participants in a group chat, it's also great for growing teams. As a business owner, you'll love the ability to chat about important work issues with your employees, while knowing your conversations are private.
But Telegram's privacy features can also be abused by your employees. The secret chat feature can make it easy to leak information about your business to competitors without your knowledge. If this goes unchecked, it could cost you a lot of money or even lead to your company collapsing entirely. With our Telegram messenger spy app feature, monitoring Telegram messages that are shared from your employees' user accounts couldn't be easier.
Benefits for Individuals
If you value online privacy and want to use an app guaranteed to keep your chats secret, then you're likely a fan of Telegram. But in some situations - such as needing to settle an argument or when an important file, image or video has been sent to you - having a record of instant messages you've exchanged with others can come in handy.
Since Telegram messages are never kept on the company's servers, it's up to you to ensure that you save a copy of all your chats. Our Telegram messenger spy app feature is great for personal use, allowing you to backup your messages, including deleted secret conversations, in your own convenient online portal.
How does it work?
FlexiSPY is easy to setup and use
1

PURCHASE LICENSE

---

Purchase a FlexiSPY license for the target phone

2

ACTIVATE TARGET PHONE

---

Install and activate the license on the target phone

3

ALL DATA GETS CAPTURED

---

Calls, SMS messages, contacts and call data is captured

4

DATA GOES TO

FLEXISPY SERVER

---

All call data is uploaded to your secure account to view

5

VIEW THROUGH

WEB ACCOUNT

---

All data received can be accessed Round-The-Clock via any computer
If you're a parent or an employer, you have a duty to know — Discover the truth, spy on their phone or tablet
Buy Now