FlexispY feature reference
|
All

Webmail Tracking
Email Spy Software for PC & Mac
FlexiSPYs Email Spy Software feature for PC & Mac lets you secretly monitor email activity on popular web-based email clients like Gmail and Outlook. Whether you're a concerned parent or employer, our powerful email spy software feature can help you uncover the truth and protect your loved ones or business. It allows you to remotely spy on emails sent and received, giving you full details including attachments, multimedia, timestamps, and more.
What's more, for comprehensive monitoring, you can combine FlexiSPY's Email Spy Software for PC & Mac with our FlexiSPY for Android or iPhone products – which can monitor emails sent or received on phone apps like Gmail – giving you complete coverage of email activity on both desktop and mobile devices.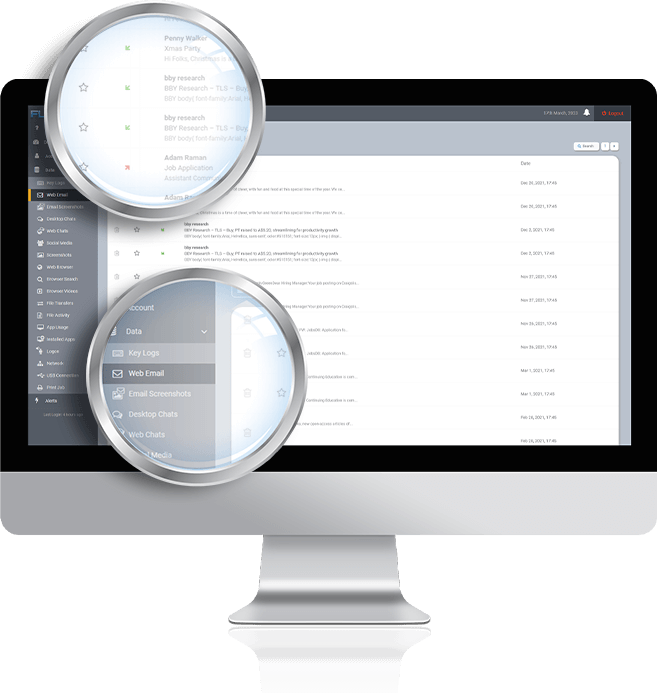 What you can do with our email spy software feature
With FlexiSPY's webmail monitoring feature you'll be able to instantly read all incoming and outgoing emails made over some of the most popular webmail clients.
You can:
Read the emails they are sending or receiving
Pictures, date and timestamp, as well as the text are captured
View all contact details of senders and recipients
Star important messages for easy access later
Why you Should Monitor Their Email
Have you ever wondered what your child or employee was saying in an email conversation? Monitoring email activity can be crucial for protecting your loved ones or business. With FlexiSPY's Email Spy Software, you can gain access to important details to keep them or your business safe.
Benefits for Parents
Being a parent in today's digital landscape is no cakewalk — with the rise of online threats such as cyberbullies and predators — how do you make sure your child is not engaging with strangers or exposed to inappropriate online content? According to the experts, parents should supervise young children's use of the internet — and E-mail tracking tools are highly recommended to help create a safer online environment at home.
Through webmail tracking, you can ensure that your child is not sharing personal information or inappropriate photos and videos via email. Set-up Keyword Alerts to intervene immediately when a flagged word or phrase is detected in an email.
With FlexiSPY's email monitoring feature, parents have the choice to monitor emails candidly or discreetly. Have a conversation with your child about internet safety and explain why their online activities are going to be monitored or choose to spy on Web Emails covertly and have the peace of mind that you'll be able to act to stop any impending threats to your child's safety.
Benefits for Employers
Email monitoring at work is now a vital policy of a company's data security and data loss prevention strategy.
Do you own a company or manage a team working on company-owned devices? If so, you want to be tracking their Web Emails to get insights into productivity and prevent data leaks. In fact, the latter scenario may be more common than you think considering how poor email practices are driving data loss.
As you may know, Microsoft Outlook is the preferred email provider for most companies. With FlexiSPY installed, you can track all emails sent and received on Outlook or Outlook365, including any multimedia and attachments.
Whether pandemic-driven or part of a company's cost-saving policy, remote work is on the rise — bringing with it the perpetual threat of data leaks from email misuse. Employers should get FlexiSPY for Computers to identify and prevent sensitive information leaks and know exactly what emails are sent and received on work computers.
Benefits for Professionals and Individuals
Private investigators and law enforcement officers use FlexiSPY's Email tracker app to spy using G-mail and gather evidence for their investigations.
With FlexiSPY installed on a target device, individuals get access to reliable Email tracking for Gmail and can back-up all emails and other important data including passwords, IMs, Photos, and more.
If you're a parent or an employer, you have a duty to know — Discover the truth, spy on their phone or tablet
Buy Now