Spy On An iPad
Know The iPad, Know The Person
What they're seeing
RemCam
SpyCam
Photos
Wallpaper
Video
What they're saying
E-mail
Facebook
LINE / Viber
Skype / WeChat
iMessage
BBM
What they're doing
Note
Location
Calendar
Address Book
Browser Activity
Application Activity
As Unique As The iPad It Was Designed For
FlexiSPY for iPad now comes with SpyCam — our latest spying invention available only from FlexiSPY. SpyCam lets you secretly open the iPad's camera and microphone — so you can see and hear exactly what's going on around the iPad — all without any indication to the user. But FlexiSPY is no one trick pony — with over 150 monitoring features, FlexiSPY can tell you everything that happens on the iPad. FlexiSPY is especially good at reading IM messages such as WhatsApp, Skype, Facebok, LINE, iMessage etc — more than any other iPad spy product available. In addition, FlexiSPY can spy on GPS, Email, photos and a host of other applications.
Why Do I Need To Spy On An iPad?
The world is becoming ever more complicated. Many times we find ourselves needing to understand people's real motives. Perhaps to protect and guide our children, or to comply with legal requirements for monitoring employees. If they have an iPad, FlexiSPY will let you know who they really are.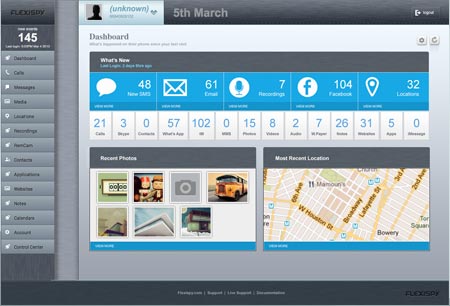 FlexiSPY iPad Tracker Lets You:
Open the microphone and listen to the iPad's surroundings
View all Pictures, Video and Audio stored on the iPad
Spy on instant messages such as Facebook, LINE, Viber, Skype, iMessage, BBM, etc.
Remotely control the iPad's camera to take pictures
View web history, bookmarks and app usage
Spy on the iPad's address books, notes and calendars
Receive alerts when keywords appear in messages
Receive alerts when the iPad enters prohibited areas
Buy Now
Why Choose FlexiSPY?
FlexiSPY is better than all other iPad monitoring apps because:
Has unique Remcam and Spycam
Captures stickers and pictures others cannot
Offers keyword and location alerts
Unlimited device changes during subscription
Subscribe Now
Enter your email address to receive special offers and the latest product news!
Want To Start Spying On An iPad
Download. Discover. In Minutes.
Buy now and start receiving spy data from an iPad device in minutes - you'll get instant access to the information, and we've made the installation super easy - unlike others, we're here on live chat to help even after the sale - finally, we have a refund policy to make you feel even more secure.
iPad $

79
The
complete monitoring software package
for use with the Apple iPad.

Before you buy ...
To continue to checkout, please acknowledge the following
To proceed, you must select the checkbox above

If you're responsible for a child or manage an employee
You Have A Duty To Know
Find out the truth, spy on their iPad