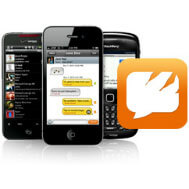 Mobile News
FlexiSHIELD and Tiger Text - Which One Would Have Saved Tiger Woods
Congratulations to the Tiger Text team, who have released a cool new product for iPhone.
F Secure incorrectly calls FlexiSPY a trojan. Funny they would say that seeing as they sell anti virus products dontcha think. Anyway, you decide...fescure are fear mongering.
It's inspiring to see innovation and success, but with all the great publicity Tiger Text have been getting, our customers were confusing Tiger Text with our FlexiSHIELD product. Following the media interest, we have been receiving a deluge of e-mails asking us to explain the difference between FlexiSHIELD and Tiger Text as they both apparently appear to be cell phone programs offering the same benefits. This impression was compounded by the coincidental timing of the announcement of our Tiger Woods Inspired Edition of FlexiSHIELD .